If you're renovating your old home or buying a new one, choosing the right floor is essential. You're going to want a floor that is life-proof.
Floors really take a beating, especially in high-traffic areas of the home and with children and pets. So you're going to need a floor that is going to stand the test of time.
With so many wood flooring options available on the market, it can be difficult to be sure that you're making the right decision.
Two of the most popular woods people opt for when laying floorings are oak and maple. Both of these woods make excellent flooring materials.
If you're struggling to choose between oak or maple flooring, we're here to help.
In this article, we will explore the many different advantages and disadvantages of using both oak and maple as flooring.
To figure out which is the best option for you, there are a few factors you must consider, including the hardness and how it looks, etc.
PS. If you want to know, "Is it possible to make dark wood floor lighter?", we have an answer for you!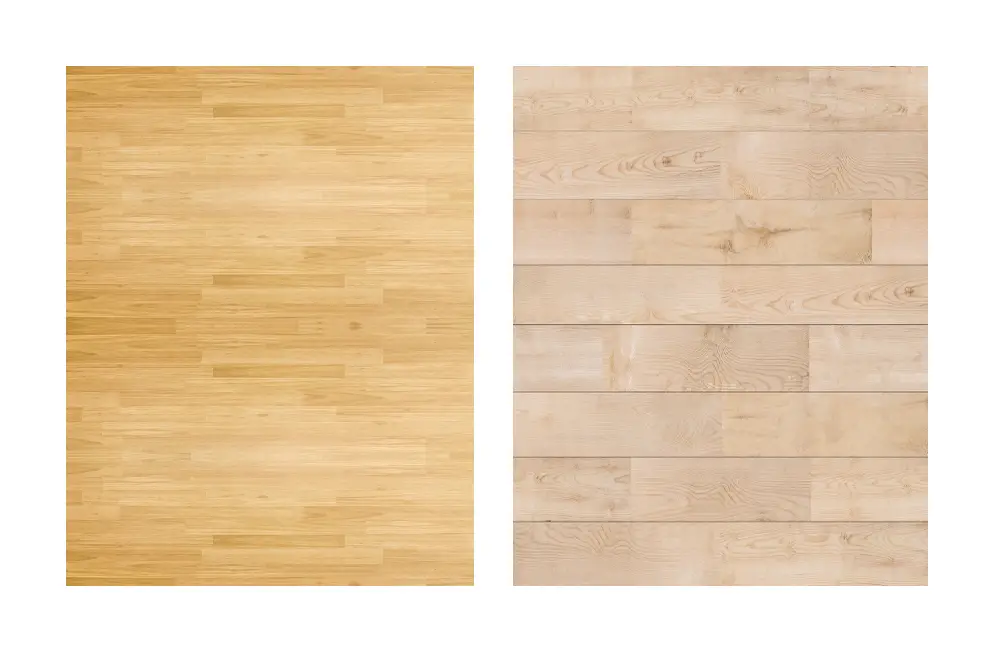 Which is harder, oak or maple?
In order to answer this question, we need to take a look at the Janka Wood Hardness Scale.
The Janka scale works by determining how dense a certain type of wood is and how resistant to dents, dings, and wear that a type of wood will be once it's installed.
The test measures the force required to embed an 11.28 millimeter in diameter steel ball halfway into a sample of wood.
However, any wood that you're considering laying as flooring should have a Janka hardness rating of 1,000 or higher. Thankfully, red oak has a Janka hardness score of 1290 while maple is rated 1450.
If we're comparing oak and maple, maple is the harder wood. However, this doesn't mean that oak is a poor choice of material for flooring, it works great.
Additionally, there's more than one type of oak available on the market. As well as red oak, consider the benefits of white oak too.
White oak has a Janka hardness score of 1360, slightly harder than its red alternative. White oak is actually more stable than both oak and maple.
It also doesn't expand and contract when exposed to changes in temperature and moisture. However, it's important to know that maple flooring is made from several different species.
It is Hard Maple and Sugar Maple that has the 1450 rating on the Janka Test, and it is very resistant to wear. Other types of Maple flooring are softer, and they should be avoided.
Durability – which one lasts longer?
As we mentioned above, white oak is probably the most stable material option for flooring.
As well as being super hard, it's also resistant to expansion and contraction with temperature fluctuations and exposure to moisture.
White oak is also a great choice as it's resistant to fungi, bugs and termites, so you'll never have to worry about pests later down the line.
Because of this, white oak is a great choice if you live in a location with extreme summer and winter temperatures and humidity.
Both oak and maple are resistant to dents and scratches. However, it's important to remember that there are different grade options available for each wood and each particular manufacturer may have slightly different quality woods.
Because of this, be sure to check the wood for any imperfections before you buy it and certainly before you lay it.
The durable nature of engineered wood means that it should last for at least 25 to 30 years before needing replacement.
However, an engineered wood floor must be installed correctly and treated with care. If so, hardwood such as oak can last for hundreds of years.
Some very old sacred buildings and residences still feature original oak hardwood flooring. Examples like this prove just how durable oak can be.
Appearance – which looks better?
In recent years, there's been a surge of people on a mission to remove paint from old hardwood furniture.
Due to changes in interior design and fashion, certain woods went out of style and many people began picking up their brushes and modernizing their furniture themselves.
However, as trends change, people can inevitably regret their decision – a similar situation has begun cropping up with flooring.
People have found themselves regretting their decision to carpet or tile over original hardwood flooring in their homes. It's easy to see why.
Hardwood flooring such as oak and maple is ideal and timeless. While carpet and tile trends will come and go, trusty good quality hardwood flooring such as maple or oak will last a lifetime.
Maple is a lighter wood than oak, but the exact shade will depend on the mineral grade. Some grades will have medium brown streaks whereas others can be almost black.
The grain is pretty fine with maple and the grain lines can be straight, wavy or curly. However, there are some downsides to opting for maple flooring.
Maple will yellow slightly over time with age. This is more likely to happen if you've used a clear finishing coat on the wood rather than a stain.
Maple wood also contains both soft and hard cell structures that respond differently to stain, resulting in a possibly uneven and blotchy result.
To prevent this, experts recommend conditioning the wood first. This can help the wood to accept the stain more uniformly.
Alternatively, you can always consider buying pre-stained and finished maple hardwood flooring. However, if you opt for this kind, it's going to cost you more money.
Red oak is the most popular hardwood flooring choice in the USA. It looks different from maple flooring as it has pink undertones. Red oak is also pretty dark compared to maple- it has medium to heavy graining and the coloring can vary slightly.
White oak hardwood has a fairly linear grain that absorbs stain brilliantly. This helps to avoid any unsightly color blotchiness.
White oak can also often feature underlying hues of gray and sometimes golden brown, depending on where your oak has come from.
Oak is beautiful but it is also common. This can be a bonus if you want flooring that will appeal to other home buyers down the road.
Or, it can be a negative if you don't like the idea of your floors looking like that of every other home in your neighborhood.
Pricing – which is more expensive?
Generally speaking, oak is usually more expensive than maple. However, both maple and oak have different varieties and several grains available, so the price will often depend on the quality of the wood.
Average oak prices range from $4.99 to $7.49 per sq. foot while average maple prices can range from $3.74 to $5.75 per sq. foot.
The price difference between oak and maple can range anywhere from $1 to $5 per sq. foot for materials and installation.
Less expensive flooring will have more knots, mineral deposits and other minor imperfections.
It is also worth mentioning here that there are many oak and maple hardwood products that have been stained to create a very different shade to their natural color. So be sure to check that your wood is authentic.
Maintenance- how do I care for my floor?
In conclusion, oak flooring is more expensive but it does offer more choices in grain patterns and it is a very durable option.
Maple is less affordable, durable, doesn't offer many choices in grain patterns and can stain unevenly. However, maple is slightly harder than oak.
Whether you want to go for oak or maple hardwood for your home, depends on your stylistic taste and personal needs.
As long as your wood is of high quality and installed to a professional standard, your floor will look great!
Talk to your flooring retailer and get your hands on samples. This is the best way to find out which domestic hardwood flooring species works best in your home.
Frequently Asked Questions
Does maple and oak flooring require underlay?
It is important to mention that you do not need a wood floor underlay when you have a solid hardwood floor and that's because it is not stable, this is why it has to be installed mechanically to the concrete underneath.
On the other hand, you should always fit an underlay when you have engineered or laminate floors for the opposite reason.
What sort of finish should I use?
Once you've chosen wood or maple hardwood flooring, you'll need to consider what final look you want to achieve.
The type of finish you choose will impact your flooring's appearance. There are three main types of hardwood finish, satin lacquer, matt lacquer, and oil.
Satin Lacquer – Satin lacquer will give your engineered wood floor a beautiful and slightly glossy surface that is smooth and low maintenance.
Lacquer makes engineered wood flooring more resistant to splashes and scratches and slows the natural color-changing effects from sunlight.
Matt Lacquer – Like satin lacquer, matt lacquer offers more resistance to scratches, splashes, and sunlight, but gives engineered wood a very similar finish to oil or wax.
Oil – The most traditional way to finish wood flooring, oil gives a classically natural finish.
The oil will need to be reapplied more often than lacquer and doesn't offer the same level of protection.