Sometimes a home needs some sprucing up to keep its interior engaging. A floor is an often overlooked aspect of a home's decor, but it can dramatically impact the mood, look, and simple vibe of a room or house. If you're thinking of making dark stained wood lighter – you've come to the right place! WFC Wood Floor Cleaner have some tips to share with you in this article.
So, if you've got wooden floors and want to change their appearance and you want to know how to lighten wood stain, fear not. Dark, stained wooden floors can be lightened to give your home an exciting new look rather than having a darker color within your home.
Regardless of which wood material your floors are made from, mahogany, maple, pine, walnut, cedar, or cherry, or other woods, it's possible to change the color of your wood from dark to light and back again (without using a lighter paint color)— any way your heart desires. However, a perfect outcome will depend on the condition of the flooring and the raw wood. You can create a lighter stain once you've sanded back the floors.
Color change requires a bit of work in sanding to remove the top finish layer of the floor. This is followed by staining or lightening before applying a protective polyurethane layer.
Sanding only applies to a solid hardwood that is still intact or on the engineered wood floor attached to the substrate. You cannot sand thin, detached, old, or floating engineered hardwood floors.
The application of a paint or stain color on top of a finish is a quick and unprofessional way of changing the color of a wood floor. The topcoat is highly likely to wear and fade, making the old coat underneath show its true colors. Your beautiful wood floors don't deserve this type of treatment.
While various products can be used to restore or change the color, the original color of the wood will also play a significant role in the end results. You will need to use a chemical stripper (finish stripper) on the varnish (lacquer) of the wood surface so you can see the wood completely bare. Experts recommend leaving it natural or bleaching to attain a lighter color shade within the wood grain.
In most cases, the lightest color you can go is the natural color of the wood. If you want to go beyond that, the only choice is to chlorine bleach, wood bleach, or use a whitewash stain. Homeowners with oak are likely to use this option since this type of wood is naturally dark. With some knowledge on how to make dark stained wood lighter, it is something you can do yourself. You can even stencil a design and bleach only that portion of the floor, if you wish.
If you're not sure, consider hiring or consulting a wood flooring expert. When you're ready to stain wood, be sure to test your wood stain or color on a small spot in the corner (not the center) of your room. Doing so during sanding will help you envision the outcome before applying the stain to the entire surface and bleaching wood to enhance your home or wooden furniture. Bear in mind that using a lighter stain over a dark color usually doesn't work. If you decide that the color of your stain doesn't suit your preferences, you can use a stripper on the small portion where you tested the stain then start over by testing a new stain.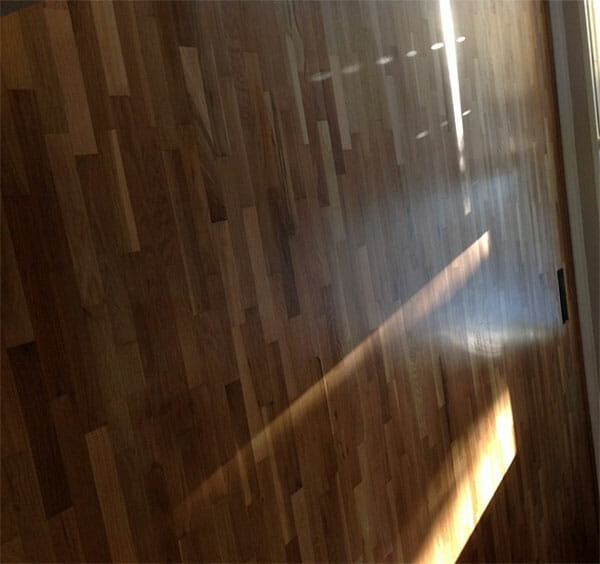 Making your Woodfloor Less Dark – Steps
There are several steps to a nicely lightened wood floor. We have included the following instructions:
Step 1: Preparation
Ensure the nature of your wood is appropriate for sanding. Clear the room of everything, including furniture and rugs. This will give you a suitable safe working space. Remove any curtains and open the windows to allow enough light and air into the room to help you complete the bleaching process. Be sure to wear a mask during sanding and bleaching to minimize inhalation of dust particles and fumes.
Inspect the floor to ensure that no nails or pins are protruding. Nails and pins can damage your sanding machine or cause you an injury during the sanding process. If any, use a nail set and hammer to depress them without damaging the wood floor. Sweep the room to remove any dirt or debris and get set for the next step.
Ensure that between stages, you neutralize the wood before moving onto the next steps. You can use white vinegar/vinegar solution and water or a bleach mixture. Make the surface wet when doing this and press the wood firmly, which will enhance the dark stains!
Step 2: Sanding
This is a critical stage where you use a sanding machine and sanding pad with different grit levels. Usually, three levels of sanding are done using 60 grit, 80 grit, and 100 grit, respectively.
By the end of the process, you will get a smooth wood that will easily take and maintain the stain and the polyurethane coating but use a damp cloth to remove excess dust by hand. Don't use a wet mop at this stage, as this will cause your floor to be too damp and you'll have to let the wood dry completely before you move to the next step.
Attach 60 grit sandpaper to a drum sander and turn on the machine as you tilt the sanding base off the floor. Lightly sand the entire area of the existing darker color on the floorboards. Always begin from the furthest corner from the entrance. Work with the direction of the wood grain as you move from one end of the surface to the other to get back to the bare wood.
There are areas such as corners where the drum sander may not reach. You will need to use a palm sander with the 60 grit pad to work on them with this fine sandpaper. You may also find a plastic scraper that will help remove some of the stain in stubborn areas and keep a drop cloth nearby.
In sanding the wood, the dark stain will begin to show a light color and show more of a natural wood.
When you are sure that all dark stains are removed, use an 80 grit pad with both the drum and palm sander. Finalize with 100 grit pad for a perfectly smooth surface.
Step 3: Dusting/ Vacuuming
The varying methods of cleaning a wood floor after sanding can affect the polyurethane coating that will follow, and the entire appearance will look different once this is removed.
Therefore, choose the appropriate cleaning method carefully. Use a vacuum to remove all the dust after sanding.
You can also use a broom to sweep — but note that it will cause a cloud of dust.
An expert may recommend a sweeping compound, although using a lot can cause abrasion to prevent the polyurethane sealant from effectively adhering to the wood.
To remove more dust on the walls and around the windows, use a dry microfiber cloth that traps and collects fine dust particles as you wipe the contours around window frames and baseboards. Also, make sure to use a clean cloth.
Once your room is clean, it's time to prepare to apply a lighter wood stain or paint.
Step 4: Staining/ Coloring
You can decide to stain your wood surfaces using lighter-colored wood stains, go natural or opt for a dark stain. After sanding, some types of wood may have a lighter natural appearance, so there will be no need to stain.
Once you have selected your stain and tested it during sanding, apply it using a rag, sponge, or paintbrush, as directed by the manufacturer. It's also recommended to wear rubber gloves when using a dark wood stain to keep the chemicals off of your skin. You can also either bleach wood with a two-part wood bleach solution or use oxalic acid.
Working along the grain will give you a smooth and even surface. Apply starting from the furthest side of the room as you move towards the entrance to lighten the wood properly.
Give your stain or wood bleach enough time to dry without allowing any traffic in the room. Most products take at least 4 hours to dry, and you want to ensure any excess stain dries completely.
Leaving it to dry overnight is a good option that ensures complete drying. Once you are sure that your wood color stain is completely dry, it's time to apply a polyurethane finish.
If you only want to alter the color slightly, then grab a ball of steel wool and turpentine or mineral spirits to change it slightly.
Step 5: Polyurethane Coating
You'll want to add two to three coats of polyurethane finish to protect the wood and its new color in the final step. Be sure to use even strokes in all applications of liquid sealant, being careful not to add too great an amount to your floor. This helps minimize bubbles and other problems with your floor's finish. Allow the finish to dry for at least 24 hours before adding another coat.
Once the process is complete, think about protecting your hardwood floor from furniture scratches, scuff marks, and other blemishes.
There are two commonly used types of polyurethane: oil-based and water-based. While both types are durable, there are slight differences.
Oil-based finish tends to change color over time — usually to umber — while water-based remains clear and maintains the wood color over a long period of time.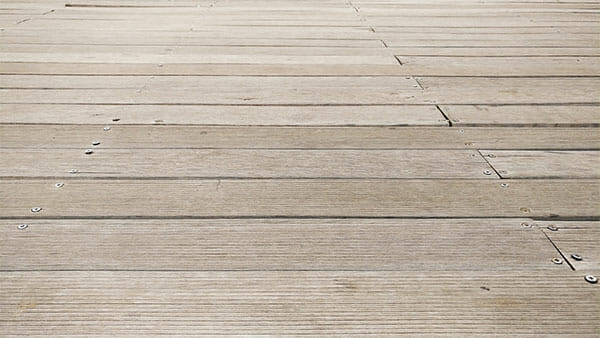 Water-based polyurethane dries faster than oil-based. In terms of cost, a water-based finish is more expensive than an oil-based.
The above differences can help you to determine the right choice of polyurethane for your floor.
How much does it cost to make dark stained hardwood floors lighter with wood stain?
Lightening a wood floor can be a costly process, especially when you hire a professional flooring expert.
On average, the cost of refinishing a 300 square feet surface is anywhere between $100 and $1500.
However, the cost will vary depending on various factors of the job, such as:
Refinishing or recoating
Existing dark finish or stained wood
Total square footage to be covered
Condition of the floor or wood
Quality of finish or coating to be used
Number of finishes or coats required
Stairs (higher cost)
Carpet or other flooring removal
Accessibility of the service
Conclusion
Besides changing the color, refinishing your wood floor every five to ten years helps rejuvenate the wood's appearance and keeps it looking its best even with weathered wood. Using steel wool and mineral spirits will also help to maintain it to a lighter stain.
Besides changing the color, refinishing your wood floor every five to ten years helps rejuvenate the wood's appearance and keeps it looking its best even with weathered wood. Using steel wool and mineral spirits will also help to maintain it to a lighter stain. You can find all of the things you need for your floor beautifying project at local hardware stores.
To make a dark wood floor last longer, ensure it is adequately cleaned, protected from spots and spills, and well maintained. A quality wood floor can truly make a house a home and completely alter your home when well taken care of. You could also use pigmented stains as this is technically a thinned down paint to bleach wood.
Once you've mastered your project of making dark stained wood lighter – you could then attempt to alter dark stained cabinets or even lighten dark stained tables and other wood furniture using water-based stains or a wood bleach treatment! You can take any dark piece of wood furniture and alter it to have a neutral palette.