When you're shopping for quality natural material for your flooring project, consider that reclaimed hardwood can be a great option.
Reclaimed hardwood flooring is eco-friendly, durable, and stylish. In this guide you'll learn more about the benefits, risks, and types as well as average prices of reclaimed wood flooring.
What is a Reclaimed Wood Flooring?
Also known as recycled or antique, reclaimed hardwood was previously used in other structures which have been dismantled and the wood is reclaimed for another use.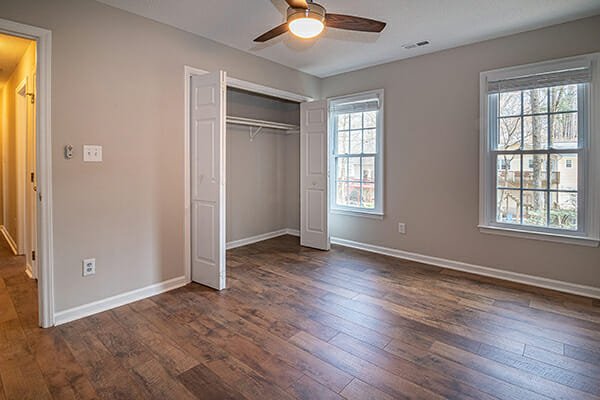 There are many old structures from which reclaimed wood can be sourced.
In the US, sources include dismantled historical homes, barns, churches, synagogues, bridges, ship wreckages, logs pulled from lakes and rivers, mine shafts, fences, and more. Essentially, if you can imagine a wooden structure of any kind, you can get the general idea of where recycled wood can come from: pretty much anywhere.
Besides flooring, reclaimed lumber has multiple other uses such as making indoor and outdoor furniture, constructing decks, and paneling walls, countertops, and shelves — among many more.
Reclaimed wood has proven irresistible to many people, including furniture sellers, home remodelers, home-improvement do-it-yourselfers, and home builders.
Just like new hardwood, reclaimed flooring comes in a variety of types based on species, appearance, and price.
In the 1800s and early 1900s, common types of hardwood included red and white oak, hard maple, birch, chestnut, and pine — although pine is not classified as hardwood.
How Is Hardwood Reclaimed?
Converting old, used wood into a premium wood is a highly involved process. To begin with, the piece of timber has to be inspected for quality.
A sample may be examined for age and character. The recycled flooring manufacturer will also check for the presence of metals, old paint, water damage, and other possible flaws which are carefully removed before the wood is re-worked.
The sawed boards are kiln-dried to remove excess moisture. Some timber may have been exposed to moisture or water, so it is important to stabilize moisture content to protect boards from warping and mold.
During the process, moisture may be introduced to all pieces to a given level before drying them to standard.
Finally, tongue and grooves are made into the planks. The flooring boards are prefinished at the factory or finished on site after installation.
The wood is then packaged and stored, ready to be shipped to various customers.
It is recommended NOT to stain reclaimed hardwood flooring as that may change the wood patina.
A contrast between the original color and stain may show through after wear. Once installed, observe normal woodfloor care and maintenance guidelines.
Advantages
You may find yourself asking if reclaimed hardwood can be any good. Simply put: yes. In fact, there are many benefits of reclaimed wood.
Environment friendly
For example, choosing reclaimed hardwood flooring helps conserve the environment in a significant way.
This is a completely eco-friendly, sustainable way of preventing tree cutting and logging, deforestation, and landfill waste.
Stable and durable
If you had thought new floors are more durable than reclaimed ones, you may be surprised to learn the opposite is true.
Antique wood has weathered for ages. In older construction projects, using old trees was fairly common. Old trees adapted to climate changes over many generations, which made them have strong and dense grain. Additionally, because the wood has often been used in construction before it's already gone through the breaking-in phase some wood needs to go through.
Reclaimed lumber therefore hardly suffers warping, swelling, or shrinkage after installation, which is common in new wooden floors.
Additionally, minor surface flaws such as scratches, dents, and wear can be sanded and refinished.
Stylish and unique
Reclaimed hardwood flooring presents a unique look and perfectly imperfect character hard to find in new materials.
The interesting grain patterns, color variations, and unusual knots and swirls are irresistible to look at.
This beats rustic, hand-scraped and distressed looks popular in modern floorings.
Disadvantages
While reclaimed flooring maintains high popularity, there are nonetheless risks that every homeowner should be aware of.
Here are disadvantages of a reclaimed lumber that makes it a risky venture:
Chemical Toxins
In the past or during the recycling process, the wood might have been treated with chemicals and paint which may contain volatile compounds such as adhesives, insecticides, preservatives, or lead.
Insecticides may have been used to kill, well, insects, and adhesives may have been used to bind weak points.
Old paints often contain lead. At the same time, the wood may have been exposed to the heavy metal while at the bottom of a river or lake.
Pests & Bugs
Lumber can harbor pests some which you may not be able to discover when they are deep inside.
These pests or bugs can infest the rest of lumber furnishings or assortments in your home. Infested wood may also become weak and permanently damaged in the future.
Legitimacy
Due to the high popularity and demand for reclaimed lumber, unscrupulous dealers may give false details about their products with the intent of  deceiving a customer.
This puts the credibility of many reclaimed wood products in question.
Costly
The cost of a reclaimed wood flooring may be higher than new flooring. This is due to the costly and involved processes incurred by the manufacturers.
Such costs are usually transferred to the final customers of the product.
To reduce risks and increase safety of a reclaimed hardwood flooring, here is what to do when choosing:
Enquire and investigate on the sources of the wood. The nature of its previous environment may give you a clue as to possible dangers. You may also test the wood for toxins.
Know how the wood was treated. Heat-treated or kiln-dried wood is regarded as safer than chemically-treated wood. Heating is done to regulate moisture content and kill off bugs. It is usually marked "HT".
If you are not sure about the flooring material you have purchased, avoid installing it in sensitive areas such as where a toddler or puppy plays, or near dining areas. When sanding and refinishing, always wear protective gloves and a mask.
Purchase your lumber from a reputable dealer with credible certification, e.g. from organizations such as the Rainforest Alliance or Forest Stewardship Council.
Verdict
Reclaimed hardwood flooring is a unique way of transforming your space.
This heritage lumber that adds a story to your project. If you use recycled wood, you can conserve forest and minimize your carbon footprint.