So you've got a hardwood floor. Wonderful! But now that you have the most coveted type of floor in your home, how do you keep it looking great? If you're already asking such a question, you're halfway to knowing how to care for hardwood floors.
Floors see it all, from spilled foods and drinks to scuff marks and dents caused by chairs, toys, and pets.
The good news is that a simple care and maintenance routine makes hardwood floors remain beautiful and strong for years to come.
Hardwood floors are extremely durable and can withstand all sorts of traffic — from toddlers playing to parties to furry friends chasing their tails and more.
Because they're easy to clean and they don't trap allergens, hardwood floors are excellent for health. But of course, that's only if they remain clean. So, the big question is: How do you take care of hardwood floors?
According to National Wood Flooring Association (NWFA), hardwood floor maintenance routine should involve cleaning spills immediately, dusting on a daily basis, weekly vacuuming, and monthly deep cleaning.
Additionally, recoating, sanding, and refinishing should be on your radar after some years.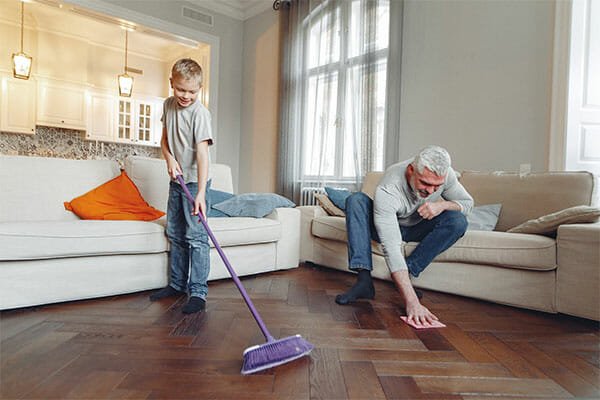 Top Tips
1. Mop spills immediately
Food, water, and drink spills happen all the time, especially if you have kids or pets around. Do not let them (the spills, not the children or animals) sit on the floor.
Spills are one of the leading reasons for dark stains on hardwood floors, as well as wood damage.
Liquid spills contain moisture that absorb into the wood to cause swelling and shrinking.
Some types of food spills may be too hot or acidic, which may eat into the finish. In the long run, you will start seeing white patches and dark stains forming.
Consequently, spills should be cleaned immediately before they wreak havoc. Use a dry or slightly damp mop or a piece of cloth to mop up.
Do not use a wet mop or a steam mop, as they are likely to cause damage to your wood — especially wood that is not properly sealed.
2. Sweep or dust daily
This is key to a permanently beautiful-looking wooden floor. Daily sweeping or dusting using a soft bristled broom is the most recommended way of getting dust off hardwood floors.
Why on a daily basis? Dust forms and spreads all the time and will settle on floor boards and into the grain. Dust can be a hygiene issue in addition to making your floor look dull over time.
Stick to a daily dusting schedule even if you don't see the dust. A dry microfiber piece of cloth is the best tool to use due to its properties of attracting and collecting any tiny dust particle without letting it spread into the air.
You will also find that neat feature in modern dust mops for hardwood floors.
3. Weekly vacuuming
Vacuum your hardwood floors once per week to collect any dirt or dust particles you missed during sweeping.
Vacuuming also helps keep allergens at bay, like pet hair and tiny dust particles that hover in the air before finding their way to the floor.
Only use vacuums recommended for hardwood floors to avoid causing scratches. If you find it tedious vacuuming on your own, invest in a robot vacuum for hardwood floor such as a Roomba.
They can be scheduled to clean a home in your absence through a phone app.
4. Deep clean monthly
You'll likely want your floors to smell fresh. You'll also want to remove any ingrained dirt. You can accomplish this using any of the best hardwood floor cleaners such as Bona once per month.
Read each cleaner's instructions carefully, since each is different. Recommended cleaners may be used directly on the floor or rinsed with a damp cloth.
If your floor is properly sealed with a polyurethane sealant that does not allow moisture to penetrate through, you can clean the floor using a steam mop designed for hardwood floors. Use it according to manufacturer's instructions and avoid blasting overheated steam on your wooden floor.
Steaming also helps in disinfecting hardwood floors by killing germs and other harmful microorganisms. You can buy your steam mop or rent the service from a professional cleaner.
5. Polish after three months
With time, you will start to notice tiny dents and light scuff marks on the surface finish. This is especially common if you have a canine friend who has long, unkempt claws.
The same can also happen if you have not set aside a designated play area for children.
Since your floor is still in good shape, there is no need to recoat or refinish, especially if it is under three years of age. Apply a hardwood floor polish and restorer to make your floor look new again. (Find out if Is Bona cleaner bad for hardwood floors? here).
Buffing with a polish helps fill in small scratches and dents that make the surface appear dull.
Polishing is an economical way of restoring a wooden floor. If the surface finish is badly damaged, this method may not help; in such a case, you will be required to recoat or sand and refinish your wooden floor.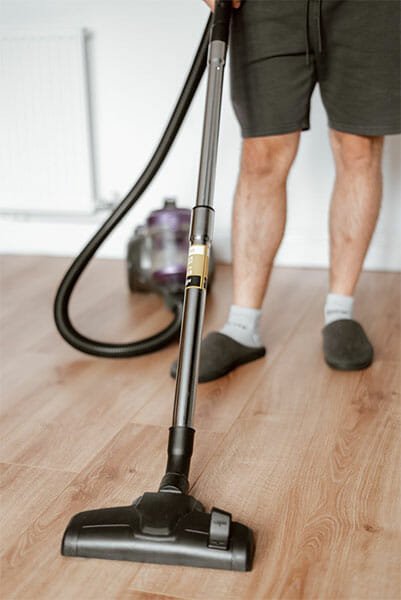 6. Recoating after 3-5 years
Recoating helps rejuvenate the state of the finish by adding a new layer of a protective polyurethane sealant. This ought to be after every three to five years.
Depending on the nature of the existing finish, this process does not involve sanding. You can apply the new coat of finish on your own or hire a professional.
7. Sanding and refinishing after 8-10 years
This is a highly involved process where the existing layer of finish is stripped off and a new one is applied. We recommend refinishing wooden floors around once a decade.
Sanding and refinishing should be done by a professional who uses professional-grade equipment. Polyurethane sealant is applied in the end to offer waterproofing.
The Bottom Line
New or refinished hardwood floors need to be protected from water, moisture, and scratches. You can consider investing in a dehumidifier if you live in a humid area.
Keep your home's temperature between 60 and 80 degrees Fahrenheit and of between 30 to 50 percent humidity.
Install area rugs on hardwood floors in high traffic areas. Place mats at the entrance and avoid wearing shoes in the house.
Area rugs protect the floor from scratches and minor dents. Meanwhile, door mats prevents trucked in moisture and soil.
Follow a regular cleaning routine and you'll keep your hardwood floor beautiful and durable for decades to come.