Dirt and debris accumulate in the finish of the floor instead of in the wood itself and regular cleaning is the only guarantee for a long lasting floor.
Fortunately, almost all old floors can be salvaged or refurbished in many ways.
Termite-damaged planks, delaminated strips, water damaged hardwood, and insect-infested boards can be replaced. Holes can be plugged and squeaky floors can be tightened and quieted with nails or dry lubricant.
A complete floor refinishing may need to be done to improve the floors' appearance.
A finish does more than make the wood floor beautiful. It also seals and protects the wood's open pores, which, if left exposed, will absorb water, dirt, and spills and will be susceptible to scratches and dents.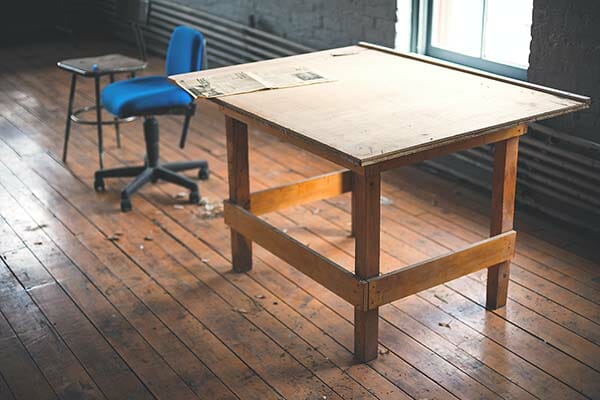 Recoating can be done on old damaged floors. Recoating is the addition of a new layer of protection that will adhere to the previous finish. Recoating is easier, safer and faster than refinishing.
How do you gloss up or shine your old damaged hardwood floor without doing all this or refinishing?
In this article, you can find more details on how to clean and shine your floors as well as further maintenance tips. Following are the best ways to clean hardwood floors.
Natural Cleaning and Shining of Old Damaged Hardwood Floors
There are many home owners who have discovered the ease and efficiency of homemade hardwood floor cleaners such as vinegar, olive oil, lavender, baking soda, and lemon in cleaning hardwood floors.
These home remedies are perfect for cleaning and are readily available.
Another factor that makes these home remedies the best choice in cleaning hardwood floors with any type of finish is that they lack harmful and potent fragrances that are found in many commercial cleaning products.
This means that they are safe for the environment and humans. If you've ever wondered, "what is the best thing to use to clean wood floors?", let's jump right in:
Clean with diluted vinegar
Vinegar is an acid and, when mixed with water, the solution's acidity is lowered and it becomes an effective cleaner for old, damaged floors.
The solution of water and vinegar cuts through debris, dirt, and grime, leaving a streak-free clean floor.
Before using vinegar to remove dirt from your old damaged floor, ensure that you sweep the floor clean. Mix vinegar and warm water by adding half a cup of white vinegar to half a bucket of warm water and stir.
You can add 6 drops of essential oil such as lavender or olive oil for a pleasant smell.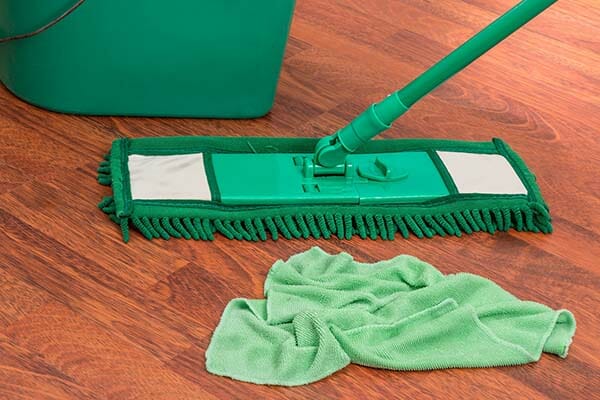 Place a mop inside the mixture and wring out excess water before use. This is important because it prevents water pooling on the floor.
Go over the whole floor with the mop and ensure that all the dirt and debris is  removed.
You will need to change the cleaning mixture (vinegar, water and few drops of lavender) once it appears dirty.
After mopping, you will need to check the floor for water pooling. In case there are traces of water left on some areas of the floor, use a clean, absorbent towel to pick up excess water.
Cleaning with diluted lemon juice
Mix warm water, olive oil, and lemon juice in a bucket and stir the whole mixture.
The main purpose of olive oil is to shine the floor whereas lemon is to remove dirt, grime, and debris from the floor.
Dampen a cotton mop in this cleaning solution and then wring out the mop so it does not leave pools of water on the floor.
Instead of a cotton mop, you can use a spray bottle or use a cloth mop to control the amount of water you use.
After mopping the floor, pick up the excess water with a clean towel to avoid water from soaking in and damaging the wood. Allow the floor to air dry for a few minutes.
Cleaning with vinegar and baking soda
Mix equal amounts of vinegar and baking soda to form a paste. The paste is powerful at removing marks and dark spots (like pet stains) without scrubbing the floor.
Apply the paste to the stain using a sponge or cloth. Allow the paste to sit for some time till it dries. After drying, wipe it up to clear the stain.
Alternatively, you can enhance the shine and color of your old hardwood floor by making a spray of olive oil, 1 cup of vodka. and 15 drops of essential oil (Use lemongrass and lemon for scent).
Buff with a dry microfiber mop by working in small sections.
Care for old Damaged Hardwood Flooring
Good care and maintenance is the best way to ensure that your old wood floor does not get damaged.
Maintenance involves regular sweeping and mopping among other things as discussed below. Consider the following: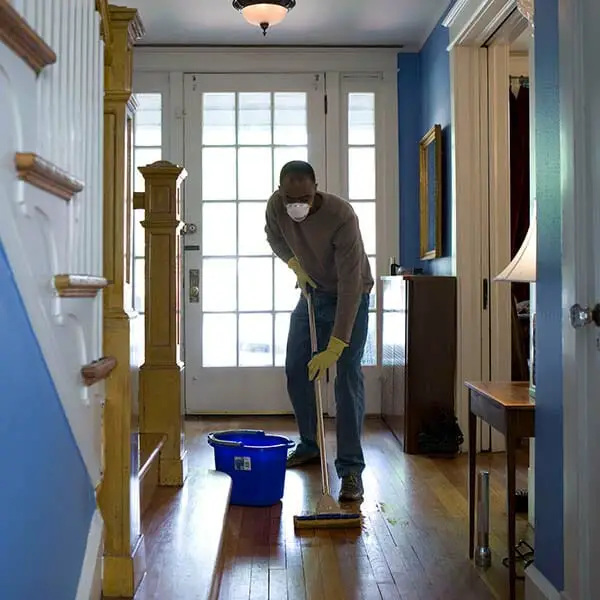 Sweeping your floor on a daily basis
Sweeping on a daily basis is the best way to maintain your hardwood floors.
Sweeping or mopping removes dirt, dust, pet hair, debris and other harmful substances that can worsen the condition of your damaged floors.
During the sweeping or mopping process, use a soft bristle broom, dust-mop or a microfiber mop.
Make sure you are sweeping or mopping in the direction of the wood grain to prevent dirt and grime from getting stuck in cracks between planks.
Mop the floor using a hardwood cleaner at least monthly
During mopping, it is recommended that you use cleaners labeled for hardwood floors. You need to avoid ammonia, vinegar or products with harsh chemicals and water-based hardwood floor cleaners.
If your wood floor finish is badly damaged, avoid using a wet mop. Instead, always use a mop with as little moisture as possible during cleaning. Spray a small amount of hardwood cleaner onto the floor, and then wipe the floor down with a dry terry cloth mop.
If your floor is riddled with spots, stains, scuff marks, or debris, remove them with mineral spirits and then mop the area thoroughly.
Wipe up spills as soon as possible
Spills from ink, coffee, tea, juices, paint, chemicals, or pet messes can cause dark stains on your wood floor.
Use a damp mop to remove these spills immediately. Ensure the mop is not over-saturated with water.
Excess water on old wood floors can worsen the situation you are trying to control.
Avoid sanding unless it's absolutely necessary
If the wood floor is old (20+ years old), you should avoid sanding it.
When you need to clean and shine the floor appearance, only sand if it's riddled with stains or marks that chemicals like mineral spirits cannot remove.
Consult an expert with restoration experience
Get an expert with sufficient experience to help restore your old hardwood flooring.
The professional will be in a position to advise you as to whether the entire floor requires refinishing, patching, or replacement.
Conclusion
Moisture is the enemy of hardwood flooring, but keeping your floor clean is a priority.
When it's time to clean and shine your old hardwood floor, you can use home remedies like vinegar, lemon juice, baking Soda, olive oil, and lemongrass.
You will need to use a damp mop (that has been rung out). In case you spill a large amount of water on your floor, soak it up with towels to avoid stains and wood damage.