Regular dusting is one of the best practice for maintaining a hardwood floor. Most homes use broom for this purpose. For a good sweeping experience and safety of your floor finish, use a soft bristle broom. Natural rubber bristles are the most ideal, they are gentle on hardwood floor and easily picks animal fur and other debris without scratching the surface.
When you have a hardwood floor, the most important feature to consider in a broom is the nature of bristles. Various bristles are designed for different applications. Soft synthetic bristles are ideal for hardwoods due to their flexible and gentle nature. There are two common types of bristles namely:
Flagged: Bristles are frayed at the end, thus gentle
Unflagged: Bristles are straight at the end, thus stiff.
Flagged bristles are soft and gentle and therefore a better choice for hardwood floors. Unflagged bristles on the other hand are stiff and suitable for outdoor surfaces such as patio, concrete and bigger open places. Although, you will find multipurpose surface brooms with soft bristles that are designed for the job.
Apart from soft bristle brooms, most homes use dust mops for dusting hardwood, walls, ceilings and high places. Best dust mops for hardwood floors are made of microfiber material that attract and hold onto dust, dirt debris and hair.
While there are many sweepers in stores with varied features, we have selected and tested a few that we found to be the world's best for a hardwood floor, carpet and other flooring areas. They include the following:
RAVMAG Rubber Broom and Squeegee
Evriholder 250I-180I-AMZ FURemover Pet Hair Removal Broom
Bissell Lightweight Pet Hair Broom 1778
Soft Sweeping Broom, MEIBEI Multi-Surface Indoor Broom
Long handle Broom and Dustpan Combo Set
OXO Good Grips Sweep Set with Extendable Broom
Fur Buster Rubber Broom
1.      LandHope Push Broom Long Handle Rubber Bristles Sweeper
This is perfect broom that effortlessly clean hardwood floors, area rugs and carpet. The rubber bristles easily picks and collects dust, pet hair and other debris without scratching the wood finish or spreading the dirt around. If you are a pet owner, you will enjoy how the bristles gently scrape down and ball the cat or dog hair from your carpet.
Equipped with extra-long and adjustable handle, it suits every user regardless of their height. That means tall individuals will sweep comfortably without bending their back. The handle can be adjusted when the broom is used by people with short heights.
Squeegee edge is a unique feature of this broom which enables you to mop up liquid spills, clean windows and car windshields. This is something you should not miss in your home if you have pets and kids around. After using LandHope Rubber Bristles Sweeper, wash it to get rid of the dust and hair from the bristles. The broom is easily washable with soapy water and dries faster.
Pros
Effective for cleaning pet hair hence ideal for cat or dog owners
Suitable for multi surfaces such as wall, hardwood floors and carpets
Has adjustable handle thus no back problems when using
Can clean up liquid spills from the floor
Dries faster after washing
Rubber is easy to maintain and last longer
Cons
The adjustable handle lacks locking mechanism
The bristles wears off and separates from the bar after some time of use
With time, the brush gets loose at a junction that connects the head and the handle
Recommendation
This an all-purpose broom that you should consider especially if you have kids and pets in your home. After a long time of use, normal wear and tear happens. With many advantages, we recommend the broom as best for your hardwood floor and other surfaces in your home.
2.      RAVMAG Rubber Broom and Squeegee
The broom is equipped with extremely soft bristles made from natural rubber, The uniquely designed bristles makes  the broom exceptional in picking dust, pet hair and other debris from your hardwood and other surfaces such as carpet, walls, tiles and patio. The 2 in one broom has a squeegee that mop any liquid spills on a floor or cleaning windows and car windshields.
Being a heavy duty sweeper it can be used either indoors or outdoors. With long handle, you get an upright cleaning posture for floor sweeping and convenience while dusting ceilings, roofs and other high areas. It is lightweight thus easier to maneuver and use for prolonged cleaning sessions. Maintenance is easy, all you need to do is wash it with water and detergent to remove germs, debris and hair from the bristles.
Pros
Effective on picking animal hair
Lightweight long handle for easy use
Soft bristle that are gentle on any surface
Can mop liquid spills and dry wet floors
Durable natural rubber that requires little maintenance
Sturdy and long lasting broom
Cons
There is problem reaching tight corners
Suffer wear and tear after many years of use
Our Verdict
This is a versatile broom that can make your floors sparkling clean without scratches. It is worth having it in your home especially if you have pets
3.      Evriholder 250I-180I-AMZ FURemover Pet Hair Removal Broom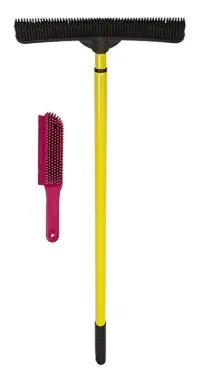 Here comes another cleaning device for your home especially if you have a hardwood floor. With rubber bristles, this is a multi-surface broom that attracts and collect fur, dust and debris from hardwood, rugs and carpet. It comes with a Lint Brush for your clothes and upholstery as well. Without much effort, the natural rubber magnetically traps pet hair.
You can use this broom to clean your windows, car windshields and glass shower doors. Liquid spills can easily be removed from your tiles or hardwood floor thanks to squeegee edge feature. Homes with kids and pets should find this very essential.
The broom has an adjustable handle and therefore comfortable to use regardless of your height. The rubber bristles easily reach tight areas like corners, grooves and more. Easy to maintain by simply washing the rubber bristles after using. This remove dirt particles and pet hair from the bristles.
Pros
Gathers dirt and pet fur from various surfaces
Natural rubber bristles are gentle on hardwood
Squeegee edge feature for cleaning liquid spills
Has a detachable head pad for easy storage and transportation
Lint brush very ideal for clothes and upholstery
Can be used on indoors or outdoors surfaces
Easy to maintain and last longer than traditional broom
 
Cons
Not suitable for rough surfaces
Requires more energy on tough grime
Sometimes the bristles get tangled with pet hair
Our Stand
This a versatile sweeper ideal for various surfaces in your home. Since it effectively collects dirt particles, animal fur and lint from clothes without any problem, we found it best for your regular home cleaning.
4.      Bissell Lightweight Pet Hair Broom 1778
Bissell is a renowned name in cleaning products. The Lightweight Pet Hair Broom is a cleaning device suitable for hardwood floors, tiles and low pile carpet. It is equipped with rubber bristles that attracts and gathers pet hair, dust and other dirt debris. The broom is retractable and you can use is a traditional broom.
The adjustable handle makes it suitable for use by someone of any height. The collapsible jointed handle also makes it easy for cleaning under areas and also convenient for storage. If can be washed using water and detergent after use.
Pros
Retractable broom with rubber bristles
Can be used on various surfaces such as hardwood tiles and carpet
Adjustable handle to suit people of different height
Effective on pet hair due to rubber bristles
Easy to store due to collapsible joint handle
Cons
Not suitable for thick pile carpet
With time the joints become loose
Our take
This sweeper is a one of a kind, it can be converted to a regular broom when you want. With good abilities to attract and collect animal fur and dirt particles, this broom is recommendable for your home sweeping.
5.      Soft Sweeping Broom, MEIBEI Multi-Surface Indoor Broom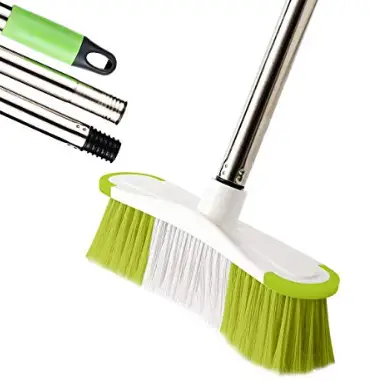 This broom has soft synthetic bristles suitable for cleaning various surfaces including your hardwood. Effectively sweep dust, dirt debris, wastepaper and hair. Both the broom block and the bristles are made from recycled materials thus ecofriendly. The handle is adjustable to suit your height. Although lightweight, this sweeper is sturdy and reliable.
You can comfortably use it as a push or a pull in cleaning walls, roof, shelves and wood floor. With a removable handle and adjustable positions, you can easily maneuver under areas, easy to carry and also convenient for storage. There is small hole in the handle and you can hang the brush after washing off debris.
Pros
Friendly to the environment
Comfortable to use due to its lightweight nature
Adjustable handle for anyone
Does not absorb filth or get abrasive
Easy to assemble and use
Cons
The handles joints may get loose after some time of use
Our Stand
The broom is easy to assemble, use and store. Quite impressive when dealing with high areas such as ceiling, shelves and roof to get rid of dust. Was gentle on wood floor and swept dust, debris and hair. Although bristles soft but not effectively firm for tough mess, we still rate it among the best.
6.      Long handle Broom and Dustpan Combo Set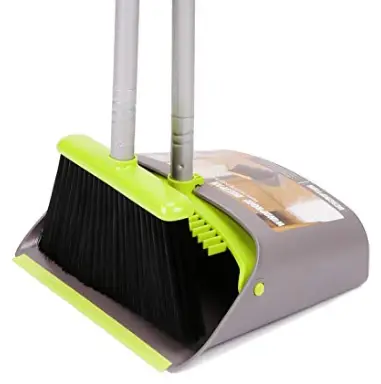 This is a perfect lobby broom and a dust pan that gives you a chance to sweep and collect dirt without bending your back. The broom has soft bristles for hardwood and other surfaces such as tiles and garage floor. It effectively sweep and carry dirt debris, human hair and pet fur into the garbage. The long handle of both the sweeper and dustpan gives you upright stand up cleaning experience.
The dustpan has an inbuilt scrapper and teeth that comb the broom into the dustpan. With one pull on the teeth, all the debris, human and pet hair are removed from the bristles. It also has a flexible lip with angled rubber that hold tight to the surface for maximum pick up of the tiny debris.
The combo offers you an easy and compact storage as the broom snaps into the dustpan and stand upright. Made from quality plastic and steel handle, this Broom/Dustpan Combo Set is durable and strong on both hard and soft floors. It is recommended for indoor use.
Pros
Comfortable to use
Strong and reliable
Easy to clean while upright standing
Compact  upright storage
Effective on both hard and soft floors
Cons
Dust may sweep under the dustpan if not correctly placed
Recommended only for indoor use
Quite cumbersome to use especially as a starter
Cannot mop liquid spills
Our stand
This is a suitable cleaning set that effectively cleans dust and hair with ease. With the comfort of cleaning without bending your back and give you a longer cleaning session. This broom is the right one for your home, office or garage cleaning.
7.      OXO Good Grips Sweep Set with Extendable Broom
A versatile sweeper with flagged soft bristles suitable for hardwood floors and others. It is designed for cleaning larger areas as the feathered bristles gathers dust, debris and hair into the large dustpan. Both the broom and dustpan handles can be extended to give you upright standing posture while sweeping.
The set also offers great convenience for boom cleaning into the dustpan. The teeth comb tangled bristles for fresh cleaning. With a lip that grips tightly to the surface, no dirt can go underneath it. The dustpan then lock open for easy empting into the garbage.
Made with aluminum pole with non-slip grips, the broom retracts with a quick twist for easy maneuvering and sweeping of dust into the dustpan. After use, the broom snaps into the closed dustpan and offers an upright compact storage.
Pros
Efficient on cleaning hair and dust
Comfortable to use while standing
Convenient storage
Can be used on large areas
Has adjustable handle
Cons
With time the broom  get worn out faster than dustpan
Has no squeegee for mopping liquid spills.
Our Recommendation
The broom excellently grab pet and human hair without causing any damage on a hardwood. It is what you need if you are battling a problem of pet hair in your home. Since you it can be used outdoor, we found it a conventional cleaning tool you should be having in your home, salon or office.
8.      Fur Buster Rubber Broom
This is a multipurpose surface cleaner that has soft rubber bristles and a squeegee. Fur Buster Rubber Broom effectively sweep dust, dirt, lint and pet hair from carpets, rugs, hardwoods. The squeegee feature makes it usable on cleaning windows, car windshields, dry and wet outdoor areas. It greatly wipes away liquid spills from tiles, hardwood or outdoor surfaces such as patio and concrete.
The broom has adjustable handle that makes it convenient for anyone regardless of their height. This feature also makes it to be able to reach flooring areas, roof and ceilings. Cleaning and maintenance is easy. To sanitize and remove debris and hair from the bristles, wash with soapy water. Natural rubber is long lasting and therefore expect many years of using this product.
Pros
Can be used indoors and outdoors
Effective for cleaning pet and human hair
Durable and easy to maintain
Multipurpose surface cleaner
Cons
With time the handle may get loose
Our advice
We rate this as the best soft bristle broom for hardwood floors and other surface in your home. This is due to its easy usability and gentle nature. With a little maintenance, this broom can give you service for many years.
Conclusion
Always use the right device or product for cleaning your hardwood floor. Protect the finish for a long lasting wood floor. Sweep with a broom that has synthetic soft bristles but effective on grabbing dust, small dirt particles and hair.