Steam cleaning is a natural cleaning method used to sanitize surfaces simply — with hot steam from heated water. The steam kills 99.9% of household germs and bacteria.
However, we know that water and wood are enemies, so we're left with a question – can a steam cleaner be used on hardwood floors?
As a home owner, it is important to find out if a steam mop is safe for your hardwood floors or not.
Wood flooring associations such as National Wood Floor Association (NWFA) and World Floor Covering Association (WFCA) have warned against using steam cleaning devices on hardwood floors.
Consumer Reports magazine also conducted an independent test on various steam cleaning models on hardwood flooring and found out that all the models used left a film of moisture that is substantial enough to cause damage, especially through the tiniest cracks on the surface or through a damaged finish.
Wood is a natural material that absorbs moisture. It plumps, warps, twists, and grows mold when exposed. Steam vapor can penetrate through cracks and crevices to cause trouble. Water-damaged wood is difficult to restore to its original shape or appearance.
Despite all that, there are various steam cleaners for hardwood floors whose manufacturers assure that they are safe to use on a completely sealed hardwood floor.
This leaves you with the sole responsibility of ensuring that your floors are fit and sound to be cleaned by a steam.
How Does a Steam Mop Work?
A steam cleaner machine heats water to a high temperature until it turns into steam. The hot water vapor deep cleans and sanitizes surfaces naturally.
It is the best way to disinfect your home, as 99.9% of household germs and bacteria are killed. Steam easily removes the most stubborn dirt and is considered the best alternative to a traditional mop.
Steam cleaners use natural water only and thus are the healthiest alternative to chemical based cleaners.
Steam mops should be used in accordance with both the wood flooring and steamer manufacturers' guidelines for purposes the of safety and the protection of your floor.
Poorly done laminates or worn out seals do not resist steam. Some wood floors strictly forbid the use of steam cleaners, lest the warranty become null and void.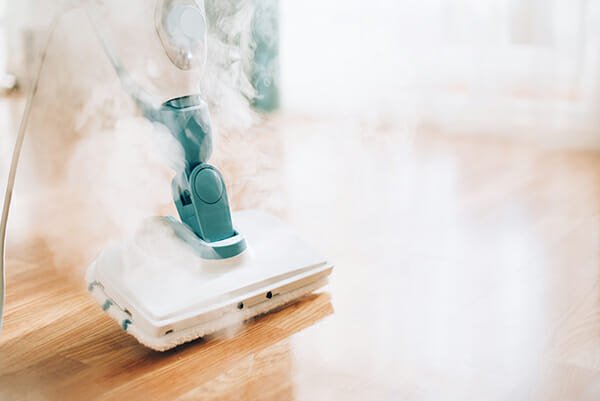 Modern steam cleaners have advanced features such as the ability to adjust the level of steam pressure.
There are low, medium, and high levels set according to the cleaning needs. For hardwood floors, the low or medium level is the most suitable since you don't want much moisture on the floor.
Before using a steam mop on your floor, it is important you conduct a simple test to tell how intact the floor is sealed.
Simply drip a small amount of water on the surface and carefully observe. If the water beads up immediately, that implies that your hardwood floor seal is intact and cannot easily get penetrated.
If the water gets absorbed in the wood, it shows that your floor is unsealed or the finish is damaged.
Is Steam Cleaning Safe on Hardwood Floors?
There are potential problems that can discourage you from using this method:
Unlike water, steam can easily penetrate the wood, especially through the seams between the planks or the tiniest fractures on the surface. When cooled, steam will condense back to water that saturates the wood — then it begins warping.
Too much scrubbing combined with a blast of steam can destroy the floor's finish. This makes the floor lose its shine and also endangers the future use of steam due to the vulnerability to water penetration.
Some wood floor warranties may become null and void if you use a steam cleaner against the manufacture's recommendation.
Can You Use a Steam Mop on Engineered Hardwood Flooring?
Engineered hardwood flooring is manufactured by taking a thin slice of hardwood and adhering it to a filler backing such as a high quality plywood.
It is durable but not as durable as solid hardwood. Engineered wood deals with moisture better than solid hardwood, however, since it warps and flexes less easily when exposed.
Engineered hardwoods are made with a clear wear layer that protects the thin layer of wood surface — but moisture can still reach the sides and bottom layer.
Worst of all is that steam can easily degrade the adhesives used to bond the layers.
So, it's clear that engineered wood will still experiences similar deleterious effects of steam cleaning as does solid hardwood.
How Do You Use a Steam Mop on Hardwood Floors?
Knowing how to use a steam cleaner on your floor is a vital way of preventing damage to your wood.
Here are steps on how to steam clean hardwood floors correctly:
Begin by removing loose dirt, debris, and dust either through sweeping with a soft bristle broom or by vacuuming your floor using the right vacuum cleaner for hardwood floors.
Assemble your steam cleaner machine by ensuring that the microfiber cloth is well fitted on the floor tool. The microfiber cloth helps insulate the steam and wipe up excess moisture as the high steam temperature dissolves grime and kills pathogens.
Set your steam cleaner at a low or medium level of steam pressure for faster drying. High moisture pressure will cause a film of water on your floor, which can expose the wood to damage.
Slowly pass the machine on the floor so that dirt and grime can be cleaned as germs and bacterial are also killed.
When the cloth is saturated or looks soiled, throw it in the washing machine or replace it.
You should consider using distilled water in your steamer. Tap water may contain mineral elements that may not be friendly to your floor.
What Is the Best Steam Mops for Hardwood Floors?
There are various features you need to consider while choosing a good steam cleaner.
They include the steam control features, ease of use, and attachments such as mop pads, the tank's capacity, and warranty among others.
Water heating time, maintenance, and ease of operation are also important factors to note.
Among the best steam mops for hardwood floor you will find the following:
BISSELL Powerfresh 1940 Steam Mop
O-Cedar Microfiber Steam Mop
BISSELL PowerFresh Lift-Off pet Steam Mop
Shark Professional Steam Pocket Mop (S3601D)
Reliable Steamboy Steam Mop
Shark Lift-Away Pro Steam Pocket Mop (S3973D)
Conclusion
Regular cleaning of your hardwood floor using the right technique makes it stay beautiful and last longer.
Use only cleaners recommended for hardwood floors to avoid future problems.