Are you the proud owner of a classic hardwood floor? Is your floor losing its shine and becoming dull? You must have seen your neighbor's hardwood floor shining like new. On inquiring, you found out that he got his wood floor waxed for restoring its gleam. And, this gives way to the million-dollar question – Are you supposed to wax hardwood floors?
Not all hardwood floors are made for waxing. Most of the modern floors already have a protective layer of polyurethane or other finish coat that protects the hardwood floor from potential damage. Waxing such floors will interfere in their re-coating process. It is advised to use a no-wax finish on these floors.
How to wax Hardwood Floors
Now that you know your floor is suitable for getting a wax coat, let us delve deep into the waxing process.
Waxing your hardwood floor is an extremely easy job. You can do it all by yourself without spending a dime on hiring an expert. However, you will have to incur some material cost for performing the task. All your efforts will get paid off in the form of a shiny, brand-new look of your hardwood floor.
Step1: Get your wax ready
To wax your hardwood floor, wax is a prerequisite. And before you finally order one, deciding the right kind is important. Currently, there are three forms in which wax for hard floor floors are available:
Solid paste wax – If you are a fan of the old rustic look of real wood, then this wax is your perfect fit. It is the same wax which we all have seen our grandfather applying on the floors when we were kids. This one's also suitable for you if money and time is what you are short of, first, it is an inexpensive method of floor waxing. And second, it doesn't need much of your time in its application and drying. It adheres to the surface quickly.
But they have their difficult points too. First, you'll need to give your floor some touch-ups from time to time to keep the shine up-to-date. Second, you can apply a solid paste only if your floor is an unvarnished hardwood or an unfinished cork. And from the non-wood surfaces, it sticks well to linoleum and concrete' you simply can't use a solid wax on vinyl, urethane-finished or no-wax floors.
If you are going for a solid wax, be ready to shell out a minimum of $9.98 for a can of 16 ounces. The can contains a thick consistency mixture of a solvent and the wax as there is more wax than solvent in it.
Liquid wax – They are also called as the oil wax and are easier to apply as compared to the solid wax, reason being that you don't have to rub the floor as much and spend your time in its even application throughout the floor. Liquid wax further comes in three options to suit individual preferences; glossy, semi-glossy and matte finish.
And about the kind of floors they adhere to, the liquid wax works in a similar manner as that of solid wax adherence. Coat it on unfinished cork, unvarnished hardwood, concrete or linoleum and avoid the vinyl, urethane-finished and no-wax floors.
To get your floor liquid waxed, a 32 ounce can or bottle would cost you $13.74. The liquid would be of a thin consistency due to more amount of solvent in wax. This helps in spreading the wax easily while application.
Moisture-based wax – It is a water-based silicone wax and is a bit of heavy-duty in terms of durability. It lasts for a long time as compared to the solid and liquid wax. It acts as a shield for the hardwood floor beneath protecting it from all the scratches and scuffs really well. Though they sometimes give a white tinge to the hardwood floors. While going for this option of wax, beware of the volatile scent it releases during application. Prefer a professional's help while going for this.
And for the kind of surface it sticks well onto, it acts reverse to the previously mentioned wax types. It sticks well to the vinyl, urethane-finished floors but is a fail for unsealed hardwood, cork or linoleum ones.
Step 2: Preparing your hardwood floor
Things you need handy
Gloves: They are important to protect your hands from chemicals in the wax paste.
Dust mask: It will prevent you from inhaling all the fumes released while waxing.
Knee pads: Since you are going to kneel while applying the solid wax paste, wearing knee pads will make kneeling scratch-free and painless.
Putty knife: Putty knife is needed to apply the solid wax paste.
Lint-free cloth: Cloth helps in the best application of solid wax paste. And you wouldn't want to seal the lints between the layers of wax during application.
Sponge mop: This will come in handy if you have chosen liquid wax over the solid one.
Bucket: A bucket will make your task of floor cleaning much easier and quicker.
Buffing pads: They are required for a final touch up after each waxing coat. Buffing is an important step to add sheen to your wax layer.
Polishing brush (optional): A polishing brush is needed only in case you are performing motorized buffing instead of a manual one. Choose a fine brush to get the best buffing results.
What to do next
Clear the area you want to apply wax to. Remove all the furniture to some other place.
Strip the previous layer of wax off the floor first. To get rid of wax from hardwood floors, dampen the old cloth with wax stripping agent or mineral spirits. Rub the cloth on the floor to remove the old wax layer. Keep the room properly ventilated to drive all the fumes out.
Vacuum the area to catch loose dirt and dust and clean the floor surface.
Mop the floor with a damp cloth to ensure that no dust particles settle under the new wax coating. Do not forget to use a lint-free cloth for wiping off the surface to have a clean look.
Step 3: Waxing the hardwood floor
Working with solid paste wax:
Apply a little wax paste to a white terry-cloth rag or a cheesecloth.
Rub the cloth over your floor in a circular motion if you have a patterned hardwood floor. Follow along the grain of wood in case of wooden planks.
Let the wax dry as per the instructions described on the wax package.
Buff the floor with your hands using a dry pad or use a buffing machine for the process.
Your hardwood floor is ready with new looks!
Working with liquid-form of wax:
Dab a terry-cloth with a thin layer of liquid wax.
Rub it in the direction of your wood's grain to ensure even spreading of wax all over your hardwood floor.
Once you covered the whole surface, let the wax dry as per the time mentioned on its package.
Buff the floor with a dry pad or a buffing machine.
Apply another thin layer of wax for a double layer of protection.
Let the second layer dry.
Buff your hardwood floor again for bringing out its shine.
Working with water-based silicone wax:
Apply the water-based silicone wax with a foam brush or latex paint pad applicator.
Rub it in the direction of your wood's grain to enhance the natural wood texture.
Let the wax dry as per the time mentioned on its package.
Buff the floor with a dry pad or a buffing machine to bring its luster out.
What is the best wax for hardwood floors?
Here are top of the class wax brands you should note:
1. Minwax Hardwood Floor Reviver
Minwax reviver is perfect for renewing the beauty of your dull and scuffed hardwood floor. It adds a top layer of protection to your unwaxed wood floor having polyurethane finish.
Features:
Minwax reviver refreshes the hardwood floors that are dull, scratched or lightly worn-out.
Its application doesn't require sanding or other special preparation, you just need to squirt it onto the floor and spread with an application tool.
It restores luster to your beautiful hardwood floor.
Minwax offers an easy single-coat application.
It is more durable than your regular floor polish.
It is a water-based formula that makes the floor easy to clean.
You get the option to choose between a low-gloss or a high-gloss variant.
It does not alter the color of your floor and leaves a crystal-clear finish
It protects your hardwood floor for up to 6 months.
Product Details
Sheens: High-gloss and Low-gloss
Application tools: Painter's pad or Synthetic Applicator
Dry time: Two hours for light foot traffic and 24 hours for replacing furniture
Coverage: Approximately 175-225 sq. ft. per quart
VOC Content: Maximum VOC of 275 g/L
Minwax hardwood floor reviver is not for you if your floor is unfinished, newly finished, waxed, oiled, laminated or coated with finishes other than polyurethane.
2. Dura-Seal Durafinish Liquid Floor Wax
Durafinish is a liquid wax blend that adds a satin luster to your hardwood floor. It can be used either as a finish coat or to restore the color and shine of your previously worn-out wax finish.
Features:
Dura-Seal Durafinish works effectively on all surface-coated floors leaving wax-based finishes as an exception.
You have an option to choose between a Neutral and a Coffee Brown variant.
It can also be used over unglazed tiles.
The floor wax adds a satin luster to your previously sealed or stained hardwood floors.
It can be used both as a finish coat or as a maintenance product.
It seals your wood floor well providing it exceptional durability.
Durafinish contains a rich blend of oil and resin to provide a superior finish to your floor.
It can be used with or without a finish coat, thereby, saving your time.
It has been designed in a manner to dry in merely two hours.
Periodic buffing renews the floor with a new-like shine.
Product Details
Variants: Neutral and Coffee-Brown
Application tools: Synthetic Applicator
Dry time: Two hours for light foot traffic and 24 hours for replacing furniture
Coverage: Approximately 2000 sq. ft. per gallon
An additional application of DuraSeal might be required for areas receiving high traffic. To clean up the equipment used while waxing your floor with Durafinish, use paint thinner, turpentine or mineral spirits. A regular maintenance with vacuum, dry cloth or dust mop is suggested to remove dust and debris from the floor.
Precautions:
Do not varnish over Durafinish.
Not to be used over rubber or asphalt tile.
Do not adulterate or perform thinning with any substance.
Do not freeze.
3. Howard Feed-N-Wax Wood Polish & Conditioner Beeswax Polish
Feed-N-Wax is an original blend of Beeswax, Brazilian Carnauba wax, mineral oil, and orange oil to provide you with a perfect solution for all your polishing needs. It enhances the natural beauty of your wood while preventing it from decay and damage. It also adds depth of grain in all woods whether finished or unfinished.
Howard Feed-N-Wax Polish keeps the wood from drying out, fading, and even cracking. Use it whenever your wood starts to look faded or dry, usually every month or so.
Features:
It polishes all wood surfaces to a soft luster.
It introduces conditioning oils to the hardwood floor that helps keep the wood from drying and fading. It can also be used on antiques, dining tables, kitchen cabinets, wood doors, trims, etc.
Howard Feed-N-Wax enhances the natural beauty and depth of your wood's grain in both finished and unfinished wood.
It prevents further drying of your wood floor and deterioration of your finish.
It adds a protective coating of Carnauba Wax and Beeswax to your hardwood floor.
It is a perfect follow-up for your newly restored wood finish to maintain its beauty for years to come.
The wood in the wild is kept in a moistened state by the trees. Feed-N-Wax mimics the act by introducing natural oils into it, lengthening the life of your hardwood floor to a great extent.
4. Hope's Floor Revive
Hope's floor revive helps in restoring and reviving the lost shine of your hardwood floors. It can be used on sealed floors to make them look like new. It leaves a wonderful soft sheen to your floor making it look awesome again. A single application is enough to bring out the grains of your wood floor.
Features:
Hope's floor revive makes your dull hardwood floor shine like new.
It can be used on any sealed floor.
It leaves your floor with a pleasant fragrance after the application.
A 16-ounce bottle is enough to cover 320 square feet.
It is made in a way to dry up quickly.
Hope's floor revive protects your floor against spills and stains.
It doesn't include any harsh chemicals or solvents.
5. Weiman Wood Floor Polish and Restorer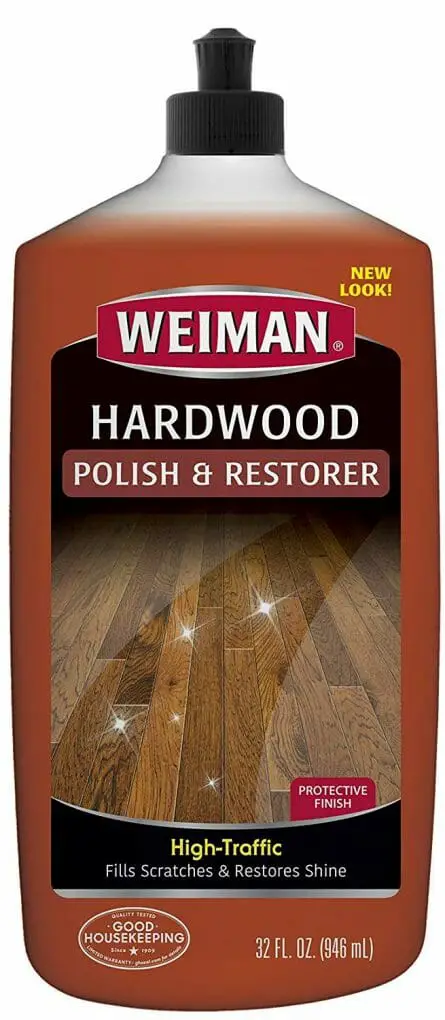 Weiman has been providing high-quality wood care products since 1941. Weiman Hardwood Floor High Traffic Polish & Restorer instantly restores the natural suppleness and shine of your hardwood floor leaving it look like new.
Features:
Weiman wood floor polish is versatile and can be used on any finished hardwood surface.
Its micro-filling technology removes visible scratches from your wood surface.
It rejuvenates your hardwood floor with a new-like shine without leaving any sticky residue.
It removes greasy messes, dirt, and grime from your hardwood floor finish.
It forms a protective scratch-resistant layer over your hardwood floor.
This safe ready-to-use wax can be used around kids and pets without causing them any harm.
If you prefer to have a glossier shine, apply multiple coats of Weiman wood floor polish and restorer. Allow at least 45 minutes in between coats and do not apply more than three coats in 24 hours.
It is not recommended to use this product on unfinished and unsealed wood floors.
Frequently Asked Questions (FAQ)
How do you tell if there is wax on hardwood floors?
To give your old hardwood floor a new look and finish, it is essential to know the old finish it contains. The previous coating might interrupt the process of new coating and all your efforts might go in vain. To know whether there is wax on your hardwood floor, simply run your hand on the surface of your floor. If you can feel the texture of your wood's grain, the floor has probably been coated with a penetrating oil or wax.
To further test the coating, rub an edge of the coin at an inconspicuous area of your hardwood floor. If you find a wax build-up on the coin, you can be sure of a wax coating over your floor.
How often should you wax your hardwood floors?
It is important to wax your hardwood floor regularly to maintain its beautiful shine. The frequency of waxing your floor, however, depends on the amount of traffic your floor receives. If your hardwood floor receives high traffic, consider applying wax to it every six months. On the other hand, if your floor does not receive much traffic, you can perform waxing every twelve to eighteen months, depending on the wear and tear you observe.
It is recommended by experts to wax your hardwood floor at least once in 36 months even if you do not observe any visible scratches. It builds a protective layer on your hardwood floor and prevents the occurrence of any dullness.
How do you clean waxed wood floors naturally?
Taking care of beautiful things require ample time and effort. If you want to maintain the luster of your waxed wood floors, you need to follow a regular cleaning routine that keeps your floor protected from the scratches that originate from the dust particles.
There are a few natural ways to clean up your waxed wood floors. Let us discuss them in detail to find out the best one for you –
1. Vacuum cleaning
The most commonly used cleaning method for your hardwood floor is undoubtedly vacuum cleaning. Vacuum away all the dust and dirt from your wood surface regularly for preventing any dullness. Use dust brush attachment for efficient cleaning.
2. Dry mopping
Your hardwood floor might get damaged with a regular use of water. Even the sealed floors are at risk of damage from water. It is recommended to mop the floor with a clean dry cloth to remove all the dirt and debris. Use a soft, lint-free cloth or a microfiber cloth pad for wiping.
3. Cleaning with a damp cloth
You cannot use a completely wet cloth to clean your hardwood floor. But, a damp cloth can surely help to remove even the smallest particles of dust from your floor. You can either sit down on your knees to carry out the process or use a spin mop. A spin mop is damp enough to work with the wood surface.
4. Dish soap and water
Using a dish soap or castile soap is also effective in cleaning your hardwood floor. Mix a few drops of liquid soap in four to five cups of warm water to make a cleaning solution. Scrub your hardwood floor with the solution applied to a mop. Dry the area with a clean mop or cloth to soak up any excess water from the surface. All the stains and discolorations can be removed effectively from your hardwood floor with this natural cleaning method.
5. Cleaning solution
Use a floor cleaning solution that is recommended by the floor finisher. It will be gentle on the finish and prevent scraping of the protective layer. Do not forget to test the cleaning solution on an inconspicuous area before you proceed with the whole of your hardwood floor. If you love the results on the test area, continue using the professional cleaning solution.
Useful Tips:
Cover a small area at a time to ensure that water does not sit at your wood surface.
Ensure mopping at least once a week for a high traffic area. A daily vacuum is, however, recommended to collect all dust and dirt.
Mopping a low traffic area once a month is recommended. A weekly vacuum can be carried out.
While carrying out cleaning, remember to clean from top to bottom in every room. If you clean the floor first and your table later, the dust from the table will fall on the surface of your floor. So, leave the floor for last.
Instantly wipe-up spills with a damp cloth and dry the surface with a clean cloth.
Don't use oils or furniture sprays for cleaning. It will either leave a sticky residue or create a slippery surface over your hardwood floor.
Using ammonia or alkaline products to clean your wood floor makes it dull in appearance. If you want to maintain your hardwood floor's luster, stay away from these cleaners.
Using lemon juice or vinegar-based solution to clean your floor is detrimental for your floor's sealing. Do not use these cleaning agents as they will damage the protective layer of your hardwood floor.
If you are using a soap and water to clean your hardwood floor, use a pH-neutral soap, like liquid dishwasher or some other soap that is not harsh on the wood floors.
Do not place the bucket containing the cleaning solution over your waxed wood floor. It will leave permanent marks in the form of rings and stains on your floor.
Consider keeping floor mats or rugs in the doorway so that most of the dirt gets trapped in before you step on your precious hardwood floor. It will also ensure to soak any water from your footwear.
To keep your hardwood floor scratch-free, always lift the furniture while shifting it from one place to another rather than dragging it.
Conclusion
Hardwood floors can last for many decades when you take good care of them. Other than adding value to your home, wood floors are natural and stunning. Waxing or polishing once in a while helps in restoring them and makes them to look new.