Furry friends are an exciting part of our families, and they keep us active and improve our social lives. It's no secret that people love their dogs, cats, and other pets.
Pet parents are, of course, willing to excuse any pet messes – accidents happen! You will want to remove pet stains quickly but, more importantly, properly to prevent pet stains.
Pet owners who have hardwood flooring in their house are faced with cleaning pet mess or waste, like dog urine.
It's no fun, but it comes with the territory, and we will show you some options for a cleaning solution out there on the market!
I love my dog, but not when I find his mess anywhere two days later!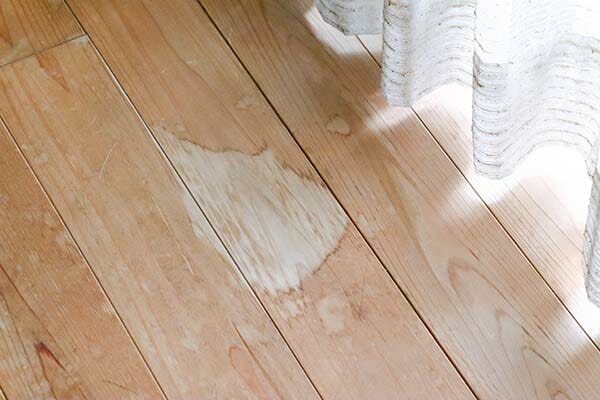 Hardwood floors create beauty, warmth, and value in a house when given the proper care. Although they're generally strong and durable, wooden floors are vulnerable if exposed to water, moisture, or harsh cleaning chemicals, such as dish soap.
In this article, I'll give you tips on how to clean dog pee from your hardwood floors with household items so you and your family can maintain a clean home without breaking the bank!
I'll also review some branded cleaning solutions that I personally recommend if you want to invest in a good product.
How to Get Rid of Pet Pee and Odor
Timing is essential in dealing with any critical situation involving urine odor. Getting urine out of a wood floor before it dries out is the best thing to do.
How to get traces of dog pee out of hardwood floors is something all pet owners will want to know at one stage or another!
You will be preventing the urine from wreaking havoc on your wood floor. Despite home remedies helping to some degree, enzyme cleaners are what you'll need to clean the floors properly.
These liquid compounds contain enzymes that do the job of sanitizing, ridding the scent, and preventing discoloration and warping.
Warning: Dried urine stains and pet odors are difficult to clear from wood and may force you to use methods that may not be friendly to your wood floor to get the results you want. 
Want to get puppy pee before it dries and leaves a stain?
Put on gloves and grab your paper towels. Gently place them on the urine puddle as you soak as much as you can. Remove towels if they get wet and continue blotting with dry ones. Rinse the area using a damp towel cloth and dry out using a towel.
Now deal with the odor completely, even if you don't smell it yourself. If your canine friend smells it, it will keep coming back to urinate at the same spot. How to do it:
While the area is still damp, sprinkle a generous amount of baking soda onto the spot. Let the baking soda soak overnight or for at least 8 hours. Vacuum it up using a vacuum that will not scratch your floor. Baking soda is a natural deodorizer and effectively removes persistent odors and unwanted scents.
After removing out the urine, disinfect your hardwood floor to remove any bacteria or household germs.
Use a safe hardwood floor cleaner applied with a spray bottle to mop the entire floor. Always use the proper tools, namely gloves, when handling pet mess such as feces, vomit, or urine to avoid infections.
Removing Dry Dog And Cat Urine Stains
Soaked and dried up urine can have serious effects on your hardwood floor. It can either discolor your wood or form a stain spot.
The mess will engulf your house leading to a familiar, unpleasant, pungent ammonia smell. Odor remover is something you'll need to use as well.
Before removing the stain or discolored spot, clean it using a mixture of water and white vinegar. Mix ½ cup of white vinegar with an equal amount of water.
Use a clean cloth or a sponge to apply the solution on the area and let it stay for 10 minutes before drying out with a dry towel. This helps remove the top layer of the dried urine from the floor.
Proceed with the following steps to remove dry urine stain:
Sanding off the finish: Use 80 to 100 grit sandpaper to sand the finish. The stain might be removed without getting deeper into the wood. If the stain is still persistent, see the next step.
Bleaching with Hydrogen Peroxide: Sprinkle a small amount of hydrogen peroxide on the spot and when it stops foaming, use a sponge to rub it into the urine stain. If there is no change, repeat the process three times or until the area is clear.
Stronger Bleach: If hydrogen peroxide cannot remove the stain, you may want to try a stronger bleach such as chlorine solution or a solution of oxalic acid to remove the residue. Mix your desired bleach with water and apply to the stain using a sponge or towel cloth and let it stay for 5 minutes. Apply some baking soda to neutralize it and rinse with water. Dry the area and wait for it to dry completely before refinishing.
Refinish and staining: Removing stains from a hardwood floor is a tough cleaning job that may leave the area looking different from the rest of the surface and damage the finish. For that reason, you will need to refinish and stain the area. Here is how to do it:
Sand or buff the area with No.2 fine steel wool or soft grit sandpaper.
Vacuum and wipe the area with a damp cloth to remove the particles and let it dry completely.
Apply your desired color of wood stain and let it dry before you apply a second coat.
Finish by applying a clear topcoat of polyurethane, varnish, wood wax, or your desired finish.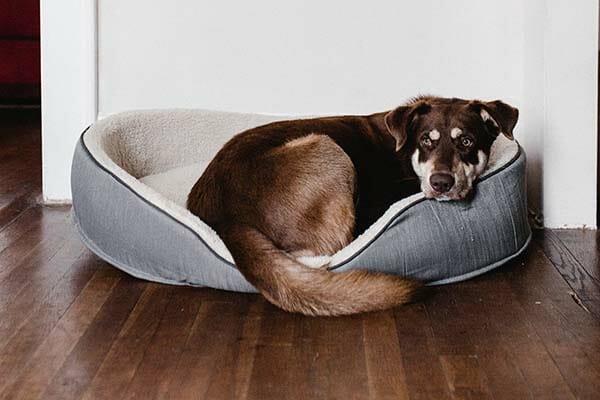 Best Cleaner for Puppy Pee
Pet owners may think about rushing to the shop to obtain the most sophisticated cleaner for dog urine.
This should not be the case if you recall the harsh chemical ingredients in such products, which can be dangerous to your pet.
Although you will find a cleaner for pet messes in a local pet store, affordable and safe cleaners include the following:
Vinegar Solution: This is a natural disinfectant used in most homes for cleaning hardwood floors. It is tough on odor, and easily dissolves dirt and grime and thus is suitable for wet pet mess and odor.
Baking soda solution: An excellent cleaner that is effective in pulling out odor and stains from wood floors.
Hydrogen peroxide: An excellent solution for clearing tough stains such as dry pet urine spots.
NOTE: Baking soda and hydrogen peroxide may lighten or discolor your wood floor. You may need to stain and refinish your wood floor after use.
Safety is essential while dealing with strong cleaners. Use gloves and, if possible, a gas mask. Do not risk using them around pets and children. Keep paper towels nearby as well.
Enzyme-Based Cleaners for Pet Urine and Odor
What type of cleaner you use is important!
A bottle of enzyme-based floor cleaners from a local pet store can be used to remove dog urine, odors, and urine stains from your wooden floor.
Be sure to read instructions before using. I've put together a list of brand solutions that give good value for money, including their features with my reviews of each.
Some of the best enzymatic cleaners for pet mess on hardwood floors include the following:
[su_button url="https://www.amazon.com/dp/B00CKFL93K?tag=woodfloorscleaner-20″ background="#F69821″ size="10″ center="yes" radius="0″ rel="nofollow"]Check Latest Price[/su_button]
This enzyme-powered reliable pet urine odor and stain remover is certified gentle and safe to use on many materials and surfaces, including hardwood floors and other floors such as tiles, concrete, and vinyl. It's an odor miracle!
Being color-free, the product will not lead to staining of your white carpet or upholstery.
Rocco & Roxie Professional Strength Stain & Odor Eliminator does not contain chlorine, bleach, or ammonia, making it safe to use around pets and children as an enzyme based stain remover.
The cleaner effectively removes pet odor and stains from carpets, furniture, clothing, upholstery, and litter boxes. It can be used for sanitizing kennels, pet carriers, living and sleeping areas. It even can remove shoe odor!
The spray is formulated with natural enzymatic bacteria, which acts on contact with odors and stains from stinky pet urine, vomit, feces, and other household organic spills.
To use, spray on the stain or smelling area. After 10 minutes, your floor or house will be smelling fresh.
[su_button url="https://www.amazon.com/dp/B001LUO1K8?tag=woodfloorscleaner-20″ background="#F69821″ size="10″ center="yes" radius="0″ rel="nofollow"]Check Latest Price[/su_button]
This is a pocketbook-friendly bio-enzymatic formula that removes stains and odor from your sealed hardwood floors without any damage.
It has no bleach or ammonia, making it safe to use around pets and homes. Other than wood, you can use it to deep clean vinyl, ceramic tile, and linoleum surfaces.
It's best not to use this product for laundry, cushioned furniture, and other soft surfaces.
Before you use, see the product for instructions on how to use, store, and for any other precautions.
[su_button url="https://www.amazon.com/dp/B00J2QKGWA?tag=woodfloorscleaner-20″ background="#F69821″ size="10″ center="yes" radius="0″ rel="nofollow"]Check Latest Price[/su_button]
To clean large areas and remove big messes, this is all you need to restore fresh air at a budget-friendly cost.
The enzyme cleaner is formulated with natural dormant bacteria that become active on contact with strong smells and stains on your flooring, furniture, area rugs, upholstery, and carpets.
An enzymatic cleaner is safe to use around kids and pets. You can use it for cleaning your house, kitchen, bathroom, laundry room, or litter box, among other areas.
It removes all stains ranging from your dog or cat urine to vomit and feces.
Use as directed on the label.
[su_button url="https://www.amazon.com/dp/B0002APQVQ?tag=woodfloorscleaner-20″ background="#F69821″ size="10″ center="yes" radius="0″ rel="nofollow"]Check Latest Price[/su_button]
Pet stain and odor is specially formulated and designed to remove dog and cat stains, urine, and feces from sealed hardwood floors, vinyl, ceramic, stone floors, brick, linoleum, and concrete.
The dual-action formula protects your floors from future stains by preventing pet remarking of the area.
The multi-functional sprayer offers versatile cleaning when tackling odors and stains. The 3-in-1 nozzle can squirt a stream, foam, or mist.
Use according to the manufacturer's instructions when you want to remove pet stains.
Conclusion
Training your pet and regular veterinary checks can help prevent accidental pet mess in your house. If it happens, it is important to act immediately, and hopefully, we have pointed you in the right direction for the best cleaner for dog urine on hardwood floors.
Removing dog urine stains or other pet stains that have soaked into hardwood floors after it has dried can be challenging, and may require you to hire a professional cleaning solution to remove the pet messes.
To tackle stains or urine odor that have sat for a while may take some extra effort to remove from the floor surface, so be sure to clean them as quickly as you can to prevent damage on your wood floors or leave behind any unsightly black marks. Once removed, you can then use a steam cleaner to buff the flooring back up!