When it comes to hardwood flooring in our home, we want it to look its best at all times, even though we know there will be changes in humidity throughout the year. Plus, numerous people will be walking on it – sometimes even with shoes on – so the flooring needs to be capable of quite a lot.
Because of these different factors, over time the hardwood floor may start to show quite obvious signs of wear and tear. Heat can cause the wood to shrink, whilst moisture in the air can cause the wood to expand, ultimately leading to breakages – let alone the natural damage caused by shoes.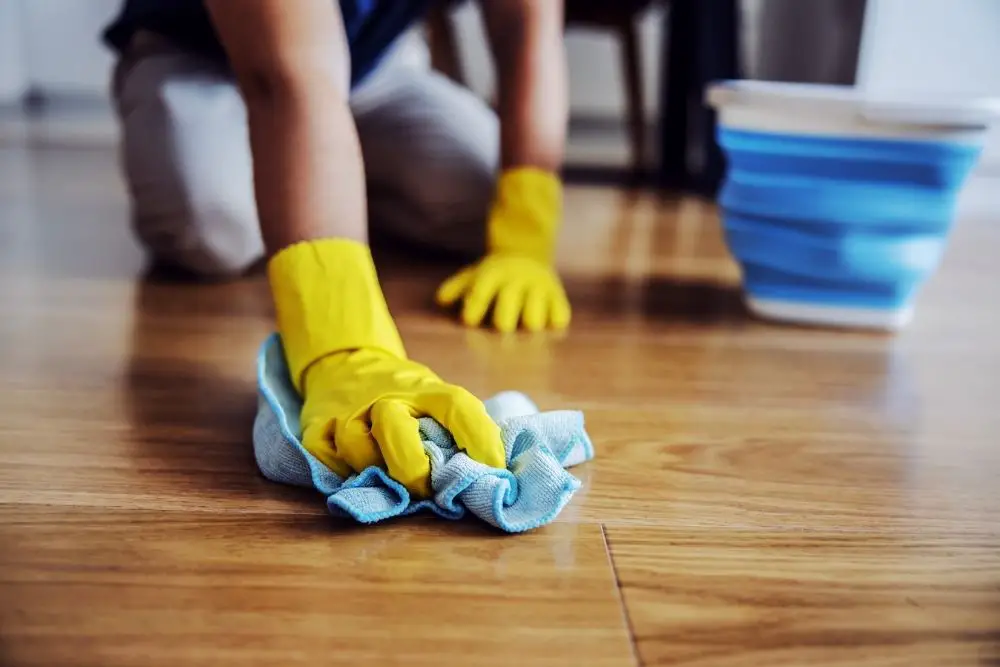 No need to panic, however, because there is an easy solution to this extremely common problem. Floor wax is a necessity when it comes to having a hardwood floor. It not only makes it look glossy and finished, but it also does a great job at providing a deep seal that protects it from moisture and recurrent damage.
There are plenty to choose from, which can cause an ordeal in itself! So, to make your life easier – because who wants to spend a few hours trying to find the perfect floor wax – we have put together a list of floor waxes available. Also included is a handy buyer's guide full of information on what to look out for before you make that final decision.
Our Top Pick
Holloway House Pure Floor Wax
Will not yellow light floors
Long lasting
Made in the USA
Buff able wax
Top 5 Floor Wax
When it comes to experts in their field, Holloway House is a good option. With over 55 years in floor care, it is a no brainer that this brand knows a thing or two about wooden floors.
The Holloway House floor wax is a good choice if you are after a shiny floor quickly and would like it to last for a few months before needing to re-wax again. It has a long lasting formula that has reviewers commenting how it has brought their ridiculously old wooden floors back to life.
It can be used on top of hardwood that has been painted, meaning you do not have to strip back any of the coats of paint you may have spent a while working on. This is handy if you are just looking to update your flooring by helping to make it look brand-new rather than a fresh color.
It is also a multi-purpose floor wax, so if you do originally buy it for your hardwood floor, you can also use it on vinyl, rubber, linoleum and even other wood flooring. This is a great way to maximise your budget if you would like to update and protect more than one room.
When first applied it may take a few coats, though this is all worth it in the end when you are welcomed to a very shiny and clean-looking floor.
Pros
Light floor appropriate – the formula is suitable to use on light surfaces and will not cause a yellow stain.
Painted surface is fine – can be used on painted hardwood flooring meaning no need to strip it back.
Multi-purpose – can be used on a number of different floors.
Cons
Needs a few coats – for the desired effect, a few coats will be needed.
[su_button url="https://www.amazon.com/dp/B00EEN85AQ?tag=woodfloorscleaner-20″ background="#F69821″ size="10″ center="yes" radius="0″ rel="nofollow" target="_blank"]Check Latest Price[/su_button]
The Lundmark floor wax has a formula that is water resistant – best for moisture in the air – and anti-slip. Both of these should be a priority when it comes to choosing a floor wax. The shinier a floor looks, the more likely we assume we, or anybody else, could slip.
It also comes in a gallon-sized bottle. Because of this, even though people use it in their homes, it is targeted at professional use. It does not just have to be used in a place that is not the home though, as many people have found it great for waxing their floors inside the home.
The results are said to last anywhere from a few months to a year, probably depending on factors such as how much the room is used, how many coats, etc. but none of this should cause the floor to lose its shine.
If you want the best of the best results, it says to use a lambswool applicator, however, this could be in a professional setting rather than just in the home. So, it is worth noting that this is not a necessary step.
Pros
Is water resistant – great for moisture in the air and any spills.
Anti-slip formula – meaning nobody will slip over on the shiny surface.
Gallon-sized product – Greater value with more product.
Long results – the shine results lasts for months.
Cons
Specialized applicator – best results achieved using a lambswool applicator
[su_button url="https://www.amazon.com/dp/B000WSRVO8?tag=woodfloorscleaner-20″ background="#F69821″ size="10″ center="yes" radius="0″ rel="nofollow" target="_blank"]Check Latest Price[/su_button]
If you are looking for something that is easy to apply, then the Rejuvenate is the perfect option. To apply, you pour the product onto the floor and then wipe with a microfiber mop, just as if you were cleaning the kitchen floor. This easy application makes it accessible to even the laziest of people – so, it is very easy!
Not only does it polish floors, but it also bonds itself to the wood and fills in any cracks. The multi-purpose finish means it not only looks shiny and protects the wood, it also rejuvenates it! It is said to last years, which is useful if you do not want to re-do every few months.
The non-toxic water-based formula itself is quick drying with a time of 45 minutes to 1 hour. The downside is that it only works on wood, which should not be a problem if you are only looking to polish wood, and the accessories the brand talks about using with it are sold separately. Even so, any microfiber mop will work with the product, so there is an easy get around!
Also, if you do have painted floors, this may not be suitable to use on top of it. Instead, it will be best to strip back any paint, or just to use it on unpainted wood.
Pros
Fills in scratches – will update old flooring.
Easy application – no fuss when it comes to applying the product.
Quick drying formula – a shorter waiting time.
Lasts for years – so no need to keep re-applying.
Cons
Not multipurpose – will only work on.
Accessories recommended – but they are sold separately.
May not work on top of paint – so you will need to apply on raw wood.
[su_button url="https://www.amazon.com/dp/B00FG74GWK?tag=woodfloorscleaner-20″ background="#F69821″ size="10″ center="yes" radius="0″ rel="nofollow" target="_blank"]Check Latest Price[/su_button]
The Weimann Hardwood wax is a good choice if you need something that is extra durable. Sometimes having a lot of people over is great. Maybe you have organised a large get together or you have the kids over every weekend. No matter what it is, our floors can take quite a lot of battering.
When it comes to the wooden floor, we need something that can take the hits but will not cause a scratch. This high-traffic wax is a go-to if you have a lot of feet walking on your hardwood floor!
Just like with the Rejuvenate, the Weimann will fill in minor scratches and help to restore wooden floors that look like they have seen better days.
It is also safe to use around children and pets alike, making it a great option if you have a curious dog. Probably best to keep him away though in case there are paw prints!
It is also a quicker application with only two coats needed to create a shiny floor that lasts for a long time. You will need to clean your floor first for better results, meaning it may take a little longer.
Also, it can only be used on hardwood floors. This should not be an issue though if you are specifically only looking to protect a hardwood floor.
Pros
High-traffic wax – greater durability, especially on places people walk the most.
Micro-filling technology – helps to remove scratches and dents.
Non-toxic – safe to use around children and pets.
Only two coats needed – faster application.
Cons
Limited wood – can only be used on finished hardwood floors.
Clean floor first – if you want to see better results, the floor must be clean first.
[su_button url="https://www.amazon.com/dp/B07DNJBD2Q?tag=woodfloorscleaner-20″ background="#F69821″ size="10″ center="yes" radius="0″ rel="nofollow" target="_blank"]Check Latest Price[/su_button]
For a budget friendly floor finish, the Quick Shine is a great option. Not only does it work on hardwood floors, but also vinyl, laminate, tile and stone, making this not only good for the wallet, but also great value if you want to use it on other types of flooring.
Again, another brand that helps to not only wax wood, but also fill in minor dents and scratches. It is always helpful to have a two-in-one if scratches are things you would like to sort out.
The product is proud to be safe around children and pets, so it will be a good choice if you have either and want to make sure it is safe for them to be exposed to.
Even though the application is easy – squirt, spread with a mop and then finished – if you leave it too long between the squirt and wipe, some reviewers have reported marks on the wood.
This can be easily avoided by squirting and using it straight away, rather than allowing the product to dry once in contact with the air.
Do not overuse, however, as, just like with all wax products, a build up of layers happens over time. Some products may 'chip' because of this. So care must be taken.
Pros
Multi-surface polish – can be used on many different flooring.
Easy application – no fuss application, great for busy people.
Fills in scratches – helps to update old looking flooring
Non-toxic – safe around children and pets
Cons
Drying time – potential to leave on floor too long causing a mark
[su_button url="https://www.amazon.com/dp/B007TSJLCE?tag=woodfloorscleaner-20″ background="#F69821″ size="10″ center="yes" radius="0″ rel="nofollow" target="_blank"]Check Latest Price[/su_button]
Buyers Guide
When it comes to floor wax, there are a number of key areas to look at when finding the one that is most suitable for the job. This handy guide will talk you through some of those points to make buying floor wax an easy job!
Durability
Because a hardwood floor will be a high-traffic area, meaning it will be prone to a lot of footfall, it is paramount you buy a floor wax that is durable. It needs to be able to stand up to several factors like footwear (think heels and heavy boots), as well as animals such as cats who may claw or bite at the wood. This may cause the wood to become scratched, so anything that will help to avoid this is a plus.
A good floor wax will be durable and last for a long time, helping to keep your hardwood floor in decent condition for a fair number of months, if not up to a year. We recommend purchasing a floor wax that will maintain its shine and protectiveness for at least up to half a year. All floor waxes will need to be reapplied over time, so do not let this put you off.
Scratch Filler
If you want to not only make your floor shiny and protected, but also give it a new lease of life, then finding a floor wax that also fills in minor scratches and dents is a must-have.
There are many on the market that have built in formulas which allow the product to bond and cling to little scratches that may have found its way onto wood over the years.
If you use a floor wax that has this included, it will allow the hardwood floor to look almost brand-new. Obviously this is not necessary for those with newer floors, but is very handy if you would like something multi-purpose.
Surface Application
Speaking of multi-purpose, a floor wax formula can generally be used on all hard floors unless otherwise stated. It is best to check the packaging before you apply to any surface anyway, as not all of the products will be suitable for a hardwood floor.
Drying Time
Though not necessarily important, if you want to wax a floor where it is usually busy or in an area like by the front door, you might want to think about how long it will dry before people start needing to walk over the floor.
Easy Application
Any standard home floor waxing product will not be difficult to use, though some do require extra accessories such as a specific microfiber brush. Before you part ways with a few dollars, think about whether you can use the floor wax with an item you already have (a standard mop), or whether you will need to buy something specialized.
There is nothing wrong with buying a specialized item, you will just have to remember to purchase it before you get around to waxing!
Safe To Use
Because you shall be using this around the home, it is important to know whether it will be safe to use around children and pets, such as a dog or cat. Most, if not all, at home floor waxers are suitable to be exposed to humans and animals.
If you want to be extra cautious, then look for a product that makes a statement about being non-toxic. This way you can be sure it will not harm you or your family.
Results
When it comes to the final results, most at home products do not require you to buff the surface for a shiny finish, in part due to the application process and what mop you use. The results you are likely to expect is a glossy finish that protects. Look for one that delivers this, and that will not require a professional buffing machine to get the job done!
Frequently Asked Questions
Is It Okay To Wax Hardwood Floors?
Yes, it is in fact recommended that you wax hardwood flooring, especially in high-traffic areas. Not only does it give the floor a lovely shiny and glossy finish, but it also protects the surface of the wood.
How Often Should Hardwood Floors Be Waxed?
In general terms, a floor should never be waxed more than once every 6 months. A general time frame is normally every 12 to 18 months to keep it protected and looking shiny.
How Can You Tell If A Hardwood Floor Has Been Waxed?
It is quite easy to tell if a floor has been waxed, especially if you cannot tell by looking at it (though it is usually shiny so you will have a clear idea that the hardwood will have had some form of treatment). Rub your finger across a clean floor and if there is a slight smudge it has been waxed.
Can I Wax Over Stained Wood?
Absolutely you can. In fact, you can wax over oil, varnish, stain or paint (unless the wax product specifically says not to).
Why Should You Use Wax Instead Of Varnish?
Wax not only makes the hardwood floor look nice, it protects it. Wax does a really good job of being protective, but it is also water resistant which is good for spills and moisture in the air. Some will need to be buffed to create the shiny look that we associate with floor waxing, whilst others will not need this step.
Our Top Pick
Holloway House Pure Floor Wax
Will not yellow light floors
Long lasting
Made in the USA
Buff able wax