Everyone loves a good hardwood floor. Between its durability and rustic sophistication, it adds to your house space. It's no wonder that it is always in style. But when it comes to the installation method, one might be at a crossroads. There are majorly two ways to install hardwood flooring. While some prefer the glue-down installation method, others prefer the nail-down method.
Nevertheless, you must ensure that you use the proper installation method when installing a new floor. What type of installation is better? Glue or nailing? In this article, we're pitting both installation methods against each other. Which method should you consider? We reviewed both methods ourselves, and we made our pick.
Our Pick: Glue-down Method
Both methods have their advantages and disadvantages. However, we have chosen the glue-down method because of its advantages over the nail-down method. The glue method involves installing the hardwood boards through an adhesive. One major pro of the glue down method is its permanence.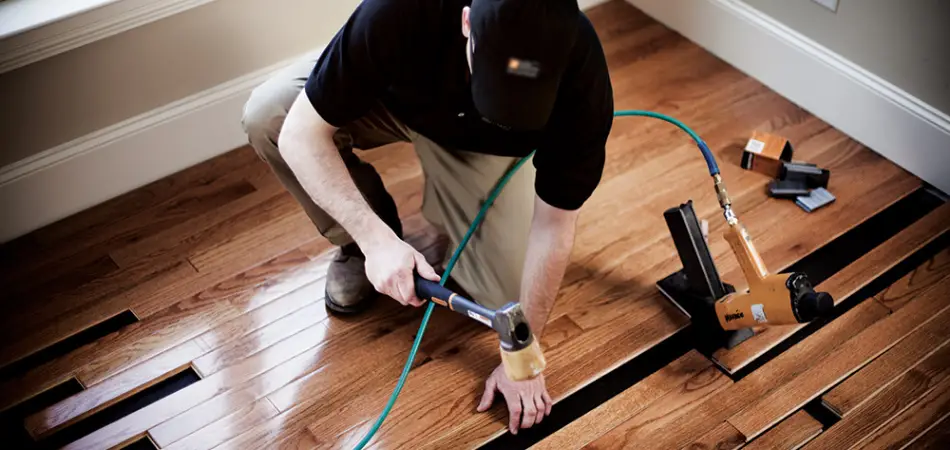 The glue-down method also gives your floors a sturdier feel than the nailing method. This glue method is the best option for places where heavy foot traffic is expected. Because of its direct fixation to the subfloor, it is a more durable option than nailing, in most cases. You can use this method to install engineered flooring or solid wood flooring.
But before you decide on the method to use, let's take a look at the features of both the glue and the nailing methods.
Glue Method of Installing Hardwood Floors
First off, you must know that some installation methods might not be ideal for certain subfloors. However, the glue method is an all-rounder. The glue-down method might be your only option if you have a concrete subfloor. On the other hand, the glue method would also be a solid option if you have a wooden subfloor. It is also compatible with solid wood flooring or engineered wood flooring.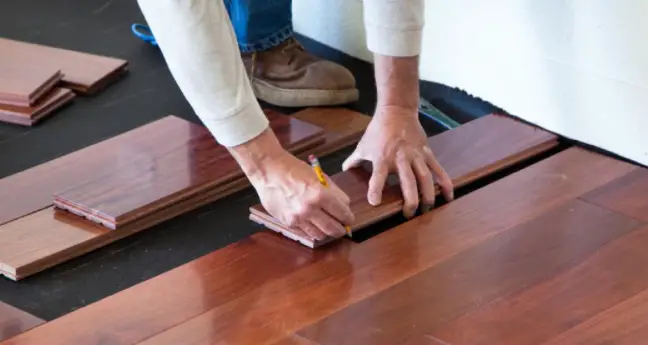 This glue method involves fastening the hardwood planks to the subfloor with an adhesive. After preparing the subfloor for glueing an even, adhesive layer is placed on the subfloor. The planks are then placed securely on the glued subfloor. Adhesive might also be applied to the end joints of the flooring planks to ensure they adhere together. Glued floors, if installed correctly, have a superior feel and sound.
This is because the panels are secured firmly to the subfloor and thus, make no allowance for dislodgement. A moisture barrier could also be mixed into the adhesive, unlike the other methods that require underlayment. A little drawback of this type of flooring installation is that it's more expensive, and charges increase per square foot.
Features of the Glue down Installation Method:
Requires glue/adhesive to secure hardwood to subfloors
Glued flooring requires some time for the glue to dry up
Proper adhesive allows the wood to expand and contract naturally
Most likely would require professional installation
Nail Method of Installing Hardwood Floors
This floor installation method involves nailing down each hardwood tile to the subfloor with a nail gun or other appropriate tool. Nails are nailed at a 45-degree angle into the grooves at the side of the hardwood planks. This secures the wood floor to the subfloor and also to themselves.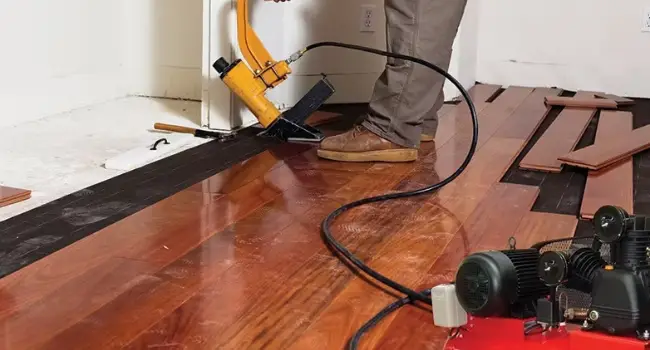 The nail-down method is a lot faster and is also the least expensive method for installing hardwood floors. This is the best option if you are looking to save money. Nailed hardwood flooring is, however, less sturdy than the glued type of installation.
Features of the Nailing Method:
Nail down flooring requires nails/staples and a vapor barrier underlay between planks and the subfloor
Most ideal method for a wood subfloor
Similarities between the Glue and Nail Methods of Installing Hardwood Flooring
These two types of installation are very distinct. However, there are a few similarities between both methods.
Compatible With Wood Subfloors: You can use both these methods to install hardwood floors on wood subfloors.
Compatible With Engineered Wood Flooring: Both methods are ideal for installing engineered hardwood floors.
Differences between the Glue and Nail Methods of Installing Hardwood Flooring
There are several ways in which these two methods differ greatly.
Cost Difference: The glue installation method is more expensive than the nail method as it requires special adhesive and professional installation.
Time Consumption: The nail method of installation is less time-consuming than glueing.
Subfloor Types: The nail method is only compatible with wooden subfloors, while the glue method is compatible with most subfloors.
Conclusion
Knowing the installation method to install hardwood floors in your house can determine the longevity and durability of your flooring. Take all conditions into consideration before deciding on the installation method to use. With your floors properly installed, you'll be a happy homeowner.