The type of flooring you install in your home is dependent on many factors. The environment, intended usage, budget, and expectations all come into play when deciding on an option. Therefore, making a choice can be a daunting task, especially for newcomers. Traditionally, homeowners see solid hardwood floors as an ideal choice. However, with modern developments, we now have several alternatives on offer. The debate of engineered wood flooring vs. vinyl planks shows there is plenty of competition on the market.
Real hardwood floors enhance the overall look and feel of a home. More so, this type of flooring increases house value over time. Many homeowners like natural wood, but not all can maintain solid hardwood flooring in the long run. Hardwood is susceptible to heat and moisture and easily warps, shrinks, and expands. Also, if you have children and pets in your home, considering hardwood flooring as part of your home improvement project may not be the best choice.
In shopping around for different flooring materials, you've likely come across engineered hardwood and luxury vinyl planks. The problem is, you don't know which one to choose. Don't worry because we've got you covered. By the end of this article, you will better grasp the two flooring types.
Which Is Better?
Based on facts and figures, we conclude that the luxury vinyl plank is a better flooring material than engineered wood. Though everyone's opinions and demands vary, we vote for vinyl flooring in the engineered hardwood vs. vinyl flooring debate.
Vinyl planks are more affordable, easy to maintain, and mimic the look of real wood. However, if you or your guests like a hardwood floor and can recognize imitations, then an engineered wood floor is perfect for you. We recommend choosing solid hardwood if you don't mind extensive upkeep and prefer traditional flooring.
Engineered Hardwood Flooring
Engineered hardwood flooring consists of layers of hardwood veneer on the top layer and plywood in the core. Manufacturers position each layer differently than the next. As such, engineered hardwoods are more resistant to warping than real wood. Engineered wood is a product of years of improvement over hardwood. This type of flooring is similar to hardwood but has superior durability.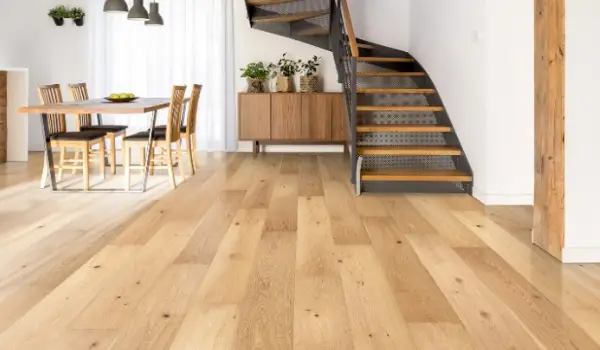 If you're leaning towards this choice, there are great brands like Mohawk, which provides a lifetime residential warranty. They recommend a certified installer if you prefer to hire rather than DIY. Their customer service is also satisfactory, and they respond to all your concerns about engineered hardwood.
Features:
When comparing the price of real hardwood vs. engineered hardwood, the second is more affordable. Engineered hardwood costs $2.50 per square foot for the cheapest option and $10 for the most expensive one. Why is engineered hardwood cheaper than real hardwood? Real hardwood is more expensive than engineered hardwood because timber isn't readily available. Even though engineered hardwoods are also comprised of real wood, they are pieces of lumber put together. Unlike solid hardwood, which is only one chunk of lumber, manufacturers incorporate several materials in engineered hardwood.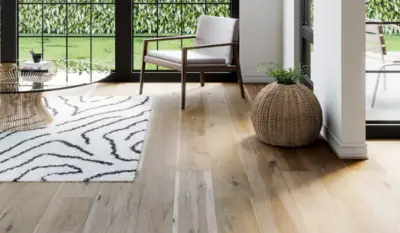 Although engineered hardwood is scratch-resistant, it is not entirely immune. If you ever get your floors scratched, don't panic. You can use wood putty or wood filler to fill in gaps. In addition to that, the top layer is also the wear layer. The wear layer protects the wood planks and serves as a sandable layer. In contrast, if you have a damaged plank beyond repair, you can replace it. Engineered hardwoods have interlocking planks. Installing this type of flooring can be tricky as it may cause uneven floors. Numerous video tutorials show how to install flooring with interlocking planks. To be sure, ask your manufacturer how to replace your engineered hardwood planks to ensure smooth flooring.
Even though engineered hardwood flooring includes the same wood species as solid hardwood, you must practice utter diligence. However, you can loosen up slightly as engineered hardwood can tolerate moisture. Use a damp cloth when cleaning. Like cleaning debris from solid wood, you can use a soft brush, broom, or vacuum. Use Bona Hardwood Floor Cleaner for tough stains to keep your wood flooring spot-free and shiny. Never use wet mop, wax, or bleach on your hardwood floors.
Unlike vinyl planks, engineered hardwood offers a variety of designs. This is possible because engineered wood has an array of wood species available for use. Oak and hickory are the most common types of hardwood flooring, and the tone and shade depend on what kind of wood comprises the final product. A vintage look is the most popular, and interior designers tend to move with the trend which focuses more on retro design.
Vinyl Flooring
Luxury vinyl flooring comes in many forms: tiles, planks, and sheets. We will focus more on luxury vinyl planks (not to be confused with sheet vinyl). Vinyl plank flooring is a synthetic type of flooring. Manufacturers designed vinyl planks to look and feel like real wood floors. Vinyl flooring is perfect for homeowners with demanding lifestyles. Why? Vinyl planks are adaptive to various things, unlike solid hardwood flooring. These include pressure, humidity, temperature, and moisture.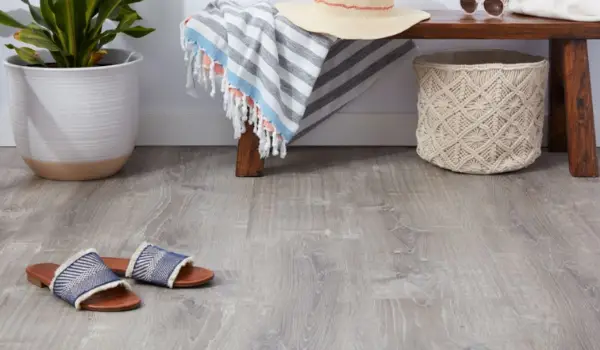 Features:
Luxury vinyl planks don't require any lumber, unlike solid hardwood. As far as we know, lumber is expensive due to high demand and the extensive period necessary for growing trees. Therefore, luxury vinyl planks are very affordable, ranging from $2.50 to $4.50 per square foot. Though some offer $8 per square foot, it's a safe bet to take an average of these prices. Somewhere around $4 to $5 is an excellent range to save a few bucks without sacrificing quality. Furthermore, a luxury vinyl tile is more affordable than ceramic tile and porcelain tile.
Luxury vinyl planks are extremely durable. Many homeowners prefer a vinyl type of flooring over engineered hardwood because it's scratch-proof, perfect for a household that has children and pets. All the more, vinyl planks are completely water-resistant. As such, designers can place them in damp places like the bathroom or basement.
There are various installation processes if you ever choose luxury vinyl planks. A floating floor lets you put new flooring on top of existing flooring. You use vinyl as the top and bottom layers or install luxury vinyl planks on the concrete or ceramic tile as a sub floor. There is also a beginner-friendly gluing method, and almost everyone can install vinyl plank flooring without any problems.
Luxury Vinyl Plank (LVP) Vs. Engineered Vinyl Plank (EVP)
We often mention luxury vinyl in this article, but we left out engineered vinyl plank flooring. Even though engineered vinyl planks and luxury vinyl planks look similar, the floor material in each is different. LVP flooring is mainly plastic, while EVP has wood or stone polymer composite. The engineered vinyl plank is more durable because of its sturdier wear layer. Luxury vinyl planks also have a wear layer, but it is thinner. Due to this, the engineered vinyl plank is heavier than LVP. Any advantage comes with a price, though, so prepare your wallets as engineered vinyl planks are more expensive than luxury vinyl planks.
Similarities between Vinyl Plank Vs. Engineered Hardwood
Both flooring materials imitate the look and feel of solid hardwood and wood floors. Although engineered hardwood is closer to solid hardwood in terms of where the manufacturers get the material, both floors are processed. Engineered hardwood and vinyl plank both have a wear layer. Vinyl plank and engineered hardwood are cheaper than solid hardwood and easier to manage.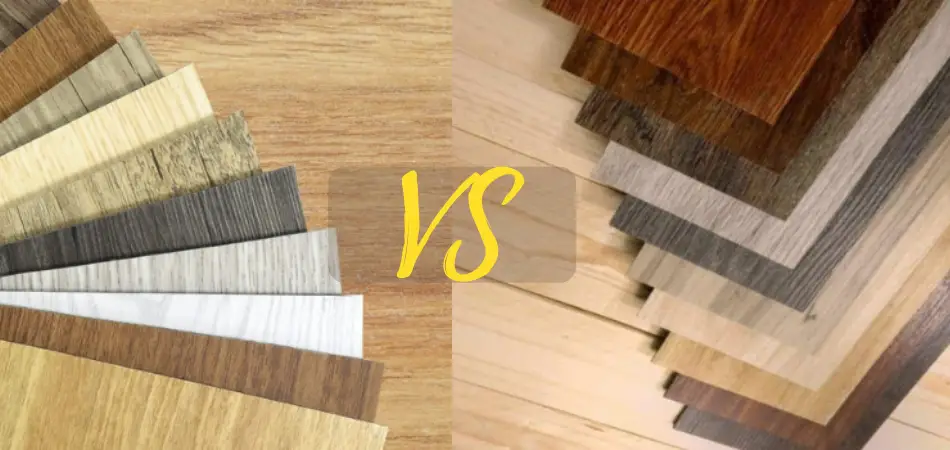 Differences between Vinyl Floors Vs. Engineered Hardwood
Unlike engineered hardwood, vinyl floors cannot be finished, so you have to replace vinyl planks if one of your family members damages them.
Vinyl planks boast excellent sound absorption. Since luxury vinyl flooring materials mainly consist of synthetic elements, they are quieter, unlike engineered hardwood.
Final Thoughts
We conclude that vinyl plank is a better option than engineered hardwood. However, this doesn't mean that everyone should go for the vinyl plank flooring types in their home. Each situation and need calls for a different product. Also, everyone has their own opinion on what constitutes the best option. Some like hardwood floors, some prefer engineered hardwood, and some choose vinyl plank; we respect that. As long as we serve our purpose of differentiating each flooring from another, everyone should be happy.