Choosing the right hardwood floor can make a good home great. Not only does the appropriate hardwood floor complement a home's aesthetic appeal, it can also add significantly to its market value. So, the right choice is both an important personal and financial decision. It's one you should carefully consider before construction, home renovation, or any other scenario in which you would install a hardwood floor.
The decision is not always a simple one — there are plenty of factors to consider in hardwoods, such as colors, species, hardness, and finishes. How do you choose the best wood for your project?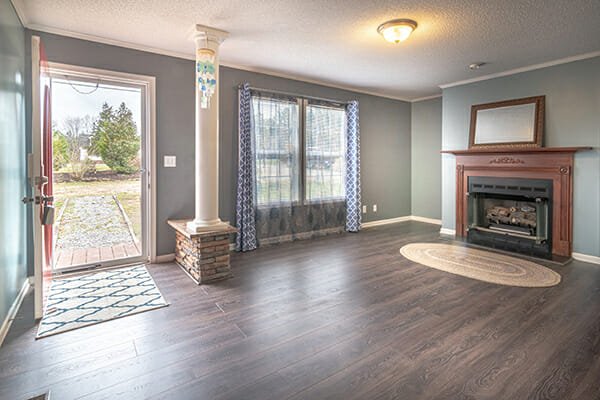 First and foremost, we commend you for choosing wood flooring over other alternatives such as carpet, laminate, or tile.
Hardwood floors are timeless, durable, beautiful, and easy to clean. But then there's the choosing part again. So, to help you make up your mind, here is a guide on how to choose a hardwood floor for a home.
How to Choose the Best Hardwood Floor
Besides knowing the pros and cons of a hardwood floor, there are various factors that can influence your decision for a hardwood floor.
In summary, the factors include but are not limited to the type of wood floor, the species of tree, the wood's appearance appearance, its finish, and — of course — its cost.
Types of Hardwood Floor
There are two broad categories of a hardwood floor — namely, solid and engineered hardwood floors.
Structural differences and resistance levels are used to define the two types.
The choice between the two types can be influenced by a number of factors, but perhaps most important are the amount of abuse you expect the floor to endure and the geographic location of the house.
Solid hardwood floors
These are wood flooring planks milled from a single piece of timber. They have a thick wear surface and can be sanded and finished many times without compromising strength or quality.
Solid hardwood floors are best for floors that experience scratches and dents on a regular basis.
Such damage is common in homes with kids, pets, or both. There is no great worry if you have solid hardwood floors because they can be sanded and refinished as many times as necessary to remove scratches, dents, and scuff marks to look new again.
One of the main disadvantages of a solid hardwood floor, however, is its porous nature. It can absorb moisture, causing it to expand and warp.
It is therefore not the best choice for homes in humid areas or located by large bodies of water, like beach houses.
Engineered hardwood floors
Engineered hardwood floor planks consist of two or more layers of wood adhered together. A thin layer of solid wood usually is attached to a core of layered plywood.
Engineered hardwood floors are structurally stable and resilient to moisture and temperature variations. This makes them the best to install on any floor type, above, below or on grade.
Regardless, engineered hardwood has its own shortfalls. The thin layer of solid wood on top does not allow repeated sanding in the event of  contamination. Engineered hardwood is thus not the right choice for floors that are predisposed to scratches and dents.
The purchase and installation cost for both solid and engineered hardwood may vary significantly based on other factors such as species of wood, color, texture, and the area to be covered.
Nevertheless, solid hardwood is slightly more expensive per square foot than engineered hardwood.
Species of Hardwood Floor
There are over 20 species of hardwood floors with varied qualities such as color, strength, texture, and durability.
Commonly available species include Hickory, Cherry, Maple, White Oak, Red oak, Birch, Teak, and Black Walnut among others.
The type of hardwood species you choose may depend on your lifestyle.
The Janka rating of hardness scale of each species can help you to select what suits your home requirements. The higher the value on scale, the more durable the wood is.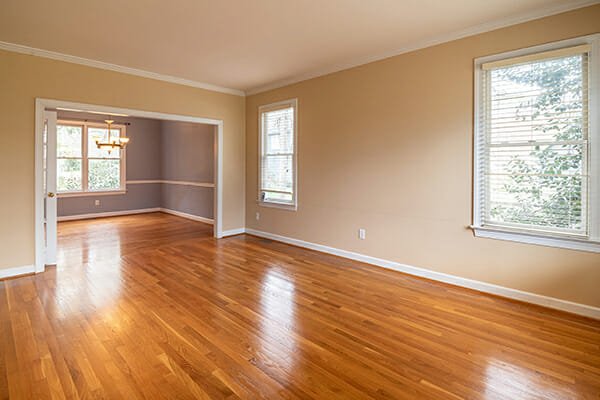 For example the best hardwood floor for pets or high traffic must be tough, strong, and resistant to urine and scratches.
Species such as Hickory, Maple, and Oak are ideal in such environments.
For staining or color change, a softer hardwood would do the trick. You may consider species such as Ash, Birch, Cherry, or Black Walnut.
While these species may not suit homes with more floor activities and pets, they are slightly more expensive than harder ones due to their sophisticated color.
Hardwood Appearance
Because of all the aforementioned factors that define a hardwood floor, choosing one that looks right isn't necessarily an easy task.
When comparing dark vs light hardwood floors, for example, certain factors come into play. You'll need to consider the interior décor, room lighting, and even the size of the space.
If you are selling your home, the majority of people are attracted to dark colors. Plenty of people prefer a light appearance, however, though only a few are attracted to gray.
Generally, a hardwood floor adds value to a home and increases its resale value.
Although classy, colors on any extreme spectrum — i.e. very dark or very light — are difficult to clean and maintain. They do not conceal scuffs and scratches.
Any imperfection is therefore highly noticeable. How ready you are to handle such a situation should be a determining factor in your choice of a wood color.
In addition to colors, finish options such as glossy, satin, and matte are significant factors in a floor's appearance.
If you want to highlight the natural grain patterns and colors of your wood, consider natural-looking matte finishes. Glossy finishes make your floor, well, glossy. If that's not your thing, to add a little gleam to your floor without too much gloss, go for satin finishes instead.
There also various surface textures for prefinished hardwood flooring. Smooth surface texture is still the most popular, followed by wire-brushed, hand-scraped, and distressed wood.
Prefinished hardwood flooring has a superior and consistent factory applied finish whose quality and durability is warrantied.
Unfinished hardwood is sanded and finished on site after installation.
This is usually done by a professional to ensure a consistent seal that prevents moisture and dirt from penetrating the seams or floor boards.
Budget and Cost
Neither the purchase nor installation of a hardwood floor is cheap. The costs may vary depending on the type of wood, species, size, and strength.
Don't lose heart, though, upon seeing the bill. Even though the onetime cost may appear high, it pays back in the long run.
Generally, the cost of purchase and installation of a prefinished hardwood floor is less than unfinished hardwood, where everything is done on site.
Be sure to budget carefully when planning for your floor, and make sure you get the best quality you can for the money.
Care and Maintenance
Care and maintenance is a critical factor for a lasting hardwood floor. Water (moisture) and dirt are the greatest enemies of a wooden floor.
The proper care and maintenance of a hardwood floor not only makes them stay beautiful and clean, but also extends their lifespan.
When you prepare to install a hardwood floor, be ready to meet cleaning, repairing, and refinishing costs.
Fortunately, hardwood floors are relatively easy to clean. You'll need to use a  cleaner or method that does not damage the surface finish or the underlying wood.
As some wood types or colors are good at concealing dirt, scuff and dents, all wood types call for regular cleaning, fixing of imperfections, sanding and refinishing after several years.
The Bottom Line
A hardwood floor has many advantages over other flooring types. Perhaps chief among these are timelessness, comfort, beauty, and value.
Choosing the right type of a hardwood floor for your home depends on your lifestyle and taste as well as your intentions for the future of the house.
To get the best out of your investment, you should be be prepared and committed to protect your floor and maintain it well into the future. Whether you want to give your house to your children or sell it later, your future self will appreciate the value you placed on the floor.