Vinyl (or polyvinyl chloride) is an incredibly versatile material.
A staple of the craft and music industries, vinyl is the most widely used plastic in construction and one of the most popular flooring materials worldwide.
Just a few of the many reasons why vinyl is such a popular choice for flooring is that it's highly durable, waterproof, insulating, and very easy to install.
However, the process of installing vinyl flooring can sometimes be complicated by factors such as damp and irregular foundations.
The best way to counteract issues like these when they arise is to install underlayment.
Underlayment can be made from a variety of materials, but they all serve the same purposes, give or take additional technologies or features.
Underlayment is designed to provide extra cushioning, evenness, sound and heat insulation, and water-resistance for your flooring.
Underlayment for vinyl flooring, then, essentially enhances the existing properties of the material.
As additional reading, we have published a new article where we answer a question we kept receiving over and over, so our experts answered it for you here: How can you refinish dark wood lighter?
Our Top Pick
MP QuietWalk Laminate Flooring Underlayment
360 sqft per roll
Highly durable
Optimal 3.2 mm thickness
Compression-resistant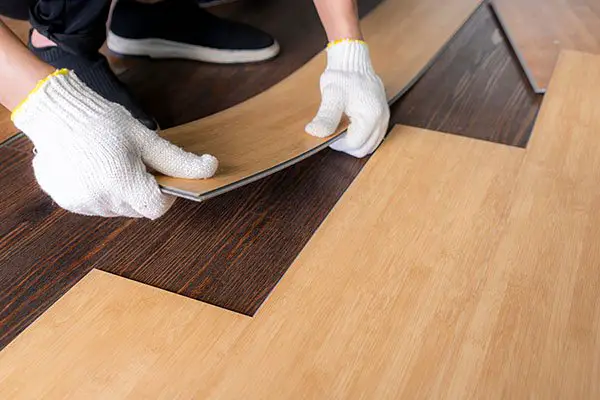 Because, as we've just mentioned, there's some variety in underlayment in terms of material and function, deciding which type of underlayment will work best with your home and flooring can be a challenge.
This is why we've decided to research and collate the 7 best underlayments for vinyl flooring into a comprehensive review and buying guide.
Need underlay without delay? Here's our top pick: MP Global Products QuietWalk Laminate Flooring Underlayment
360 sqft coverage
Suitable for luxury vinyl flooring
Durable
3.2 mm thick
High compression-resistance
Made from recycled felt fibers
Built-in moisture barrier
Sound insulating
No volatile organic compounds
Easy installation process
Top 7 Underlayments for Vinyl Flooring
The QuietWalk Laminate Flooring Underlayment from MP Global Products is one of the most popular choices for vinyl flooring underlayment.
This is, in part, because it's so versatile. It can be installed underneath all types of laminate and floating engineered floorings, including luxury vinyl plank and heated floor systems, which many underlayments are not suitable for.
The QuietWalk underlayment comes in rolls of 360 square feet, which is enough to cover the average living room floor with a single roll! At 3.2 mm, it's also the optimal thickness (not too thick or too thin).
MP Global's QuietWalk is an extremely durable and compression-resistant type of underlayment, which means it won't be worn down or structurally damaged by being walked over.
This underlayment is also made from recycled felt fibers.
The recycling of material makes QuietWalk an ecologically responsible choice, as does the fact that it doesn't emit any volatile compounds or harmful gases, so it's completely safe for you and the environment.
QuietWalk provides excellent moisture protection due to the built-in vapor barrier. Meanwhile, the recycled fibers help to absorb sound for better noise insulation.
However, some customers have noticed that it makes their vinyl flooring sound a little hollow.
This material is very easy to install: just cut to size with a utility knife and roll out across the desired area!
Pros
360 sqft per roll
Highly durable
Optimal 3.2 mm thickness
Compression-resistant
Uses recycled felt fibers
Built-in vapor barrier
Good sound absorbency
Works with luxury vinyl plank
No volatile emissions
Easy to install
Cons
Some customers have noticed a hollow sound
[su_button url="https://www.amazon.com/dp/B00A52RTC0?tag=woodfloorscleaner-20″ background="#F69821″ size="10″ center="yes" radius="0″ rel="nofollow"]Check Latest Price[/su_button]
STEICO's Wood Fiber Flooring Underlayment is an eco-friendly, safe, and high-performing underlayment for almost any click-lock flooring systems, including vinyl tile. This underlayment is made from natural wood fibers and doesn't contain any glue additives.
These natural fibers don't release volatile compounds or any other harmful substances, so you can sleep easily at night knowing that your flooring is completely safe and non-toxic for yourself and your family. The STEICO Wood Fiber underlayment is 3mm thick and has a high compressive strength that makes it an excellent support system for floating floors.
This material has been put through the most rigorous testing for soundproofing, so it's guaranteed to effectively muffle noise. One of the most impressive features of this underlayment is its use of 'vapor open' technology.
This technology ensures that the conditions of your flooring are unsuitable for moisture development and mold growth.
However, if any moisture does manage to build up, the wood fibers' high absorbency should take care of it without any outside intervention. Despite being reasonably thick, this is a surprisingly lightweight underlayment that is easy to work with for installation purposes.
Since it doesn't need to adhere to anything, the installation process for this underlayment is about as easy as it gets!The only potential problem with this underlayment is that it's only sold in rolls of 90 square feet, which really isn't very much coverage, especially for the price.
However, if you can afford it, this is definitely a superior-quality underlayment that we would wholeheartedly recommend. Pros
3 mm thick
Made from natural wood fiber
No harmful chemicals or compounds
High compressive strength
'Vapor open' moisture protection
Sound-proof
No adhesive required
Cons
[su_button url="https://www.amazon.com/dp/B01LD0RC24?tag=woodfloorscleaner-20″ background="#F69821″ size="10″ center="yes" radius="0″ rel="nofollow"]Check Latest Price[/su_button]
If your priority is getting a lot of high-quality underlayment material for a budget-friendly price, you won't do much better than the Premium Thick Flooring Underlayment from AMERIQUE.
This underlayment is available in 2-packs, with each roll consisting of 200 square feet of material, so you get 400 square feet of coverage in total from a single purchase!
But, as we've already indicated, the value of AMERIQUE's Premium Thick Flooring Underlayment isn't just quantity-based.
Suitable for use with multiple flooring materials, including bamboo and laminate floorings, this underlayment has many highly beneficial properties that make it ideal for installation under vinyl flooring.
The AMERIQUE underlayment is 3 mm thick, which is a good thickness that will work for most vinyl floorings.
Additionally, the foam padding material is non-allergenic. This means that you can install this underlayment in your home without worrying about it causing any irritation: respiratory, or dermatological.
While we're on this subject, the AMERIQUE underlayment provides protection not only against moisture but against mold thanks to its built-in vapor barrier.
The 3-in-1 heavy-duty foam also features closed-foam technology for sound insulation as well as anti-crush technology to ensure durability.
An adhesive strip is included on the underside of the underlayment to help with the installation process, which is quick and easy.
Pros
Multi-flooring compatibility
400 sqft total coverage
3 mm thickness
Built-in vapor barrier for moisture and mold
Uses anti-crush technology
Closed-foam sound insulation
Includes adhesive strip for installation
Cons
Makes a slight crunching noise
[su_button url="https://www.amazon.com/dp/B07JGNJK7G?tag=woodfloorscleaner-20″ background="#F69821″ size="10″ center="yes" radius="0″ rel="nofollow"]Check Latest Price[/su_button]
The shiny gold covering of Floorlot's Premium Silent Underlayment might be what initially catches your eye, but its incredible functionality is what will make you want this product in your home.
At 200 square feet per roll, you get a decent amount of coverage for the price, especially since you can use this underlayment for just about any floating laminate or hardwood flooring.
The material also has a good thickness of 3 mm, which is thick enough to provide cushioning and protection, but not so thick as to make it difficult to work with.
The thickness of this underlayment is part of what makes it such a good sound and thermal insulator, and it also contributes to its effectiveness as a surface-evening product.
Floorlot has included a vapor barrier in the construction of this underlayment for moisture protection.
Gridlines have been printed on the back of the underlayment to facilitate straight and accurate cutting, while an adhesive strip ensures an easy and effective seal.
Pros
200 sqft per roll
3 mm thickness
Suitable for most laminate and hardwood floors
Includes vapor barrier
Thermal and sound insulation
Printed gridlines for installation
Adhesive strip for sealing
Cons
Some reports of defective adhesive
[su_button url="https://www.amazon.com/dp/B07XHC8PL8?tag=woodfloorscleaner-20″ background="#F69821″ size="10″ center="yes" radius="0″ rel="nofollow"]Check Latest Price[/su_button]
The Foot Roll Underlayment material from First Step is yet another great-quality underlayment that also happens to be good value for money.
The First Step underlayment comes in huge rolls of 630 square feet, so you'll be able to cover a lot of ground with this product.
This underlayment has an interesting construction that features a middle layer of styrofoam beads.
These beads improve air circulation, which helps to prevent moisture buildup (enhanced by Gold Guard antimicrobial protection), and also provide a good amount of cushioning.
The thickness of the First Step underlayment is ideal at 3 mm and helps to improve the product's overall durability, as well as its thermal and sound insulative properties.
This thickness also helps the material to be effective at leveling slightly uneven floors.
An adhesive strip and overlap film are included on this underlayment for an easy installation that won't take up too much time.
Thanks to the styrofoam construction, the material is also very lightweight and easy to handle – just be prepared for some of the styrofoam beads to spill out when you cut the material to size.
Pros
Suitable for floating floors
360 sqft rolls
3 mm thickness
Lightweight
Thermal and noise-insulating
Styrofoam beads for airflow and cushioning
Includes adhesive strip and film overlap for installation
Cons
The styrofoam beads may spill out when cut
[su_button url="https://www.amazon.com/dp/B008915ICC?tag=woodfloorscleaner-20″ background="#F69821″ size="10″ center="yes" radius="0″ rel="nofollow"]Check Latest Price[/su_button]
FloorMuffler's Ultra Seal Underlayment is one of the best underlayments on the market for noise absorption, so if this is a priority for you, this is the product we would recommend.
Each roll of this underlayment is enough for 300 square feet of coverage. It's only 2 mm thick – however, the other features of its construction really help to make up for this.
The material used in the construction of the FloorMuffler underlayment is premium-grade polypropylene foam.
The foam is crosslinked and features an UltraSeal self-sealing tape system with an overlapping lip for an extra-strong seal.
This adhesion and seal not only helps with the installation but also ensures, along with the built-in moisture barrier, that moisture is effectively controlled.
The superior compressive strength of the Ultra Seal underlayment means that it won't be easily worn down or damaged by traffic.
This underlayment also has one of the highest acoustic ratings on the market, with an IIC (Impact Insulation Class) rating of 74 and an STC (Sound Transmission Class) rating of 73.
Unfortunately, this isn't the most affordable option when it comes to underlayment – in fact, per square foot, it's probably on the more expensive side.
However, this is another underlayment brand that you won't regret buying if you can afford the cost.
Pros
300 sqft per roll
Premium-grade polypropylene foam
Self-sealing tape and lip seal
Superior compressive strength
Built-in moisture barrier
High acoustic insulation ratings
Cons
Only 2 mm thick
Not very affordable
[su_button url="https://www.amazon.com/dp/B07RX8TWH8?tag=woodfloorscleaner-20″ background="#F69821″ size="10″ center="yes" radius="0″ rel="nofollow"]Check Latest Price[/su_button]
This 3 in 1 Vapor Barrier Flooring Underlayment from Bestlaminate is one of the most affordable underlayment products on the market, so if you're working on a particularly tight budget, this could be the best option for you.
The underlayment is suitable for use on both cement and wood subfloors and works well underneath vinyl tile flooring as well as other floating laminate and engineered floor types.
However, it should be noted that this is not an appropriate underlayment for sheet vinyl.
Each roll consists of 100 square feet of underlay, which is typically only enough for a small-sized room.
However, at this incredibly low cost, purchasing several rolls of Bestlaminate won't be nearly as much of a wrench as it could be with some other brands.
Featuring a vapor barrier for effective protection against moisture, this flooring underlayment has an adhesive tape strip for creating a secure seal.
This, combined with the plastic overlap, makes the installation process easy and stress-free.
However, because this underlayment is only 2 mm thick, it won't provide quite as much sound and thermal insulation as thicker materials, so we would only recommend this product for homes that don't suffer too much with drafts or sound travel.
Pros
Compatible with several floor materials
Features vapor barrier
Adhesive strip and plastic overlap
Cons
Just 2 mm thick
Not suitable for sheet vinyl
[su_button url="https://www.amazon.com/dp/B01HDN4SDQ?tag=woodfloorscleaner-20″ background="#F69821″ size="10″ center="yes" radius="0″ rel="nofollow"]Check Latest Price[/su_button]
Best Underlayment for Vinyl Flooring Buying Guide
If our selection of reviewed products indicates anything, it's that no 2 flooring underlayments are exactly alike.
Choosing from such a varied range of products can begin to feel overwhelming, especially if you're new to this kind of home improvement.
This buying guide will outline all the features you should be looking for in an underlayment to make sure its functionality and durability are suitable for your home.
Material
We mentioned at the very beginning of this article that the materials used to make flooring underlayment vary from brand to brand.
In this section, we'll discuss the advantages and drawbacks of each type of material so that you can make a well-informed decision.
Felt is a common underlay material that is very soft and, therefore, great for proving a little extra cushioning under your floor.
It's also inexpensive and durable as well as eco-friendly. It doesn't have the best moisture-resistance, though.
Foam also provides excellent cushioning, and it's very lightweight. This is especially true of styrofoam variants. However, it can be a little messy to work with while cutting since pieces of foam have a tendency to fall out.
Wood fibers are a fantastic eco-friendly underlayment option and have the added advantage of being very absorbent for dealing with any moisture leaks.
Sadly, it's far from the cheapest option, so this type of underlay won't be for everyone.
Polypropylene is well-suited to use as an underlayment because it's very strong, normally quite cheap, and highly moisture-resistant.
Of all the plastics, it's also one of the healthiest and most low-impact in terms of the environment. It is, however, very flammable, so make sure it won't be exposed to any potential fire hazards.
Thickness
As well as providing better cushioning and potentially a more even surface, the thickness of a flooring underlayment is closely correlated with its efficacy as a sound and thermal insulator.
Therefore, it's important to carefully consider the thickness of your chosen underlayment before purchasing.
Most underlayments are somewhere between 2 and 4 mm thick. If you want the best possible cushioning and insulation, we'd recommend a thickness of at least 3 mm.
This is thick enough to cushion your floor and insulate effectively without becoming too heavy or awkward to use.
Note: thickness alone should not be solely relied upon to determine the sound and thermal insulative effectiveness of an underlayment.
Insulative ratings for underlay products can be found through their manufacturers.
The Impact Insulation Class (IIC) and Sound Transmission Class (STC) indicate how well a material absorbs sound from impact as well as how well it prevents the spread of noise.
Higher numbers for these ratings indicate better insulative efficiency. You can also accurately tell how well a material retains heat through its R-rating.
Durability
Although all of the underlayments we've chosen to review for this article are designed to facilitate the easiest possible installation process (more on this in a moment), this still isn't a job you want to have to repeat frequently.
If your underlayment becomes worn out, damaged, or ineffective once it's been installed, you'll have to take up your flooring to remove it in addition to spending money on a replacement product.
For these reasons, the importance of durability in a vinyl flooring underlayment cannot be overstated.
Decent thickness, as we briefly mentioned in the previous section, will contribute to your underlayment's durability.
However, there are other factors that indicate whether or not an underlayment will prove to be a long-lasting purchase.
The main thing to look for here is the compressive strength of the material. If a material has high compressive strength, it will be better able to withstand a lot of traffic and weight, so it'll be less likely to become worn down in the near future.
Vapor Barrier
Because part of a flooring underlayment's primary function is to protect your flooring from excess moisture, a vapor barrier is of the utmost importance.
Any good quality underlayment will either have a vapor barrier built in on the underside of the material to ensure that any vapors are absorbed before they can cause damage, or use some kind of moisture-control technology.
An alternative to a physical moisture barrier is 'vapor open' technology which basically ensures, even without a moisture barrier, that the conditions between your subflooring and vinyl flooring aren't suitable for moisture and mold growth to occur.
This technology is best used in highly absorbent underlay such as wood fiber since any moisture that does come through can simply be absorbed by the material.
Installation
First of all, it helps if your underlay is lightweight. This makes it easier to handle and roll out without exerting yourself excessively.
Not all underlayments need to be stuck down, but most do. Pre-attached adhesive tape strips help a lot with the adhesion process because they mean that you don't have to source and apply your adhesive separately.
Gridlines can also be super helpful when you're trying to cut your underlay to the right size for the area you want to cover.
The even spacing of pre-printed grid lines makes it easier to determine whether you're cutting enough material. These grids also provide straight lines that are easy to follow for a regular shape.
For an effective, watertight seal, some form of overlap is also beneficial.
This could just be a plastic lip overlap or a film overlap, as long as it's strong, yet thin enough not to cause any bumps in your flooring.
We should also mention that, while you don't necessarily need to seek the help of professionals to install your underlayment for you, this is always an option.
If you have the extra money and want to make doubly sure that your work doesn't need to be redone, consider enlisting some home improvement professionals for the task.
Our Top Pick
MP QuietWalk Laminate Flooring Underlayment
360 sqft per roll
Highly durable
Optimal 3.2 mm thickness
Compression-resistant