If you weren't already aware, bamboo flooring is the latest way to update your home in an environmentally friendly way. You have walked across a bamboo floor before and not even realized!
Bamboo flooring looks crazily similar to wooden flooring. It has a mix of tones that complement each other fantastically and go well with many home decor styles.
PS. Please also check out our newest article here: How do you protect the floor from rolling chairs?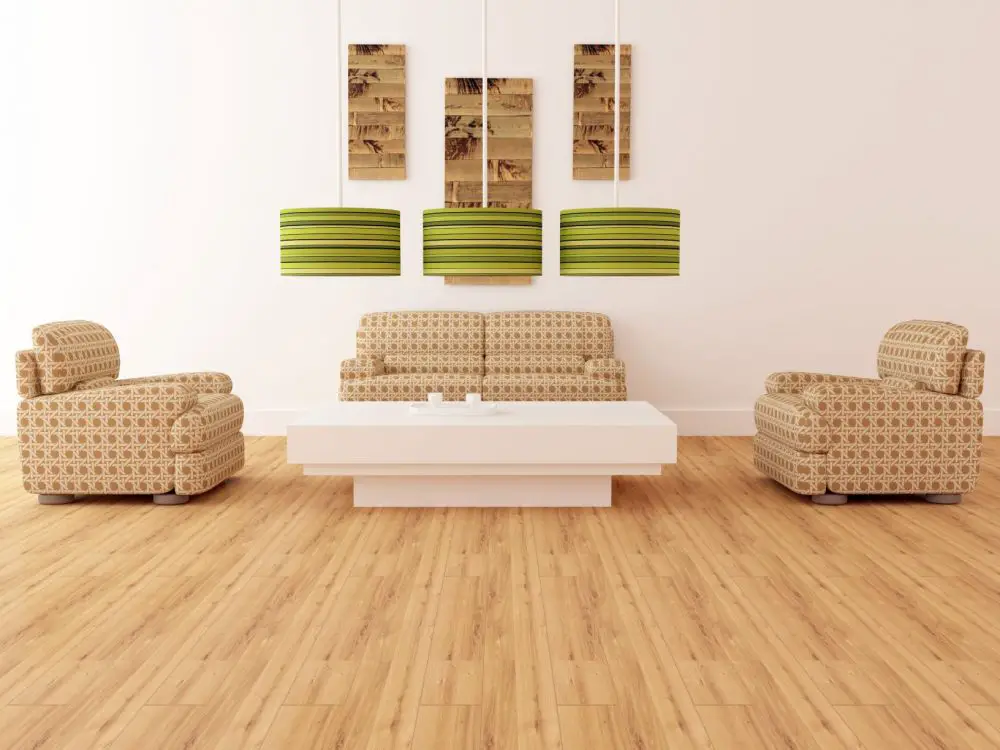 What makes bamboo so sustainable is the fact that, shock horror, it isn't actually made from wood. Bamboo is a woody grass. Doesn't it make sense now you know that?
Grass grows so quickly and so does bamboo. In fact, once a bamboo seed is planted it can reach full maturity in three to five years. No wonder why bamboo flooring is becoming more popular throughout the world.
Once the bamboo is made into flooring, it is extremely durable and easy to maintain throughout its life. To keep your bamboo flooring looking fresh, you will be happy to know that it can be refinished.
There's no need to worry about replacing your flooring in a few years, just refinish and breathe a breath of fresh air into your original bamboo floor.
How to Refinish Bamboo Flooring?
Depending on your budget, you may want to either take up refinishing your bamboo floor as a DIY project or you may want to hire a professional.
To help you make your mind up, you will need to know how to refinish bamboo flooring in the first place.
Well, lucky you! As we are going to run through the best methods used by the professionals to refinish your bamboo flooring.
Before we even begin to think about the method, you need to make sure that you have the right kit:
Sandpaper
Flooring drum sander
Flooring edger
Pad sander
Floor buffer
120-grit sanding screen
Plastic sheeting
Polyurethane floor finish
Polyurethane floor sealer
Step 1
First up, you will want to remove any furniture that may be in the way of your bamboo flooring. Once the room is empty, we advise you to close the door and open a window.
This will help to keep the mess in one room and also still allow air to flow through as it's going to get dusty.
If you have any shelving units or anything hanging which you are unable to move, you can use plastic sheeting to protect them from any damage or mess.
Please note that it will get a lot dustier than you will initially imagine so you may want to protect yourself by wearing safety glasses and a mask.
Step 2
The next step to the refinishing process is to finely sand the top layer. This is where you will need the flooring drum sander and some sandpaper.
We like to start with a 60 grit sandpaper as it is the most effective at this stage.
Before you start using the sander, make sure that the sander is placed at a slight angle, and following the direction of the grain. Following the grain will majorly ease your refinishing process.
When you need to get into the edges of the flooring, take out your flooring edger and use the same grit sandpaper. This is a great tool to ensure a smooth surface across the whole surface area.
When you are happy with the outcome, you can either sweep up the mess or vacuum it up.
Step 3
Now, you will want to change the sandpaper on the drum sander to 80 grit.
Once you have done this, repeat the sanding process completed in step 2. Then you can do the same with 100 grit sandpaper.
These three stages of sanding will perfect any blemishes left on your bamboo flooring. Don't forget to clean up after yourself after each sanding step!
Step 4
It's time for a little cleanup! Take a tack cloth and rub it over the surface of your floor. If you come across any rough patches, you can gently sand them away by hand.
We recommend that you choose the 100 grit sandpaper if you need to do this. Once everything is looking good, wait for the floor to completely dry.
Step 5
The hard work is basically all done now. Good job for getting this far, we know it can be exhausting work!
The next step is to seal in all your hard work. Get yourself a paint pad or floor finish applicator and start applying the sealer on top of your flooring.
When you're done and the sealer is dry, you will want to take the floor buffer and load it up with 120 grit sandpaper. Lightly sand the surface area and vacuum away any mess.
Then, take the floor finish and apply the first coat to the flooring. Again, once that is dry you will want to lightly sand. Then apply the second coat of floor finish.
The sanding in between coats creates a sticky or tacky surface for the next coat of finisher to stick to. You will not need to sand any further once the second coat of floor finish has dried.
How Much Does it Cost to Refinish Bamboo Floors?
As you may have already expected, as bamboo flooring can be refinished just like a regular wooden floor, then the pricing also correlates with this.
As you have read above, bamboo flooring can be refinished in many different ways such as sanding and staining. Depending on what you are looking for, the price will vary.
Speaking about a complete refinish of your bamboo flooring, it would cost approximately $3 per foot to get it done professionally. If you want to save yourself the hassle of doing the task yourself, then this is definitely the right choice for you.
If you fancy taking on a project, you can refinish your bamboo flooring for around $1-2 per foot.
Sometimes you have to sit back and reevaluate what you would prefer to do yourselves and what you think needs to be done by a professional.
Once you have decided, you can either save money by doing it yourself or save time by getting someone in.
When Not to Refinish Your Bamboo Flooring
If you only have a small area or corner of your bamboo flooring which needs to be refinished, we have some good news.
You will not need to spend a ton of money on completely refinishing your entire flooring.
Thankfully, if you have a small area that may have been worn more than others, we have the answer to your prayers!
You will need to do a screen and recoat. This means that you just need to focus on that area so less money is spent!
Firstly, take a floor buffer with 120 grit sandpaper. Rub that over the worn area and once you are happy with the outcome, vacuum up the mess. Then apply two coats of floor finish to protect the area further.
You will be happy to know that because this process doesn't fully expose the bamboo, there will be no splinters!
As you are only lightly buffing the sandpaper into the flooring, you will only touch the floor finish and not the sealer. This is an added bonus as it also saves you time as well as money!