There is nothing quite like walking into a house with high quality flooring. Walking on your newly-installed Revwood floors or Tecwood floors makes any home renovation worth it. While it is good to look at, you will need maintenance work. Moreover, there are ways to clean laminate flooring properly. To lengthen the laminate floor lifespan, follow these tips and make sure to read until the end.
Do's and Don't
While laminate flooring is pretty to look at, its aesthetic quality will deteriorate if you do not take care of it. The first step in cleaning laminate flooring is to use a soft bristle broom. You can also use automatic brooms but use one with the soft bristled attachment. Doing so will sweep away dirt and debris from your laminate floor without scuffing. Another cleaning tool that you can use is a dust mop. It is intended for dry mopping, making it suitable for wood floors.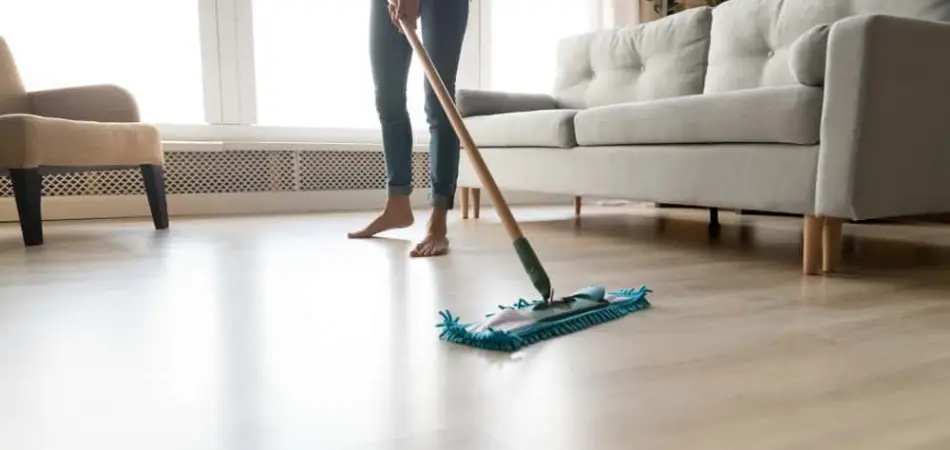 Avoid wet-mop cleaning as this will damage your wood flooring. Instead, use a damp mop or a slightly damp cloth for cleaning laminate flooring. Microfiber mops and cleaning cloths are good cleaners; wash them regularly and avoid putting fabric conditioners on your microfiber cleaners.
Do not use steam cleaning, since water is the wood's number one enemy. Moreover, liquids can affect the floor's longevity. Steam cleaners can warp and swell laminate flooring. Spray mops like Swiffer WetJet are fine as long as the product indicates that it is suitable for laminate floors.
For stubborn residue like chewing gum, apply ice to harden it. After the gum hardens, gently scrape your laminate floors with a plastic scraper. Never use scouring pads and steel wool pads to scratch the wood's surface. In addition, never use your cleaning machine's power rotary brush head. It may seem tempting as other wood floorings can tolerate heavy scrubbing, but take note that laminate flooring is different.
Step 1. Use a Vacuum Cleaner
If you think using regular brooms and mops to clean dirt off your floor is quite bothersome, you could opt for vacuum cleaners. There are only a few reminders: remove the beater bar attachment. The beater bar will damage and corrode the floor's surface.
Step 2. Use a Spray or Liquid Cleaner (Be Careful!)
Never use harsh cleaning aids like those containing bleach, ammonia, and urethane polish (or power cleaners) to clean floors. It can destroy the finish of your laminate floor. Instead, you can use a spray mop that prevents gritty dirt from building up. Spray on the surface, mop it down, and clean it with a dry mop.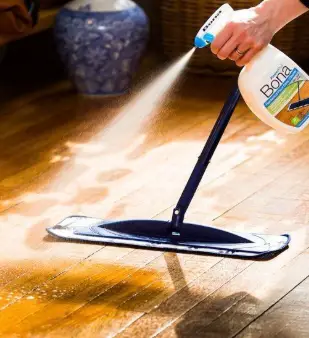 Step 3. Keep Light and Temperature at Bay
For extra protection, invest in protective window coverings to ensure that light will not damage your floor. Fade-causing UV rays will discolor your laminate floors resulting in an unsightly appearance. Heat expands wood, while cold makes wood shrink. To reduce wood shrinkage, cover the part where snow or rain usually falls on the floor. We recommend keeping your thermostat at a constant temperature to prevent excessive heat and cold.
Step 4. Protect from Moisture, Dust, and Dirt
Use high-quality floor mats where water is most accessible, like under kitchen sinks or outside the bathroom. Additionally, you need to rearrange rugs once in a while for the laminate to age evenly. A high-traffic spot is the most susceptible place for fast floor corrosion. It is a must-have to place mats and rugs inside and outside the doorway. Keep your laminate floor free from scratches; identify and remove tough substances, gritty dirt, rocks, and outside debris from getting inside.
Step 5. Mind the Furniture
To make the floor age evenly, rearrange heavy furniture periodically. We also recommend using protective pads under furniture legs to protect the floor's surface.
Step 6. Watch Your Pets
Keep pets' nails trimmed and wipe water spills immediately. Although most Mohawk brands are pet-proof, it is still best to protect your floor as best as you can for optimal longevity.
Difference Between Mohawk Laminate Flooring and Vinyl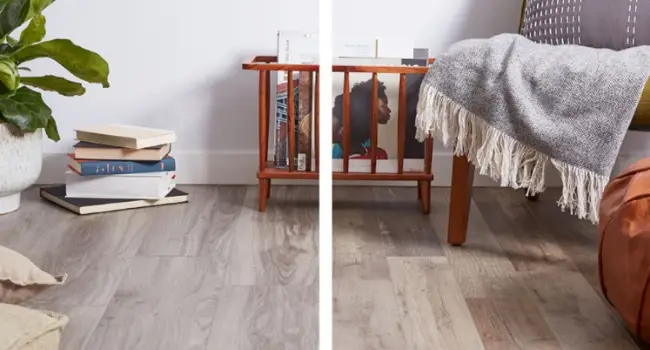 While laminate flooring and vinyl look the same, they are made of different materials. Vinyl consists of synthetic materials; in contrast, laminate flooring mainly includes byproducts of wood. Knowing this, one should consider that vinyl and laminate need different cleaning procedures because you can clean vinyl flooring with soap and water, but not on laminate flooring.
Conclusion
Cleaning may be a chore for most people, but knowing which could damage your floor's surface is a matter of concern. Yes, you can hire or ask someone to do the job, but it is also best to know how to clean your own floors. With that, knowledge is essential. If you want your home to look good, proper maintenance is needed. In addition, placing mats and using cleaning cloths to restore gloss to your floors should not be that hard. Moreover, there is no harm in researching cleaning tips, especially if you want to know how to clean Mohawk laminate flooring properly.