Hardwood remains a popular quality flooring material around the world, as it is naturally attractive, timeless, and valuable.
However, other flooring options — such as laminate flooring — comes with some benefits that may give you a reason to choose it.
Without further ado, here is our guide to the difference between laminate flooring vs hardwood.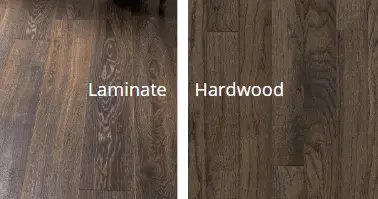 Laminate Flooring vs Hardwood
Hardwood flooring is comprised of 3/4-inch thick boards of pure, solid wood cut from a tree. The planks are usually milled with a smooth surface and have tongue-and-groove edges that interlock to hold them together during installation.
Hardwood floors may come prefinished or unfinished based on what a homeowner has ordered.
Laminate flooring is made of fiberboard with a photographic layer that resembles wood placed on top and is protected by a clear plastic surface.
The floor boards are usually 1/4 to 1/2-inch thick and are manufactured with interlocking edges that secure the boards together without nailing or glue.
Installation
Hardwood floors require professional installers with special tools. The floor is installed by blind-nailing the boards or planks to the subfloor.
Once the installation is complete, the floor is stained and coated with a protective polyurethane layer.
Prefinished hardwood floors comes already finished at the factory and ready for installation without refinishing.
Laminate floors can be installed by non-professionals, and are thus the best for DIY. During flooring, the planks click and lock together over a foam underlay without the need for nails or glue.
The floor is thus regarded as a floating floor. Installation of a hardwood floor is harder, more expensive, and more time consuming than the installation of  laminate floors.
Appearance
A hardwood floor has a rich natural ingrain color that makes it attractive. Hardwood floor is undeniably loved by most homeowners due to its prestigious appearance.
The beauty cuts across every species of a hardwood floor. Any hardwood flooring is naturally more attractive than any quality laminate.
Laminate floors resembles a hardwood floor from a distance. When you look closer, however, you can notice a difference from real hardwood.
Even a quality laminate with integrated surface grain texture mimicking wood is still far from perfect.
A hardwood floor is therefore more visually appealing than even the most attractive laminate flooring.
Cleaning
Hardwood floors are easy to clean using a soft broom, a dust mop, or a vacuum. This removes surface dirt debris and dust.
Deep cleaning after several months using a damp mop with a wood cleaner helps remove ingrained dirt and grime.
Laminate floors are similarly simple to clean using a vacuum, broom, or dust mop. A laminate cleaner with a damp mop is used once in a while to remove sticky dirt.
For both laminate and hardwood, excessive water should not be used during cleaning.
Products should be tested on a small area before using on the entire floor. Be sure to follow the floor manufacturer's instructions.
Durability
Hardwood floors can last up to a century or more with good care. Things that can shorten the life of a hardwood floor include flooding, fire, and vandalism.
Dents from heavy objects, scratches, and fading can be fixed by sanding and refinishing, after which the wood will look new again.
Laminate floors can last up to 20 years with good maintenance.
Although laminate floors have good resistance to dents, scratches, and moisture they can be seriously affected by water infiltration, scratches, and UV radiation from the sun.
A laminate floor can only be replaced when damaged. It cannot be sanded or refinished.
Maintenance
Hardwood flooring requires proper cleaning on a regular basis. To restore the surface finish and offer protection to underlying wood, hardwood requires refinishing periodically.
After 5 to 8 years, sanding and refinishing has to be done by a professional. Badly damaged floor boards need to be replaced.
Laminate flooring has to be cleaned and protected from water infiltration.
Since there is no refinishing or sanding required, it costs less to maintain a laminate floor than a hardwood floor.
Resale value
Hardwood flooring typically adds real estate value to a home.
As a premium flooring material, it attracts most homebuyers with its natural grain color, durability, and its sense of luxury.
Laminate flooring adds little real estate value to a home, although it holds higher esteem than some traditional floorings such as carpet or vinyl.
Resistance
Solid hardwood floors are vulnerable to water or heat. Flooding, pooling water on the surface, or heat can damage a hardwood floor.
It should therefore not be installed in wet areas or over a radiant heating system. An engineered hardwood floor has good resistance, and is thus the best choice for such conditions.
Laminate flooring is resistant to moisture, heat, and stains. Water infiltration into the joints can cause damage to the edges and fiberboards.
Laminate surfaces should not be exposed to flooding or water. Laminate flooring has good resistance to heat and can be installed over radiant heating systems.
Cost
Hardwood flooring costs between $4 and $12 per square foot and about $3 to $5 square foot in labor. This brings average cost per square foot to $8 in material.
Since installation requires hiring a professional, the overall cost of installing a hardwood floor is much higher than laminate flooring, which anyone can install.
Laminate flooring costs between $2 and $8 per square foot, although designer types of laminate may go for as much as $10 to $12 per square foot.
Overall, laminate floors can be purchased and installed at a significantly lower cost than hardwood floors.
Varieties
Hardwood flooring comes in dozens of different wood species such as cherry, walnut, oak, maple, hickory, ash, teak, birch, pine, and more.
Hardwood flooring is also grouped into dark vs light hardwood floors. This gives a homeowner a wide range of options to choose from.
Laminate flooring also comes in different texture and colors such as wood grain and polished stone.
You can find any color you love and the cost won't come close to real wood or marble.
Verdict
After comparing between laminate flooring vs hardwood, there is no dispute  that hardwood flooring is more durable, more attractive, and adds more real estate value.
However, laminate flooring can be a viable option if you want to install it over a radiant heating system, when your budget is limited, or if you are simply curious about laminate floors.