Laminate flooring is an excellent addition to any home. It looks fantastic, is easily installed for a good price, and is designed to last. However, if not cleaned using the correct equipment the joy your nice new laminate floors have given you can quickly turn into despair.
Using traditional mops to clean your laminate flooring is a big no-no. Firstly, standard mops don't tend to do the job well enough. They can smear the dirt rather than remove it. That's not all though, traditional mops can actually make your laminate floor swell or cause floor bubbling. Nobody wants this to happen to their new flooring, so what's the solution.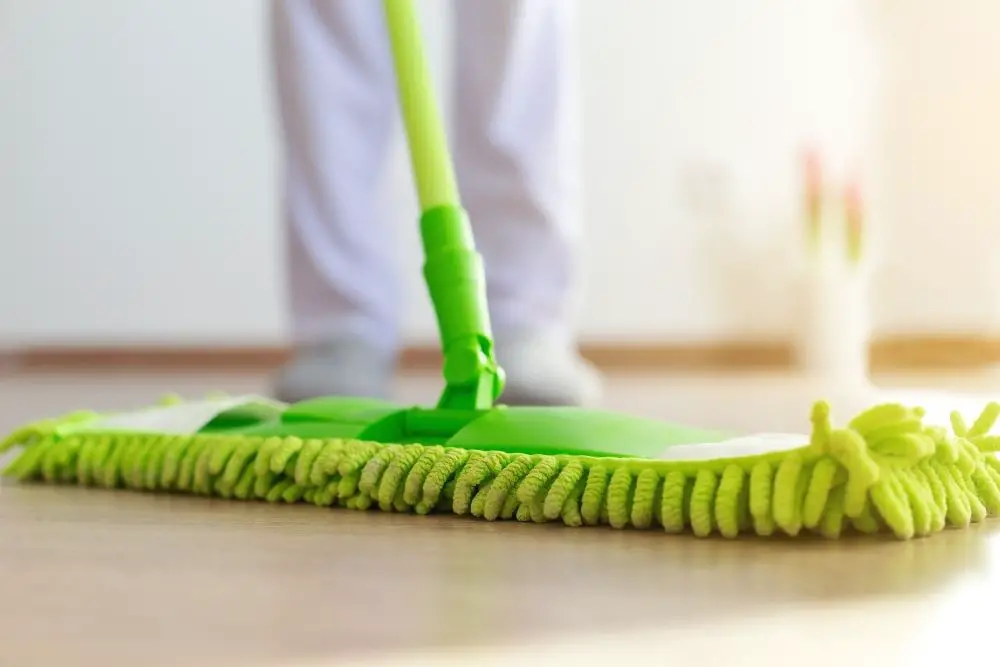 Simple, the solution is to use a specialized mop designed to safely and effectively clean your laminate floor. Some specialized mops use microfibre pads to clean your floor whilst others use steam to safely remove dirty.
Finding the right mop can be difficult so we have done the hard work for you. In this article, we will go through 5 of the best mops for laminate floors. In the end, we have also provided you with a buyer's guide of things to look for when buying your laminate floor mop.
Our Top Pick
LIGHT 'N' EASY S3101 Mop
Super lightweight design
Compelling 1150W high temperature steamer
Wider mopping face with flexible mop head
A quick-release cord
Top 5 Mop For Laminate Floors
Diving straight into the list, the LIGHT 'N' EASY mop is a great option when looking for a mop that effectively cleans your laminate floor. With a capacity of 220ml, this steam floor mop gets to work in just 20 seconds. Thanks to the manual steam control function you can delicately clean your laminate floor without creating a bigger mess.
With this mop, you no longer need that heavy bucket of water. Instead, you can use this lightweight product to clean your floor. The mop has washable pads that glide over surfaces ensuring a consistent, smooth clean.
Not only does the LIGHT 'N' EASY mop clean your floor it also kills 99% of bacteria.
In terms of usability, this mop is great. The user-friendly product does the hard work for you thanks to the mop head being able to move forwards, backward, left, and right. This ease of use means you can tackle the worst messes on your flooring without damaging it.
Features
Washable pads – Easy-to-clean pads ensure continued long-lasting cleaning.
Lightweight – The product is nice and light. There will be no strain on your body like with a mop and bucket.
Starts in 20 – 30 seconds – A quick start-up lets you tackle messes quickly.
Multifunctional – This mop can also be used to clean other surfaces.
Pros 
Lightweight – The mop is only light making it easier to use.
Reusable – The reusable pads make this product more eco-friendly than other mops.
Use on other surfaces – Can be used on other surfaces too.
Safer than water – Using steam is safer for your flooring than the potential damage water can cause.
Cons 
Short cable – This mop has a shorter cable than other steam models.
[su_button url="https://www.amazon.com/dp/B07CZD7R34?tag=woodfloorscleaner-20″ background="#F69821″ size="10″ center="yes" radius="0″ rel="nofollow" target="_blank"]Check Latest Price[/su_button]
The EasyGleam mop has a compact and slim design that is easy to assemble. The mop looks a little more like a traditional mop and bucket but comes with an innovative two-chamber layout.
The two-chamber bucket allows you to use the foldable mop head to clean laminate flooring efficiently. One chamber of the bucket is for washing the mop head, the other to dry the mop head off. By cleaning the mop head well before continuing to clean the floor you can ensure no dirt is being smeared across the flooring.
This mop is a great option for cleaning muddy paws, spillages, and all those sticky incidents we all hate. The flexible and lightweight design of the mop makes hard-to-reach dirt easily reached and lets you easily get into those tight corners in the kitchen.
The EasyGleam mop comes with two reusable pads that like the rest of the product are easily stored away.
Features
Product dimensions – 22.8 x 18.8 x 39 centimeters.
Weight – 1.78kg
Collapsable – The mop can be taken apart and placed in a small bucket for easy storage.
Two-chamber bucket – This is an innovative design.
Pros
Unique design – The design of this mop and bucket is unique to EasyGleam.
Flexibility – The flexible reach and movement of the mop make it easier to clean hard-to-reach areas.
Multifunctional – You can even clean your windows with this mop.
Reusable head – The pads on this mop are washable and reusable so you can guarantee a clean floor every time.
Cons
Time – This mop is quite small so it will take longer to clean your floor. However, the cleaning it does is brilliant, no dirt is left on the floor.
[su_button url="https://www.amazon.com/dp/B07SXD8GTS?tag=woodfloorscleaner-20″ background="#F69821″ size="10″ center="yes" radius="0″ rel="nofollow" target="_blank"]Check Latest Price[/su_button]
The Tina & Tony spray mop is an easy-to-use, one-hand grip mop with some interesting features that make it a great mop to clean your laminate floor with.
With this mop, there is no need to carry around a bucket or use steam to clean your floor. Instead, this mop has a water compartment built-in that sprays water onto the floor as you clean.
By completely removing the need for you to wet the floor before cleaning you will save yourself a lot of time. All you need to do is squeeze the trigger. This is a lot easier than the backbreaking work you have to do otherwise.
The design of the product even means you don't have to bend down too much when cleaning. The aluminum pole is flexible and durable meaning even children can use it.
With the Tina & Tony spray mop, you can clean up to 200m of your laminate floor safely in only one use. By using the spray mop you don't saturate the laminate flooring as much as a traditional mop does, therefore, you can clean away with peace in your mind that the mop won't damage your laminate floor.
Features
Attractive design – The product looks stylish and unique.
Large capacity – The refillable bottle holds 635ml of water.
Microfibre pads – Perfect for cleaning laminate floors.
360° mop head – The mop head can move in any direction letting you tackle dirt anywhere.
Weight – 0.75kg.
Pros 
Neat design – The product looks great.
Doesn't saturate the floor – The floor doesn't get drowned in the water keeping your laminate flooring safe at all times.
Easy on your back – Mopping can be a task but the comfortable handle and length of this mop go easy on you.
No bucket – You only need the pole to use this mop.
Cons 
Storage – You will have to find somewhere to store the product. A lot of customers end up mounting it on the wall.
[su_button url="https://www.amazon.com/dp/B08SCHZ84F?tag=woodfloorscleaner-20″ background="#F69821″ size="10″ center="yes" radius="0″ rel="nofollow" target="_blank"]Check Latest Price[/su_button]
The MR.SIGA mop is loved by its customers. The powerful microfibre cleaner has a 360° swivel pole with a telescopic handle, making it super easy to clean your laminate floor. If you want a cheaper yet reliable mop then this model could be the one for you.
The head-on mop has dimensions of 42 cm x 23 cm allowing it to clean a lot of dirt at once with its dual-action, wet, and dry microfibre cloths. Wet and dry cleaning gives you as a consumer the chance to clean thoroughly ensuring the floor is spotless and that no water drips underneath.
Included when you buy the pro mop is a dirt removal scrubber. The scrubber lets you get even the toughest of dirt out of the mop, so that next time you use it you aren't putting dirt back on the floor.
The pole for the pro mop is 93 cm in length and 150 cm when extended. The weight of the product is also a bonus (1.28kg).
Features
Dual locking system.
Lightweight – 1.28kg.
Extendable – can adjust it to suit your height or to access tough to reach areas.
Reusable microfibre heads.
The aluminum pole makes the mop more durable.
Pros 
Easy-to-use – No messing around with this product, it is quick and easy to use.
Light – It only weighs 1.28kg.
Durable – Having 3 mop heads helps the mop stay long-lasting.
Cons 
No water bucket or spray – This mop requires you to make it wet and dry it, there is no system for using the mop to do it.
Accessories – This mop doesn't have any accessories, unlike other models.
[su_button url="https://www.amazon.com/dp/B01E40877Y?tag=woodfloorscleaner-20″ background="#F69821″ size="10″ center="yes" radius="0″ rel="nofollow" target="_blank"]Check Latest Price[/su_button]
The Domi-patrol spray mop has a 360° rotary mop head that lets you easily reach into the corners of the room and underneath furniture. This sturdy spray mop allows for quick, effective cleaning to be carried out before the mop can then be stored away.
This is an ideal mop for cleaning laminate floors because of its powerful and reliable spray bottle with microfibre pads. The bottle that holds 635ml of water sprays water onto the floor as you mop. This ensures that the floor doesn't get too wet, leaving you with a nice smooth clean.
Domi-patrol has designed this mop with the user in mind. The mop is comfortable to use and long enough that you don't need to bend down all the time to use it. Its weight of 980g makes it one of the lightest mops out there.
Included with the mop is a handy multi-functional scraper making your life even easier. You don't have to worry about scrubbing the dirt off the pads. All you need to do is use the scraper provided before placing the pads in the washing machine.
Features
Dimensions – 42.9 x 15.5 x 12.2 cm.
Weight – 980g.
360° rotating mop head.
635ml water capacity.
One handle grip.
Wall-mounted.
Pros 
Spray bottle – The spray bottle ensures the laminate floor doesn't get too wet.
Multifunctional – Can be used to clean other surfaces.
No bucket – You don't have to carry the annoying, heavy bucket around with.
Easily stored – This mop can be collapsed down and stored anywhere.
Cons 
Wall-mounted mop – It is recommended that you mount the mop on the wall. This might not be what you want to have on the wall in your kitchen or living room.
[su_button url="https://www.amazon.com/dp/B088M5QLWP?tag=woodfloorscleaner-20″ background="#F69821″ size="10″ center="yes" radius="0″ rel="nofollow" target="_blank"]Check Latest Price[/su_button]
Buyers Guide
There are some important things to think about when buying a mop. Here are some of those things.
Steam VS Water
Choosing between a steam mop or water mop is a difficult choice to make because they could both potentially damage your laminate flooring if you are not careful. The best thing to do when looking for a mop is to consider which you would feel more comfortable using.
Steam mops can get hot and cause burns which don't happen with a water mop. However, a water mop can be harder to control. It is easier to make a mistake with water because once it's in the cracks of your laminate floor you are in trouble. Steam mops can avoid this issue but you still need to be careful. You could quite easily mark your laminate floor if you don't follow the instructions.
Bucket Or No Bucket?
Mops can now come with or without a mop bucket. It doesn't make too much difference which one you choose. Both mops will clean your floor well. The only thing you might need to think about is how you are going to store the mop.
If you don't have much room in your house then it might be a good idea to purchase a mop that doesn't come with a bucket. If you buy a mop without a bucket that can collapse then it will be very easy to store. On the other hand, a mop that comes with a bucket takes up more space and you have to find somewhere specific to store it.
Size Of Laminate Floor
The size of your laminate floor will massively impact your choice of a mop. If you only have a small-sized laminate floor you can look at purchasing a smaller mop. Alternatively, if you have a large area of laminate flooring, then you will need one that easily covers a large area.
Some mops are designed to clean 200m+ flooring before being emptied. This is rather impressive and suits people who have larger floors. Those with smaller floors don't need a mop with that capability so can look for a cheaper mop that covers a shorter surface area.
Frequently Asked Questions
Does Steam Damage My Laminate Flooring?
If used incorrectly steam can most definitely damage your laminate floor. You can mark the laminate floor by using too much steam in one area of the floor. To avoid doing this simply follow the correct and safe cleaning procedures provided to you in your mops manual.
Why Is My Laminate Floor Still Dirty?
There is a high chance that your laminate floor is still dirty because you didn't dry the floor out enough. A lot of people assume that because something has been made wet it is clean. That is definitely not the case when it comes to cleaning laminate floors.
Once you have cleaned the floor it is vital that you dry the floor off. By not doing so the dirty water dries on the floor leaving the dirt behind.
Most mops come with a drying function built-in so you can easily dry the floor.
How Often Should Laminate Floors Be Mopped?
How often a laminate floor should be mopped depends on how often the area is used. High-traffic areas like your kitchen and bathroom are used all day, every day. This results in a dirtier floor than a dining room, for example, which is only used once per day.
These high-traffic areas should be cleaned at least once a week. This helps keep the flooring clean and tidy and ensures no stains mark the floor. The less frequently used rooms can be mopped every other week or even once a month depending on how they look.
It is a good idea to still vacuum less frequently used rooms at least once a week just to remove any dust or dirt that has accumulated on the floor.
Do You Need To Sweep Before Mopping?
It is always a good idea to sweep and hoover before you mop your laminate floor. This simply aids the cleaning process and just lets you get more out of your mop.
If the floor is already dirty then you will have to mop the same area over and over again to try and make it clean. It just doesn't make sense. Clean once properly rather than 3 or 4 times badly.
Final Thoughts
The best most mops for laminate floors come in a huge variety of shapes and sizes. Some mops use steam to clean the floor, and others prefer to use microfibre cloths with water. It is clear that these are the two main ways to clean laminate floors effectively.
Some mops still come with a bucket when others have now started to incorporate the bucket into the mop in the form of a spray bottle.
It can be quite tricky to find the right mop, but luckily for you, we have done the hard work for you. Now, with this list at your fingertips, you can start narrowing down the list to see which mop suits you best.
Our Top Pick
LIGHT 'N' EASY S3101 Mop
Super lightweight design
Compelling 1150W high temperature steamer
Wider mopping face with flexible mop head
A quick-release cord