A gorgeous hardwood floor is the centerpiece of any living room. With a fantastic natural warmth, and an unbeatable shine, the prized finish of a hardwood floor adds elegance and luxury to a space. But that's only when it's well maintained.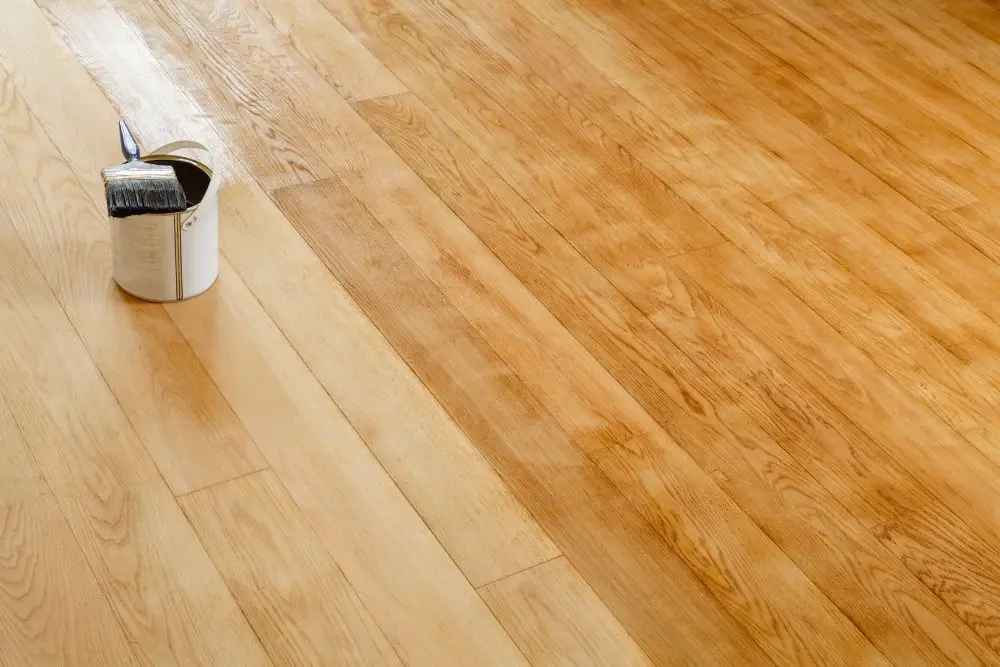 Hardwood floors require work to keep them looking at their best. But even with regular cleaning and careful stepping, wear and tear is guaranteed. With time, your sparkling and beautiful hardwood floor becomes dull. At this point, you might consider the difficult process of getting your floor refinished. Expensive and time-consuming, no one looks forward to refinishing a painted hardwood floor.
But what if there was another solution? Hardwood floor restorers can improve the finish of your hardwood floor, so it looks as good as new. A hardwood floor restorer can fill in scratches, enhance shine, and even offer protection. We've rounded up 5 of the best hardwood floor restorers available, to get your floors shining.
Our Top Pick
Weiman Wood Floor Polish and Restorer
Removes scratches while forming a protective scratch resistant layer
Can be used on any finished hardwood surface
Safe – can be used around kids and pets without causing harm
Long lasting
Top 5 Hardwood Floor Restorer
Weiman is a respected and recognized brand, known for creating high-quality cleaning and polishing products. The Weiman Wood Floor Polish and Restorer has been a top choice for many homeowners looking to care for their hardwood floors.
The reason Weiman has become a leading brand in hardwood floor restorers is that they consistently create products that work. The Wood Floor Polish and Restorer fills in scratches, brightens dull patches, and leaves an impeccable shine.
It's also easy to use. Apply the polish with a microfiber cloth, using an even coating across the floor. Wait for it to dry, and then enjoy your newly restored floor. Or add a second coat, for an even greater shine.
But the application isn't the end of it. Weiman Wood Floor Polish works to protect the floors from additional scratches, The long-lasting polish offers protection, so you don't need regular applications.
Pros
Long-lasting – The protection offered by Weiman Floor Polish stops scratches from building up, so there's more time between applications.
Lovely shine – The finish is impeccable, adding warmth back to your hardwood floors.
Pleasant scent – A gentle cherry scent makes cleaning more enjoyable.
Cons
Longer drying time – The application process is quick, but it does take a while for this polish to dry completely.
[su_button url="https://www.amazon.com/dp/B075DVGS2C?tag=woodfloorscleaner-20″ background="#F69821″ size="10″ center="yes" radius="0″ rel="nofollow" target="_blank"]Check Latest Price[/su_button]
Scott's Liquid Gold sounds like something you want to have for your floors. Although it can't leave the shine of the precious metal, an application can have an impressive finish.
Scott's Liquid Gold is loved by customers for the ease of application, and the quality finish you get for a good price. With very little effort, Scott's Liquid Gold can have your hardwood floors looking shiny and new. Simply spray it on the wood, spread evenly with a damp sponge mop, and leave it to dry.
The result is an enhancement that also protects your floors. Scott's Liquid Gold brings out the natural warmth of wood, with a high shine finish and no build up.
With a bright finish that fills shallow scratches and brings life back to dull patches, Scott's Liquid Gold is a fantastic way to revitalize a hardwood floor. Much cheaper and easier than refinishing, with similar results.
Pros
Ease of use – The simple application process can easily become part of your regular cleaning routine.
Warm finish – Brings back the natural splendor of a hardwood floor.
Pleasant smell – The light scent of Scott's Liquid Gold adds to the pleasant user experience.
Cons
Variable finish – On some woods, the finish of Scott's Liquid Gold can look greasy.
[su_button url="https://www.amazon.com/dp/B00KND8OY8?tag=woodfloorscleaner-20″ background="#F69821″ size="10″ center="yes" radius="0″ rel="nofollow" target="_blank"]Check Latest Price[/su_button]
If you find you've tried everything you can to refresh your hardwood floors, and nothing seems to work, then Pro Shot Industrial Re-Newing Floor Restorer could be what you need.
The Pro Shot is a hardwood floor restorer designed for industrial use. Apply it to floors with even an excessive amount of wear and tear, and it can restore them to almost as good as new. The hardworking formula gets into the scratches to fill them, and adds a dazzling shine to even the dullest of spots.
It's easy to use the Pro Shot, which simply has to be applied to the floor evenly and left to dry. It dries to a clear finish, creating a protective layer on the hardwood floor that can last for months.
With an application or two of Pro Shine, your floors can be as shiny and reflective as a mirror, with no risk of slipping. And even with heavy usage, it won't need to be reapplied for months!
Pros
Long-lasting – A single application of Pro Shot will have your floors looking shiny and new for months.
Protective seal – Keeps the floors protected, even with frequent tread.
Versatile – Suitable for use on many sealed surfaces, including sealed wood, vinyl, and laminates. Not suitable for use on unsealed wood or porous surfaces.
Cons
Needs good ventilation and protection – This strong formula must be handled with care.
[su_button url="https://www.amazon.com/dp/B003DR0JF8?tag=woodfloorscleaner-20″ background="#F69821″ size="10″ center="yes" radius="0″ rel="nofollow" target="_blank"]Check Latest Price[/su_button]
The soft finish of Howard Products Wood Polish and Conditioner adds an attractive shine to even badly scuffed hardwood floors. Combining beeswax and carnauba wax, floors are given a protective coating and a golden warmth.
Howard Products use an original blend of beeswax, carnauba wax, orange oil, and mineral oil to nourish the wood, as well as add an attractive finish.
These oils sink into the wood, continuing to feed and condition it after the initial application. This keeps the woods from drying out, so the glow is maintained for longer.
The wood polish and conditioner is best used after applying a coating of Howard Products Restor a Finish. The Restor a Finish works to fill scratches and marks in the wood, giving an even surface. The Polish and Conditioner then adds shine, and feeds the wood to prevent fading.
Pros
Price – Even when bought with Howard Products Restor a Finish, this is a low-budget way to restore your hardwood floors to good condition.
Use on finished and unfinished woods – Suitable for more than just the floor.
Conditioning – Continues to help the floors, even past the initial application.
Cons
Poor on scratches – Another product is recommended for filling in any scratches and marks on the floor.
[su_button url="https://www.amazon.com/dp/B001BKQYGW?tag=woodfloorscleaner-20″ background="#F69821″ size="10″ center="yes" radius="0″ rel="nofollow" target="_blank"]Check Latest Price[/su_button]
Quick Shine floor luster enhances the beauty of your wood floors using a formula fortified with pure carnauba. Carnauba is an all-natural plant based wax that can be used to add shine, protection, and polish to a sealed hardwood floor.
What's more important perhaps isn't what's in the polish — it's what's left out. There's no aluminum, ammonia, formaldehyde, fragrance, parabens, or phthalates in Quick Shine. Non-toxic and with no residue, Quick Shine is a safe choice for use in your home.
Application is easy with a floor mop, and Quick Shine dries to a high gloss finish in just 30 minutes. It can be used all across the floor, even on high traffic paths, with extra layers of application improving the shine.
Quick Shine finishes with a rich glow, which emphasizes the beauty of a hardwood floor. Adding a light layer of protection to the surface of the floor, as well as shine.
Pros
Climate pledge friendly – Better for the environment, and healthy for your hardwood floors.
Non-toxic – Safe for use around both young children and pets.
Long-lasting – Can last for over 2 months in a high traffic area before needing a refresh.
Cons
May need multiple coats – Quick Shine adds a light luster, with repeated coats needed for a sparkling finish.
[su_button url="https://www.amazon.com/dp/B00GQ9ZMM0?tag=woodfloorscleaner-20″ background="#F69821″ size="10″ center="yes" radius="0″ rel="nofollow" target="_blank"]Check Latest Price[/su_button]
Buyers Guide
When you've noticed your hardwood floor is looking a little dull, you want to do what you can to bring it back to life. Choosing the right product, however, isn't as easy as picking the first thing up off the shelf.
The right hardwood floor restorer needs to work with your floor and your needs. We've put together this buyer's guide to help you make the best choice for your floors.
What Floor Type Do You Have?
The first thing to consider before buying a hardwood floor remover is the type of floor you have. Most importantly, is it sealed or unsealed?
Some hardwood restorers won't work on an unsealed floor, because the material is too porous. If you have an unsealed floor, you must be very careful when making your choice.
Whether you have engineered wood, solid wood, or reclaimed wood can also make a difference.
Take note of the shade as well. Some hardwood floor restorers are universal, with a shade to match any type of floor. Others come in different colors. Applying the wrong shade restorer to your floor can create an unattractive mismatch, so be sure to check before you buy.
Ease Of Use
Applying hardwood floor restorer is a task few of us look forward to, but it doesn't have to be difficult. If you don't mind some extra labor, then any floor restorer will do. If you like to keep your cleaning easy, be sure to read the application process before purchasing.
Take note of the bottle design as well. Some restorers come in a spray bottle, for maximum simplicity, while others will need to be poured out.
Make sure you have everything you require for application on hand before you start the process.
No matter what design you pick, you can rest assured that regularly applying a restorer is always easier than getting the floors refinished.
Versatility
No one wants a big bucket of cleaning products, so it's useful to look for items that can accomplish more than one task. A hardwood floor restore might be useful on other finishes, such as laminate flooring or tile.
It might also have a use on wooden doors, wooden chairs, or other wooden surfaces. If you like to streamline your cleaning (and who doesn't?), then a versatile hardwood restorer can make the spring-clean easier.
Toxicity
Hardwood floor restorers often use some pretty strong ingredients to get that prized high-gloss finish. Be careful of products that contain polyurethane, and other strong chemicals, that might be dangerous around dogs and children.
If using a strong hardwood floor restorer, be sure to keep the area ventilated, and wear gloves and eye protection.
Natural floor restorers use wax and oils to create a similar effect, although they may not be as durable. These non-toxic products are safe to use around children and pets.
Whichever hardwood floor restorer you buy, be careful to read the instructions and any warnings before using in your home.
Durability
Restoring a hardwood floor isn't about one time solutions — regular maintenance is required to keep your floors looking at their best.
A restorer can often add a layer of protection to the floor, acting as a shield against the wear and tear of everyday use. This will prevent scratches in the short term, while adding shine.
How durable the restorer is refers to how long the finish can last between applications. Some restorers may only last for a month, while others can last for upwards of 4 months.
What matters most are the high traffic areas, the places where people most regularly walk. How long a restorer keeps these areas looking bright will show how durable a finish they give.
Assessing Your Floor
Before buying your hardwood floor restorer, you have to consider the quality of the floor itself. Is it badly scratched? Are there areas of serious damage? What are the colors like? Are there many dull patches?
Once you've assessed the current condition of your floor, you can choose a restorer that will provide the level of care you need.
Frequently Asked Questions
How Can I Get My Hardwood Floors To Look New Again?
To get your hardwood floor looking new again, you have to clean the floor and apply a restorer. These products revitalize the floor, adding shine, filling scratches, and forming a protective layer.
Begin by either sweeping the floor clear of dust, or using a suitable vacuum cleaner. Then, clean the floor with a microfiber sponge mop. Allow the floor to dry completely.
When the hardwood floor is dry, apply a layer of restorer, following the instructions provided. Leave to dry completely.
If necessary, apply another layer of restorer.
Why Do You Need To Use A Hardwood Floor Restorer?
A hardwood floor restorer, if used regularly, can keep your hardwood floors looking spectacular for longer.
Hardwood floors are very attractive, but they require regular maintenance to keep their coloring and shine. A hardwood floor restorer fills in light scratches, brings dull patches back to life, gives a clear gloss finish, and protects the floor against further damage.
Most hardwood floor restorers are easy to use, nontoxic, and durable for at least a month.
If you choose not to use a hardwood floor restorer, you're likely to find bigger problems down the line. When the floor is past a simple repair, it needs to be resealed. This complicated job is time-consuming, and expensive.
Do You Need To Spot Test A Hardwood Floor Restorer Before Using?
Yes, always spot test a hardwood floor restorer before using. These products are designed to alter the color and appearance of the hardwood floor, and a poor reaction can have devastating consequences.
To spot test, find a small, out of the way area of floor to use. Apply the restorer exactly as it instructs you to. Wait 24 hours, and then check the results.
Even if you've used a product before, it's important to spot check. Over time, the formula may have changed.
How Do You Remove A Build Up Of Wax From A Hardwood Floor?
Repeatedly using a hardwood floor restorer can lead to a build up of wax. This sits on the surface, and can leave an unpleasant white cast. It can be cleaned off with mineral spirits, and a cloth.
Moisten the cloth with mineral spirits, and rub down the floor slowly and methodically. Be sure to go over each area more than once, and check the cloth to see if it's still staining yellow.
Once the wax has been removed, clean the floor with a damp cloth, and dry completely.
For hardwood floors with an obvious grain, use fine steel wool to remove all the wax from the grooves.
When all the wax has been removed and the floors are clean, finish with an application of hardwood floor restorer.
What's The Difference Between A Hardwood Floor Restorer And A Polish?
A hardwood floor polish adds shine to a floor, and can be used regularly when cleaning to give that brilliant finish. However, a polish can rarely protect against scratches, and won't add any seal to the floor.
A hardwood floor restorer, on the other hand, improves the finish and can protect the floor against future damage. A restorer will often use some form of wax, or similar, to fill in scratches, and create a protective barrier.
However, some brands do use the terms "polish" and "restorer" interchangeably. Be sure to check what the product will do before buying.
Our Top Pick
Weiman Wood Floor Polish and Restorer
Removes scratches while forming a protective scratch resistant layer
Can be used on any finished hardwood surface
Safe – can be used around kids and pets without causing harm
Long lasting