Hardwood flooring will certainly upscale the value of your home, but keeping it in good condition requires some extra care and maintenance.
Chairs are one of the biggest risks to the condition of your hardwood flooring over time. Especially if you have young children in your home, who tend to push and pull their chairs across the floor without any care for the floor underneath, your hardwood floors can quickly become scratched and marked.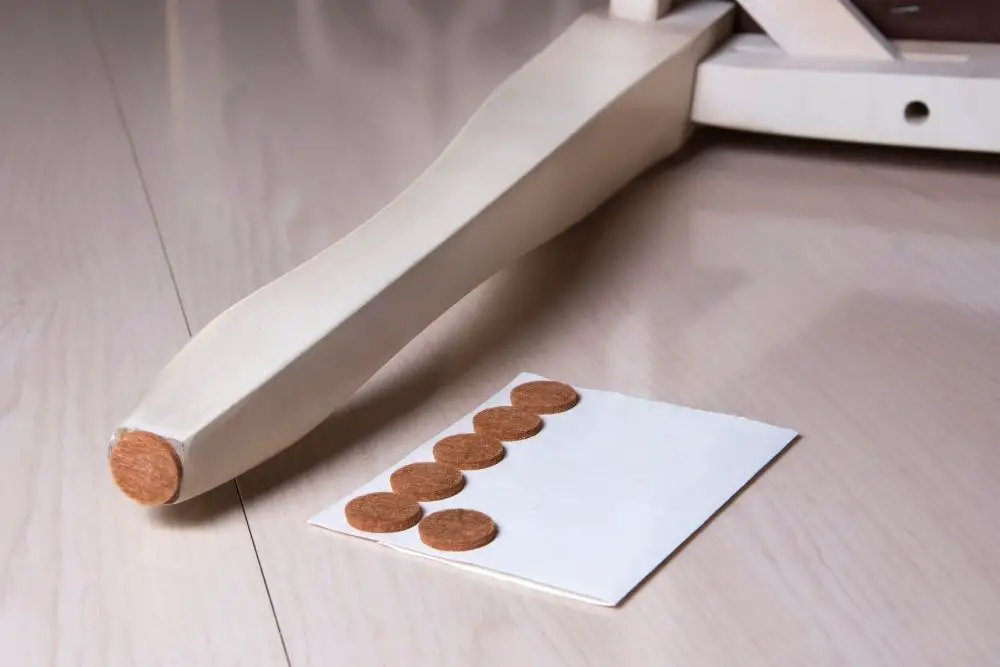 With that being said, there's no need to take any drastic measures to ensure the continued pristine appearance of your hardwood flooring. Something as simple as a set of chair glides will help to keep your floor shiny and unmarked for the foreseeable future.
Today, we'll be introducing you to 5 different types of chair glides you could purchase today to protect your hardwood floors. We've recommended and reviewed the best product on the market for each glide type, so all you have to do is add your favorite to your cart!
Don't forget to consult our buyer's guide for tips on making the perfect choice for your chairs and your flooring.
Our Top Pick
Alimitopia Heavy Duty Nail-On Floor Protector
Easily mounted
High-quality material
Lasts far longer than stick-on pads
5 Chair Glides for Hardwood Floors
In our opinion, the best chair glides for hardwood floors overall are the Alimitopia Heavy Duty Nail-On Floor Protectors.
Nail-on chair glides are generally the best option, regardless of what kind of flooring you have. Because they are designed to be nailed deep into the chair legs, the glides won't easily fall off, so they're more durable than the majority of chair glides on the market.
This glide style doesn't work for all chairs. If you have sled-base chairs, for example, you'll need to see our 'best wrap-around glides.' However, these nail-on glides will be perfect for protecting hardwood floors from most wooden chairs.
This is a 40-pack of chair glides, so it's great value for money. A single purchase will buy you enough glides to take care of 10 chairs!
In terms of construction, these chair glides are exactly what you need for hardwood floor protection.
The carbon steel nail easily sinks into wooden chair legs with the help of a hammer and won't snap once installed. However, the nails may bend slightly if you don't drill pilot holes prior to hammering them in, so you should be prepared to do a little more prep work than with other chair glide styles.
Thanks to the high-density fine felt pads on the bottoms of these chair glides, they're both non-scratching and non-slip. This means that while they'll protect your hardwood flooring from marks, they won't allow your chairs to slide around too easily, either.
Finally, we love that the Alimitopia nail-on chair glides come in a tough ABS plastic case to keep them safe in storage. If you don't need to use all 40 glides right away, you can store them away until some need replacing or until you acquire more chairs.
Pros
Carbon steel nail – Highly durable
High-density felt – Soft and non-slip
ABS case – Practical storage system
40 pieces – Enough for 10 chairs
Cons
Pilot holes may be required – Pre-drilling necessary
[su_button url="https://www.amazon.com/dp/B072XSV97Z?tag=woodfloorscleaner-20″ background="#F69821″ size="10″ center="yes" radius="0″ rel="nofollow" target="_blank"]Check Latest Price[/su_button]
If you don't feel like doing the extra work of pre-drilling pilot holes into the bottoms of your chair legs, nail-on glides might not be for you. In that case, we'd recommend snap-on glides.
Snap-on chair glides are some of the easiest chair glides to install because they quite literally just snap into place. However, unlike with nail-on glides, you'll need to measure the diameter of your chair legs beforehand to make sure you get the correct size.
These chair glides are made of formed felt. The soft felt material is curved into a cup formation, ready to slip onto the base of a chair leg.
The cups are precisely sized to fit as tightly as possible, and they're not stretchable, so getting your measurements right is very important. Don't worry, though – there's a layer of adhesive on the inside of each cup to help keep them extra secure.
The Super Sliders chair glides come in 4 sizes, ranging from 1 inch to 2 inches with 1.25-inch and 1.5-inch options also available.
These snap-on chair glides are also manufactured in 3 colors: linen, brown, and beige. The multiple color options are helpful if you want to keep your interior color scheme as seamless as possible.
Like our best overall pick, these glides come in a pack of 40, so you're getting 10 chairs' worth of glides for your money.
Pros
Formed felt – Tight-fitting
Adhesive – Extra long-wearing
4 available sizes – 1 ¼ inch, 1 ½ inch, 1 inch, and 2 inch
3 color options – Decor-compatible
40-pack – Suitable for up to 10 chairs
Cons
Not stretchable – Correct sizing is crucial
[su_button url="https://www.amazon.com/dp/B07VHX6C7B?tag=woodfloorscleaner-20″ background="#F69821″ size="10″ center="yes" radius="0″ rel="nofollow" target="_blank"]Check Latest Price[/su_button]
Tap-on chair glides are a good middle ground between nail-on and snap-on glides.
You still need to tap these glides into the chair legs with a hammer, but they don't require as much preparation or exertion to install as nail-ons. At the same time, they're easier to fit and less prone to falling off than snap-on glides.
These glides have 5 steel prongs on the side that attaches to the chair leg, and these can gently be hammered in. Additionally, the GorillaFelt chair glides have adhesive backings, so even if the prongs fail for some reason, they shouldn't come away too easily.
One of the reasons why these chair glides are so popular is because they are made with wool blend felt. This type of felt is very tightly woven, making it even more resistant to wear and tear than regular felts.
The GorillaFelt chair glides come in 3 sizes, starting at 1 inch and moving up to 1 ¼ inches and 1 ½ inches. These measurements aren't crucial to the fit, unlike with snap-on glides, but you should still make sure you get the size closest to the actual dimensions of your chair legs to ensure proper coverage.
The only downside is that these are higher-end glides than the others we've reviewed so far, and therefore, one pack only contains 8 glides for a similar price. If you only have 2 chairs you need to fit with glides, this will be fine, but otherwise, you'll need to buy several packs.
Pros
Steel prongs – Easy to install
Adhesive backing – Backup attachment
Wool blend felt – Thick and wear-resistant
3 sizes – 1 inch, 1 ¼ inch, 1 ½ inch
Cons
8-pack – Only 2 chairs per pack
[su_button url="https://www.amazon.com/dp/B07N494FLK?tag=woodfloorscleaner-20″ background="#F69821″ size="10″ center="yes" radius="0″ rel="nofollow" target="_blank"]Check Latest Price[/su_button]
All of the chair glides we've reviewed so far are designed for classic, 4-legged chair models. However, there are other types of chairs out there.
Does that mean you can't have any other kind of chair on a hardwood floor? Of course not! There are chair glides on the market for all kinds of chairs. These Lorell Wrap-Around Floor Savers are perfect for sled-base chairs, for example.
These felt pads will prevent your hardwood floors from getting scratched, but they also have another important function, which is to reduce scraping noises when you move your chairs.
Lorell's Wrap-Around Floor Savers are easy to install. Simply wrap the felt strip around the base of the chair at one of the four corners and the peel-and-stick adhesive will take care of the rest.
Underneath the felt material, a vinyl wear cushion ensures that the weight of the chair is distributed evenly.
Because these are wrap-around floor protectors, one size fits all, and you get 16 pieces (4 chairs) with every pack. However, a small minority of customers have reported receiving fewer than 16 items per pack due to processing or packaging errors.
Pros
Felt material – Non-scratching and noise-reducing
Peel and stick adhesive – Easy application
Vinyl cushioning – Even weight distribution
Wrap-around design – One size fits all
16 pieces – 4 chairs per pack
Cons
Some reports of partial orders – Wrong quantities sometimes received
[su_button url="https://www.amazon.com/dp/B00ED3O2YK?tag=woodfloorscleaner-20″ background="#F69821″ size="10″ center="yes" radius="0″ rel="nofollow" target="_blank"]Check Latest Price[/su_button]
Hardwood floors are difficult enough to keep in good condition when chairs are involved, but hardwood flooring plus wobbly chairs is a recipe for disaster. A chair that sits unevenly on the ground has far more potential to scratch your floor than a stable one.
If the problem of uneven chairs has been exacerbating damage to your hardwood floors, you'll need chair glides that also double as levelers.
The OwnMy High-Density Felt Glide Pads are height-adjustable, meaning that they can be installed by screwing the t-nuts into the chair legs to the desired height. If one chair leg is shorter than the others, for example, you can correct this by leaving more of the t-nut exposed for that leg.
Just make sure you have a screwdriver in the correct size ready for installation because this doesn't come included with the package.
The base of each glide features a high-density felt pad that will stop your floors from getting scratched and reduce any noise drastically.
These glides come in a pack of 24, so you can cater to up to 6 chairs from a single purchase. If you don't need quite so many, there's also the option to buy them in packs of 8 or 16.
Pros
High-density felt pads – No scratching and minimal noise
Height-adjustable – Allows chairs to sit evenly
24-pack – 6 chairs per purchase
Cons
Requires screwdriver for installation – Not included
[su_button url="https://www.amazon.com/dp/B07T2JG53R?tag=woodfloorscleaner-20″ background="#F69821″ size="10″ center="yes" radius="0″ rel="nofollow" target="_blank"]Check Latest Price[/su_button]
Buying Guide
From the information in the product reviews above, you may already have a good sense of which chair glides will work best for you.
However, if you need further guidance, we've divided the chair glide selection process into 4 key components: type, materials, size, and quantity. By considering these features in relation to each set of chair glides you consider, you should be able to narrow down your options to the best fit for your needs.
Glide Type
The most important thing you will need to decide is what type of chair glide you require.
We've described each chair glide style briefly in our product reviews, but if you need a reminder, there are 5 main types of chair glide.
The one we'd recommend in most cases is the nail-on chair glide, which is held in place by a nail driven in through the base of each chair leg.
These are usually the most durable chair glides because it's very difficult for them to fall off accidentally. Apart from a hammer, you don't need any special tools to conduct the installation, but you may need to drill 'pilot holes' into each chair leg to make sure the nail doesn't bend when you initially try to drive it in.
Next, you have the tap-on chair glide, which is similar to a nail-on glide, except that instead of a nail, it has a set of prongs. These chair glides work in the same way as nail-on glides, but since the prongs are shorter than a nail, you don't need to do as much hammering.
Snap-on chair glides are very easy to install as long as you purchase them in the correct size (more on this later). Snap-on glides are designed to be slid into the ends of chair legs, where they stay secured thanks to adhesive inside the cup.
If you have sled-base chairs on your hardwood floor, you'll need chair glides designed specifically for this type of chair.
We find that wrap-around glides are often the best for this purpose. This is because the wrap-around style means you don't have to worry about sizing so much – plus, installation is super easy. Wrap the felt around the corners of your chair's base, wait for the adhesive to take effect, and you're all done!
Finally, for uneven chairs, you can purchase chair glides that work as levelers. These usually work using a t-nut, which you can screw into each chair leg to different extents until all legs are the same length.
Materials
When it comes to chair glides for hardwood floors, materials can be divided into 2 main categories: metals and fabrics.
Most (though not all) chair glides have a metal component designed to be driven into the chair leg. This can be a nail, prongs, or a t-nut. These components should be made of steel, if possible, because of this metal's strength and wear resistance.
Conversely, for the part of the glide that makes contact with the floor, we always recommend a soft fabric material like felt. In fact, all of the chair glides we've reviewed today feature felt pads.
This is because felt is a soft and non-abrasive material, but when manufactured well, it's also highly durable. Wool blend felt is especially wear-resistant because of the tightness of the weave.
In addition to metal and felt, your new chair glides may feature other materials, such as vinyl in the form of a weight distribution pad.
Sizes
In most cases, chair glides come in a range of different sizes. The exception to this rule is the wrap-around style chair glide, which can usually be made to work on a one-size-fits-all basis.
The best thing to do if you're considering purchasing some chair glides to protect your hardwood floors is to take measurements of your chair legs. This measurement should be of the diameter of each leg.
Once you have your measurements, you'll need to make sure that you buy glides in the corresponding size. This is important with all chair glides, but it's especially crucial if you're interested in snap-on chair glides.
If you get snap-on chair glides that are too large, you might be able to make them work with enough adhesive, but they probably won't stay put for very long and will look quite odd.
Buying too-small snap-on chair glides is an even bigger problem, though, since they simply will not fit at all. In this case, you'll need to try and return them and get new ones.
Quantities
Finally, you will need to consider the quantities in which your chosen chair glides are sold.
First, you'll need to know how many chair legs you're working with. Assuming that all your chairs have 4 legs, you'll need 4 glides for every chair. This remains the case if you're dealing with sled-base chairs.
Of course, if you have 3-legged stools or another less conventional seating arrangement, you'll need to adjust your calculations accordingly.
Chair glides come in packs of all sizes, usually ranging from 8 to 40 (2 to 10 chairs). Remember, having some spares left over is a good idea just in case a few need replacing in the future.
Final Thoughts
We hope you've found what you need in this article to keep your hardwood floors looking good long-term.
The most important thing is to identify the style of chair glide that best suits your chairs. You should also make sure that any nails, nuts, or prongs are made from durable metal and that pads are made from a soft material like felt.
After that, you just need to select the right size and quantity, and your hardwood floors will be safe for the foreseeable future!
Our Top Pick
Alimitopia Heavy Duty Nail-On Floor Protector
Easily mounted
High-quality material
Lasts far longer than stick-on pads