Wood floors are worth an investment and any home owner would want to care and protect them at any cost. Other than adding value to your home, wood floors are beautiful and adds a warm radiance to your room. Despite being strong and durable, hardwood floors can easily get scratched or permanently damaged when exposed to water or anything hard is pressed against them with force.  For example, when you walk on a dirty wooden floor, the hard dirt debris get pressed against the surface causing scuff marks and dents in the finish.
Although perfect cleaning is a way of ensuring a long lasting wood floor, methods and gadgets used can wreck havoc. Cleaning machines such as vacuum cleaners and steam cleaners can as well have detrimental effects on your wood.
Water is  great enemy to wood floors, once it gets into the floorboards, it make them to swell, warp and even decompose. Therefore, traditional mops that tend to leave behind water should be avoided on hardwood floor.
Vacuum cleaning and dusting with a microfiber cloth offers a safe cleaning. But remember not all vacuum cleaner machines can be used on hardwood floor. In our guide, we have picked on the best cordless vacuum cleaners for hardwood floors that you can use safely without your floor getting scratched. They Include the following:-
Tineco A10 Master Cordless Stick Vacuum
Shark DuoClean Cordless Ultra-Light Vacuum
Roomie Tec Cordless Vacuum Cleaner
Deik Cordless Vacuum Cleaner
Hoover Impulse Cordless Stick Vacuum (BH53020)
Eureka NEC122A PowerPlush​
What is a cordless vacuum for hardwood floor?
This is a vacuum cleaner without a power cord designed for hardwood floors. They use rechargeable batteries unlike traditional corded vacuums that can be connected to a power source. Cordless vacuums are commonly referred as stick vacuums. They are usually light, easy to maneuver and handheld. Therefore they are perfectly used on both lower floors and areas above with ease.
Most cordless vacuums designed for carpet and hardwood floor usually have multiple modes of power that is adjusted according to the nature of the floor you are dealing with.
What is the difference between corded and cordless vacuums?
Cordless vacuums are light and thin compared to traditional corded vacuums. It is therefore easier to use them in tight places.
Corded vacuums have larger dustbin compared to cordless and therefore can be used longer without the need to empty the bin. For cordless, you will be required to keep eye on the level of dust and empty when it is filled up,
Corded vacuums have stronger suction power as compared to cordless that relies on batteries. They can be used on larger areas with a lot of debris without any problem.
Corded vacuums are directly connected to power source unlike cordless that use rechargeable batteries which may also have a shorter runtime hence forcing the operator to replace or recharge before continuing with the task.
Most cordless vacuums come with additional attachments for convenient cleaning of other areas such as stairs and hard to access areas. They can easily be converted to handheld for ease of use.
Traditional corded machines are expensive compared to their counterpart. They are durable and can handle heavy tasks which can be so difficult when you use the cordless one.
Do Vacuums Work on Hardwood Floors?
Vacuuming helps in removing small fine dirt debris on floors and air around. This method is highly effective for cleaning hardwood floors when it is carried out correctly with the right machine. It would be wrong to use a traditional upright vacuum with a beater bar on hardwood floors. The beater bar can damage your wooden floor even when it is turned off.
A traditional upright vacuum though powerful and versatile is designed for carpets and some types of tile floors. The strong bristles get deep into carpets and pull out pet hair and other dirt. It is however not recommended for hardwood floors.
Canister vacuums have a padded head that makes them gentle on floor. Other than being a versatile equipment, canister vacuum can reach most places such as corners, under the furniture and on the stairs due to their adjustable pieces. Before using, ensure that the wheels are padded. The only problem is assembling that may take more of your time. But they are the best choice for hardwood floors since you will not have to worry about scratching.
You will have to be careful if you are thinking about robotic vacuums. These are small gadgets that work on their own as scheduled. They operate with help of installed infrared sensors and cameras. The operator may do it while away using a phone app or may use a remote control system. Robotic vacuums therefore create a lot of convinince when you decide to use one for cleaning your hardwood floors. 
Is it better to sweep or vacuum hardwood floors?
Vacuuming hardwood floors is the best alternative to sweeping and mopping. When done correctly, this method remove more dirt from a floor than a traditional dust mop or broom. Vacuum sucks up even the fine dust and can reach well to the corners and grouts where broom or dust mops are highly likely to miss.
Moping before vacuuming creates mud on the floor when the soil and residual dust get moistened. This can make you to take longer to clean an area since you have to keep replacing the dirty water in the bucket. Brooms and mops also stir up the dirt in the air while pushing it around. The dirt will eventually settle back on the floor and other areas around. The worse of all is that such airborne dirt can affect your health or that of the occupants.
How to Vacuum Hardwood Floors without scratching
Getting trained or having knowledge on how vacuums work is much important before embarking on the process of vacuuming your floor. It is a nightmare to learn that you have scratched your hardwood floor just after ordering your vacuum stick. Here are tips and things to know before you start cleaning.
Always take precaution first such as; removing large furniture out of the way, removing your shoes and reading user manual.
Use the right tool for the job; a canister vacuum is the best compared an upright traditional vacuum. Canister has extra tools to reach corners, has padding on head and it is also easy to carry around due to their lightweight.
When you start the work, make smooth strokes. The vacuum's power is enough to suck the dirt without the need to force or apply pressure. Applying extra force to the wand or nozzle can scratch your floor or damage the machine.
Some spots may be dirtier or has more debris, therefore will require more power. For sticky debris or stains, use a microfiber cloth with a recommended solution to remove yourself. That is why most cordless vacuums for wood floor has power options from low, medium to high.
Always change nozzle to the right one when dealing with small spaces and corners to avoid scratching.
It is also good to keep the filters and airways clean, empty the dustbin when filled and replace the brush rolls when necessary.
What should I look for in a vacuum for my hardwood floor?
Finding a proper hardwood vacuum is key in ensuring that your floor surface remains shiny and smooth without any scuff marks and dirt streaks. Here is what you should be keen about:
The vacuum cleaner must not have strong bristles rush roll or beater bar. The strong bristles are only suitable for carpet cleaning. When employed on the wood floor, the scuff marks and scratches can be regrettable.
Must have a stronger suction power. This will ensure all the dirt on the surface are collected in the shortest time possible. The least power to go for is 1,000 Watts.
The battery life should be moderately longer to be able to clear the task without interuptions.
Your choice must have the right crevice tools. This is very necessary in making it possible to clean every part of the floor. The tools can reach edges, small spaces under furniture and tight corners
Strong and versatility. The machine must be versatile on floor and above areas. Should also be able to handle tasks as expected without mechanical damage.
Budget friendly. Although good vacuums are slightly expensive, you can still find a strong versatile machine at a budget friendly price.
Durability: A good vacuum cleaner must be of good quality that should serve longer time without breakdown.
What is the best vacuum for hardwood floors?
1.      Dyson Cyclone V10 Absolute Lightweight Cordless Stick Vacuum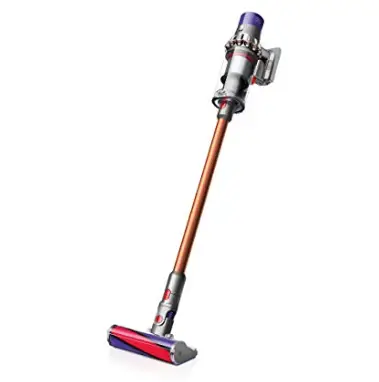 Dyson Cyclone V10 is a cordless versatile vacuum that has a strong suction power for deep cleaning your hardwood floors or carpet. With advanced features, it is effective in sucking fine and large dirt debris as compared to other Dyson vacuums. The smallest, lightweight and most powerful motor makes it one of a kind, it rolls over and rotates sticky debris into suction zone.
The three power mode is set according to the task. Dyson Cyclone V10 can easily be transformed into handheld for maneuverability. The motorized soft roller head is designed for hardwood floors, therefor can be used without causing scratches, wear and tear. For carpet cleaning, you can change the mode and enjoy the powerful Torque Drive Cleaning Head that has stiff bristles that dig out every small debris.
Pros
Has the most powerful suction that makes it suitable for deep cleaning
Dyson Cyclone V10 is lightweight, therefore can easily be used around home conveniently
You can easily convert it to handheld making it ideal for surfaces above the floor and your car as well
Has large debris container making it easy to clean large surface areas without need to dump the debris
It has a soft roller head that is suitable for hardwood floors
Can be operated in different modes depending on the nature of surface you are dealing with
Suitable for dealing with pet mess on the carpet or floor surface.
Best when you have hardwood floors and carpet in your home.
Cons
Not easy to swap battery
Turns off when you stop pressing power trigger
The handheld unit is large thus inconvenient in tight areas
60 minutes run time is only in low power mode
Low suction when in low power mode
Dyson Cyclone V10 is not free standing
Our recommendation
This is one of the best hardwood floor cordless vacuum that you can go for. The power, versatility and advanced technology cannot disappoint. Follow the user manual as directed by the manufacturer.
2.      Shark ION P50 Lightweight Cordless Upright Vacuum (IC162)
This is a versatile upright vacuum for deep cleaning your home at convenience of cordless operation unlike a traditional upright vacuum. It has strong features that make it have advantage over other machines. The duo clean feature with two brush rolls on one Power head has completely made this machine the best for the task. Three cleaning modes; the hard floor mode, hand lift away and the carpet mode are easily obtained by pressing a button near the grip to change how rollers move.
Key Features
The strong suction makes it an ideal machine for quick removal of dirt, debris, pet hair and tough mess from hardwood floor or carpet.
The removable battery cane be charged while in or out of the vacuum and has up to 50 minutes of runtime.
It has three versatile modes of cleaning; upright vacuum mode for deep cleaning carpets and floors, stick mode for under furniture and hand held mode for small and hard to reach places.
Utilizes the DuoClean Technology; one powerhead with two brush rolls for effective cleaning of fine dust and large debris on hardwood floors and carpets.
Anti-Allergen system that captures and filters allergen based particles as small as 0.3 microns.
It has bright LED Headlamps which can help you spot the dirt in dark areas
Freestanding thus convenient for storage.
Has a 5 year SharkNinja Warranty, 2 Year on Battery
Pros
A relatively quiet vacuum
Has a reasonably good run time
Maneuverability is good
Easy to use due to controls on handles
Has a spacious dust canister
Due clean technology thus effective on large debris
Cleans carpet and bare floors
Headlights that illuminates dark areas
The removable battery allows swapping for long run time
Its high end filtration perfectly cleans air
Cons
The 50 minutes run time is only in one configuration
The brushrolls cannot be turned off
It lacks a powered tool for deep cleaning and upholstery
Short horse of up to 5 feet
Not perfect for edge cleaning
Not stable standing upright
Recommendation
This Shark Lightweight Upright Vacuum does a splendid job with a lot of convenience as compared to most upright vacuums. It handles nicely all types of carpets and hard floors. When dealing with hardwood floors you need to be careful about the brushrolls to avoid scratching your floor. We therefore recommend this machine for your home cleaning. Always strictly follow the manufacturer's regulations, terms and conditions.
3.      Tineco A10 Master Cordless Stick Vacuum
This is a new model on the market by a division of Ecovacs the long established maker of famous Ecovacs robotic vacuums. Equipped with a strong digital motor, it is effective in cleaning hardwood floors and carpets. Large and small debris including dry pet foods, hair, cereals and embedded dirt are easily removed by use of this machine. It includes a motorized hard floor brush and a motorized carpet brush for multipurpose cleaning.
The HEPA-Level filtration removes 99.9% of all allergy causing particles. The Mini Power Brush is an important attachment that makes it easy to clean carpeted stairs. It has an easy to empty dust bin is enough for the task. Comes with 2-in1 dusting brush, crevice tool and a mini-power.
Pros
Can conveniently be converted to handheld mode for cleaning small areas
Tineco A10 Master come with a mini power brush for vertical cleaning
Has 2 batteries with 2 charging stations giving you a total of 50 minutes of cleaning
Has LED lights that makes you see dirt well when cleaning dark hidden areas
Has powerful suction even for the most fine dirt debris
Has a fully sealed filtration system that lock in small particles that may be allergens
Is lightweight and easy to operate.
Quiet during operation
You can vacuum without continuously holding on the button.
Comes with 2 heads, one for hardwood floors and the other one for carpet cleaning
Maneuverable even in tight areas
Has 2 year warranty
Cons
Small dust container although easy to empty
Does not stand alone
Non-powered tools are compression fit
Cleaner head lifts off floor when the machine is laid horizontal
Does not include a bare floor cleaner head
Steering is not so perfect
Edge cleaning with cleaner head is weak
Recommendation
If you want to experience change in your cleaning routine, go for Tineco A10 Master Cordless Stick Vacuum at a budget friendly price. Being a new product on the market, we are still gathering more on people opinions.
4.      Shark IonFlex DuoClean Cordless Ultra-Light Vacuum (IF201)
A versatile cordless vacuum cleaner is one of the best release by SharkNinja. This is a multiple floor cleaner that effectively collects all dirt and debris from a hardwood floor, carpet and above the floor areas. Important features include;
Duo clean technology which includes two brush rolls; a stiff bristle brush for carpet and a soft brush roll for hardwood floors.
Strong suction power that collects every dust from fine to large debris.
Removable battery that gives 40 minutes cleaning time and you can easily swap when depleted with a fully charged one to give you a total of 80 minutes runtime.
Handheld 2-in-1 cordless has IONFlex feature that makes the jointed wand to flex making it easy to reach under furniture.
You can change the power settings to suit your cleaning needs depending with surface you are dealing with.
Easily convertible to handheld vacuum for floor to ceiling versatility.  
It include anti-allergen dusting brush, duster crevice tool, upholstery tool, one lithium battery and a charger. The second battery is sold separately.
The machine id free-standing with a compact storage.
Has a 5 Year SharkNinja Limited Warranty
Pros
Works well on carpet and hardwood floors
Has greater versatility
Good run time plus a swappable battery
Free-Standing Parking
5 Year Warranty, 2 Year for Battery
Cons
Non HEPA filtration
Vacuum is slight resistance on back stroke when cleaning carpet
Verdict
This is yet another best cordless vacuum from Shark that you will not go wrong with. The features have been carefully selected to meet the user's needs. With the longest warranty of 5 years, this is a machine you should consider.
5.      Roomie Tec Cordless Vacuum Cleaner
This is a 2-in-1 handheld upright stick vacuum cleaner that is great for deep cleaning your hardwood floor. It has extra suction power created by a Turbo Mode for faster picking up of pet hairs, dirt and dust from carpets and rugs. The 6 LED Lights ensures the dark paths around corners and under furniture are brightened for effective cleaning. The wheels are padded or wrapped with rubber to prevent scratching of the floor.
Roomie Tec Cordless Vacuum Cleaner can easily be carried away to different areas such as on sofas, bed, curtains, car and other difficult to reach corners. This highly versatile cleaner has a 180 degree rotating brush for easier maneuverability. With long battery life of 23 minutes uninterrupted cleaning, you can tackle a large area. It is a budget friendly vacuum machine that has a one year warranty.
Pros
Light weight and flexible against the base
Picks all dirt on hardwood floor faster
Easy to use on other surfaces such as couch and bed
Not noisy and does not scare cats or toddlers
Easy to assemble and use
Has 2 dedicated motors
The 6 LED lights illuminates the vacuuming path
Foldable handle thus easy storage
Good on both hard floors and carpets
Has washable filter
Cons
You go through a filter to empty a canister
To get rid of the tangled hair, you need to manually clean the beater
Recommendation
This is a great machine you can have for deep cleaning your home.
6.      Deik Cordless Vacuum Cleaner
A vacuum from a manufacturer of innovative home appliances. Besides being fancy, this cleaner also has outstanding performance we discovered after our rigorous tests. While you will agree with us that, ease of use is such an important factor in any product. With this vacuum, it's something you might want to consider.
With multiple floor in your home, you have the right machine for tackling dirt on that carpet and hard surface. In a nutshell, Deik Cordless Vacuum Cleaner has a powerful suction, is lightweight and maneuverable, user friendly and capable of cleaning multiple floors.
Pros
Lightweight and cordless makes it suitable for cleaning up, down and all round with ease.
With a touch of a button, can be used on multiple floor and large areas
The dustbin is easy to empty by only a single click action
The wall-mounted dock is much convenient for storage and saving of space
Has a removable battery that delivers enough cleaning power of 25 minutes
Highly steerable making it easy to maneuver around tight corners and furniture
There are LED lights for lighting up dull areas
Comes with a power adapter, wall mount and accessories
One year warranty and extra roller brush when purchased from the manufacturer's shop
Cons
Has limited attachments
Long pet hair can get tangled in the brush roll
Could not stand freely
Recommendation
It is a good vacuum cleaner for convenience and budget friendly as well.
7.      Hoover Impulse Cordless Stick Vacuum BH53020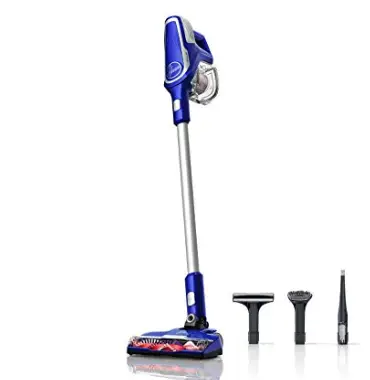 This is a one of a kind vacuum that is liked for being lightweight and with plenty of suction power. It is therefore ideal for your hardwood floors and area rug. This vacuum cleaner can be used as a stick and handheld vacuum thus the best for light cleaning and reaching above floors. The cleaner has easily accessible controls, two power modes and comes with three tools that include the crevice too, dusting brush and upholstery tool.
Pros
Designed for multiple surfaces; hard floor, carpets and area rugs
Lightweight at only 5.6 lbs. hence easy to move around with
Has a swivel steering that makes it maneuver easily around tight corners and furniture
Lithium battery for up to 18 minutes cord-free cleaning
Convertible to handheld for use on areas above the floor and tight places
Has power level indicates on hoverboard
A trigger for a continuous cleaning
A push of a button to empty the dust bin
Comes with a crevice tool, wall mount, extra filter, storage back and upholstery tool
2 year Hoover limited warranty
Cons
Not free-standing 
You have to clean the filter frequently
Feels top heavy when using
The dust canister is small
The fixed battery cannot be swapped
Produces noise
Has no HEPA filter
Verdict
This is an affordable multiple floor vacuum cleaner that effectively tackles light cleaning, above floors and upholstery.
8.      Eureka NEC122A PowerPlush​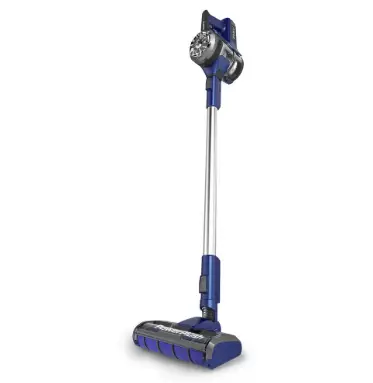 Eureka NEC122A PowerPlush​ Cordless 2-in-1 stick vacuum is a lightweight and maneuverable vacuum that deep cleans hard floors, carpet and area rugs of your home easily. It has good performance, easy to use and advanced features.
Pros
Easy to empty dust cups but simply pressing the release button
One touch power button to start the machine
Swivel steering that is self-propelled motorized nozzle for easy maneuvering
Highly portable due to lightweight
Wall  mount for storage and saving of space
Washable anti-allergen filters purifies the air in the house
Detachable battery that ensures continuous powerful cleaning
 Convertible handheld cleans the floors and surface above easily
Include crevice tool and 2-in-1 upholstery tool
Has 2 year warranty
Cons
Has shorter runtime of only 15 minutes
The dustbin is small and does not give peace while cleaning large areas
Isn't freestanding
Our stand
This is a recommendable device for vacuuming your home. It is versatile for deep cleaning your floors and above areas with convenient. If you have no problem with the disadvantageous features you can go for it.
How to care and Maintain your Cordless Vacuum
Frequently check and empty the dust bin while cleaning; they are small and fills faster
Check and ensure the cleaning heads are not clogged due to sticky debris and hair
The attachments and other includes should be stored together to avoid losing them
Store properly after use on the wall bracket or at a recommended place free from water and dust.
Conclusion
Hardwood floors is delicate and can permanently damage if handled improperly during cleaning. Not all vacuum cleaners can be used on hardwood floors. In our guide we have picked on the best you can use without worrying about scratches and damages as long as you know how to use. Prices for vacuum machines vary depending on the features they have. As a buyer think about how much you have and what features do you prefer.