Vinyl flooring has become popular in recent years and it is easy to see why. There are many different styles and designs available in vinyl and it can spruce up any room or staircase.
In comparison to tiled or wooden flooring, it is fairly inexpensive. It can prove to be a fantastic option for those looking for new flooring.
If you are looking to replace the flooring on your stairs, it can be difficult to know what type of flooring to choose.
While carpet can be great, it can stain and wear over time. Wooden flooring looks lovely, but it can be more expensive and bothersome to place on the stairs.
Perhaps you have considered vinyl flooring, but you are not sure whether it would be suitable. While vinyl is great for bathrooms, kitchens, and hallways, would it fit as well on stairs? Would it be durable, or would it look cheap and tacky?
In this article, we will be taking a closer look at vinyl flooring to see if it is worth purchasing for your stairs.
We will be putting the pros and cons head to head to see if it is worth purchasing. In addition to this, we will be talking you through what vinyl flooring is.
We hope that this article will help you take a step in the right direction when it comes to home flooring!
Editor's Note: We recently answered a question we keep receiving: are desk chair mats necessary?  Do you need one to protect from scratching your floors?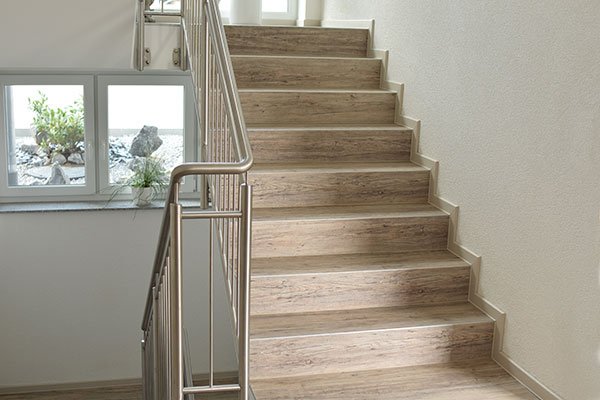 What Is Vinyl Flooring?
Before we begin to discuss the pros and cons of vinyl flooring, you should be aware of what type of flooring it is. This will help you to make a better decision when deciding whether or not you should choose to purchase it for your stairs.
Vinyl flooring is a sheet type of flooring. Unlike tiles or wooden flooring that come in separate parts and need to be placed next to each other, vinyl flooring is all one sheet. It is usually available to purchase in a long sheet that is cut to the size you require.
Vinyl flooring is typically available in two different styles. These styles are a wooden or tiled pattern – both of which would look fantastic on a flight of stairs.
Vinyl flooring may not sound particularly durable, but it is a great option. There are concerns linked to the environment when it is disposed of, however, which is worth keeping in mind.
Given the type of flooring, vinyl is, it tends to be fairly inexpensive, especially when compared to laminate, wooden, or tiled flooring.
Pros of Vinyl Flooring On Stairs
There are several pros to having vinyl flooring on stairs. Some of these pros include:
Cost
The cost of vinyl flooring is one of its biggest advantages. It is far cheaper than purchasing tiles or wooden flooring, while still providing you with the look of either of these.
If you are shopping on a budget it is certainly worth considering. As it looks so realistic, often you will be unable to tell that you have vinyl flooring at first glance.
It will give you the illusion of having tiled or wooden stairs for a fraction of the cost.
Ease of Installation
Vinyl flooring comes in a singular sheet. It is much easier to install in comparison to tiled, laminate, or wooden flooring.
You do not have to worry about each tile or plank fitting perfectly and the pattern is already applied to the vinyl flooring.
All you need to be concerned with is fitting the flooring. While it may seem a little fiddly to fit at first glance, vinyl is fairly easy to install.
Many people choose to install it themselves, instead of paying a professional to do it.
Unlike other types of flooring, you do not need any tools or sealing equipment. The vinyl flooring has a sticky adhesive on the back of it.
All you need to do is place it firmly on the floor surface and the job is complete!
Easy To Clean
As vinyl is all one piece of material, it is surprisingly easy to clean. It can be wiped down with no issues and will not become water damaged, which is a huge positive.
You do not have to worry about dirt becoming trapped between the tiles or floorboards as there are none.
Durability
Vinyl is surprisingly durable. As mentioned above, it is water-resistant and will not become water damaged.
As it has shock-absorbing properties, it is less likely to become damaged. This makes it comfortable to walk on too.
Vinyl is water-resistant, so you are unlikely to have mold or mildew develop on its surface, which can happen with other materials.
Cons of Vinyl Flooring On Stairs
Although there are many pros to having vinyl flooring on stairs, it does not come without its cons.
Here are some things that you should take into consideration before purchasing vinyl flooring:
It Is Not Scratch Resistant
Although vinyl flooring is durable and water-resistant, it is not scratch resistant. Given that stairs are used daily, over time vinyl is likely to pick up scratches.
As the vinyl covers all of the stairs and is placed at different angles rather than being flat, it could easily become scratched over time.
If the scratch becomes deep, this could cause issues. Unlike with tiling or wooden flooring where parts can be replaced, this is more difficult with vinyl flooring and not entirely plausible.
Sticking Issues
Although vinyl flooring is easy to place, you may have issues with it sticking to the surface. If it is not placed correctly, the surface may look uneven or bubble slightly.
Unless the vinyl is placed with time and precision, it can look unprofessional. Rather than looking like real tile or wood, it can look amateur if it is not placed correctly.
In contrast to this, you may have problems with the vinyl flooring sticking to your staircase too well. While this is great when you are happy with the flooring, if you decide to change it, it can cause problems.
Although it can be removed, it can require a lot of time and patience. Though it is easy to install, you should consider the removal time for the future too.
The Potential Dangers Of Vinyl Flooring
Following on from vinyl flooring not being placed correctly, if it begins to come away from the stair surface this could potentially be dangerous and could cause injuries.
In addition to this, unlike tiled or wood flooring, vinyl is PVC. This material could potentially be dangerous due to the gasses it can emit.
Given this, it is worth researching this thoroughly before purchasing. You should always choose a reliable and trustworthy manufacturer.
There are also environmental issues linked to vinyl flooring due to the PVC and the materials it is made out of. This could cause potential problems if you were to ever replace the vinyl flooring.
Summary
We hope that this article has helped you with your decision on whether or not to purchase vinyl flooring for your stairs. As with any type of flooring, where there are pros, there are also cons.
There are many pros to vinyl flooring, such as the design options available, the ease of installation and cleaning, and the low costs.
However, you should take into consideration that it can be difficult to remove, it can scratch and look amateur if not placed correctly.
There are also potential issues with the PVC it is made from. You should always ensure to choose a well known and trusted brand to purchase your vinyl flooring from. This will help to ensure that the flooring is completely safe.
We think that vinyl can give your staircase a fantastic makeover. It can go from looking dull and boring to chic and bold.
It is a fantastic option for those looking to redecorate while on a budget.