Hardwood floors are not only a durable choice, but also provide your home with a timeless look that improves and develops with age.
However, if you're new to learning about hardwood flooring you might be wondering: Is it better to nail or staple hardwood floors?
In this article, WFC experts some key information about fitting your hardwood floor, including whether it is better to nail or staple hardwood floors.
Keep reading to find out more.
The main advantage of a real wood floor is being able to sand it down and refinish it, prolonging its life.  
Nailing or stapling down wood floors is the most common and preferred install method for wood floor professionals if a wood subfloor in the form of plywood exists in your home.
Ensuring that you have a suitable subfloor is the most important ingredient for any successful installation when laying solid hardwood flooring.
Failure to ensure this will lead to spongy, creaking, and popping sounds when you walk. Nails or staples need a proper bite, otherwise they will loosen over time.
Installers have their preferences on what tool is used to fasten solid wood floors.
However, to help you decide which you'd prefer, let's delve into some key benefits of nailing and stapling your hardwood floors.
Benefits of Nailing
One of the main benefits of nailing hardwood floors is how long people have been doing it. Hardwood flooring installers have been nailing floors down for generations and many believe it to be the best method to fix hardwood floors.
People who have been fitting floors for years often argue that there's little to be gained timewise by using staples.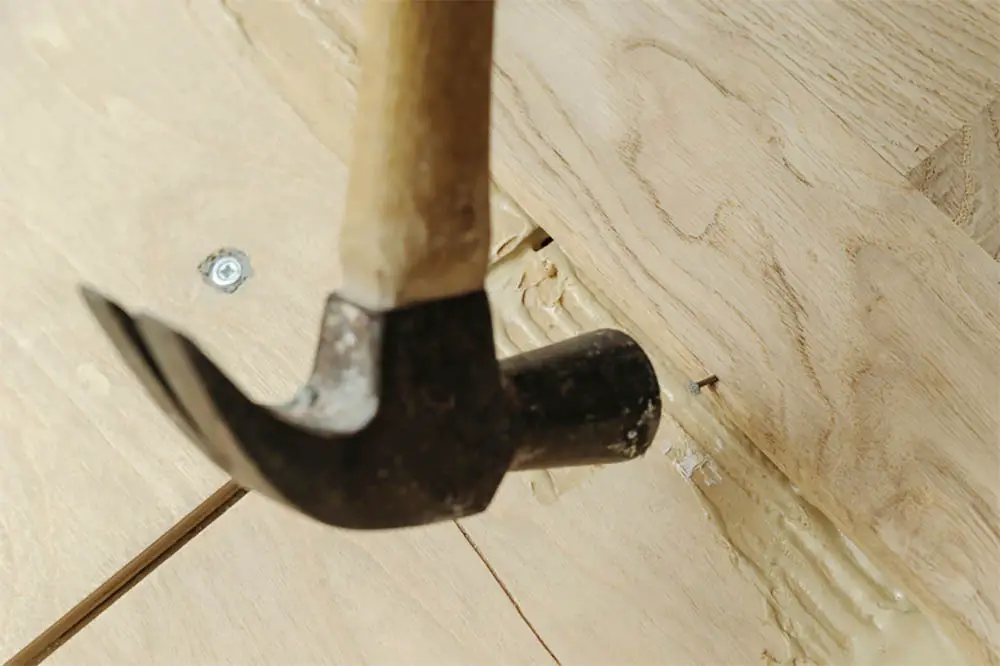 Professional installers consider this type of installation as a permanent method.
With the correct installation, environment and maintenance, the chances for product failure is consistently low when you opt for nailing your hardwood floors.
Nailed floors are more forgiving when it comes to the expansion and contraction that wood floors are susceptible to due to fluctuating temperatures. This means that changes in temperature and humidity are less likely to result in long term damage.
Nailing your flooring is time effective! It's a fairly quick process to nail your flooring, so you can enjoy your new wood flooring without an extreme wait.
Benefits of stapling
One of the main benefits of stapling your hardwood flooring down is how time effective it is, as it is super quick to install!
However, as I mentioned above, this doesn't necessarily mean that stapling is quicker than nailing your hardwood floors.
Another large benefit of stapling hardwood floors is that many people perceive them to be easier to install for DIYers. With a pneumatic staple gun in hand and the right staples in the barrel, a DIYer will be able to staple their own floors without too much hassle.
This can save a significant amount of money as it means that you won't necessarily have to hire help as you can just do it yourself!
In addition to this, stapling your floors is relatively cost effective in comparison to its counterparts, such as glue.
However, in terms of comparing the prices between nails or staples, there isn't a great deal of difference between the two and they are both good value for money.
So, how do you choose between nailing or stapling your hardwood floors? If you're working on a DIY basis, it may well be that you have a preferred option because you feel it is more within your skills set.
As a result, you will need to consider your own DIY skills and weigh up whether you will require professional help to achieve the best results and get the most out of your wood flooring.
While that's all good and well, you still need to make sure you choose the most appropriate and convenient installation method for your new floor and your existing subfloor.
Failure to respect these fundamental elements could mean that your floor ends up getting damaged, or doesn't last as long as you would have hoped. 
One of the best things about hardwood flooring is how durable it is.
However, you could have the best quality hardwood flooring in the world, and you could still end up damaging it if you don't have the right expertise or equipment to aid you in installing it.
If in doubt, it is always the safest option to seek professional advice and make a choice from there.
You should always do your own research and opt for the safest long-term solution to ensure that you are choosing the best installation method for you and your hardwood flooring.
How should you prepare your subfloor before installation
Regardless of which installation type you choose, it is absolutely crucial that you always prepare your subfloor and new flooring appropriately to ensure that it lasts as long as possible.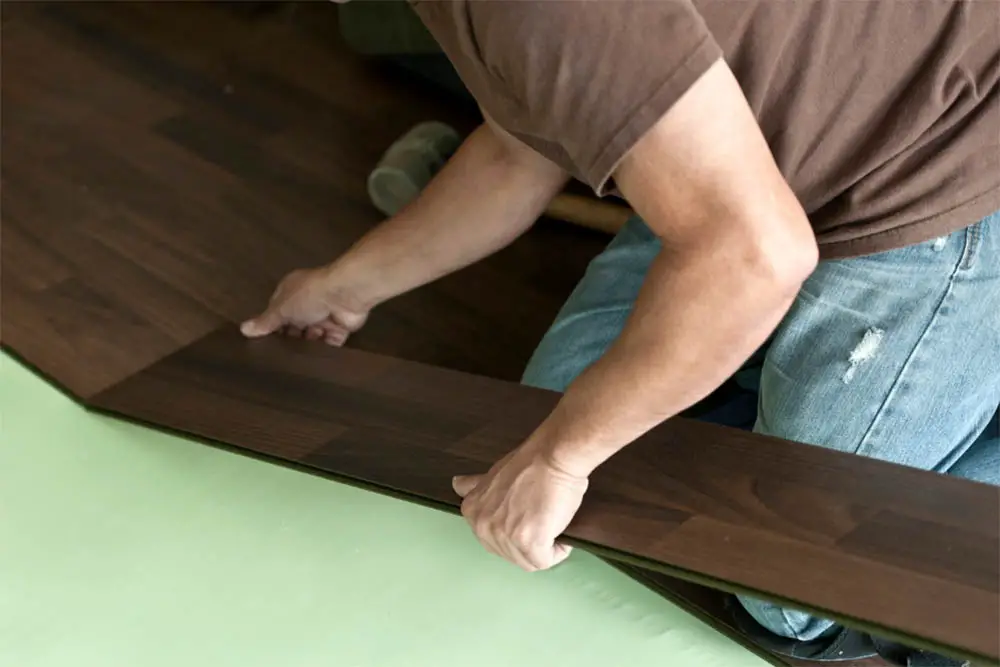 You will need to make sure that your subfloor is clean and even before you lay down the new flooring. Always sweep all debris and level off any areas that appear to be sinking or seem somewhat raised.
Make sure there is no mold or mildew growing, and always ensure that any other water problems have been solved before laying new flooring.
Failure to do so will result in a wealth of problems down the road if you don't rectify these issues beforehand.
Once the subfloor has been prepared, your flooring package should be opened and the flooring spread out and stored at the installation site for at least 48 hours prior to installation.
In addition to this, you should make sure that there is a consistent room temperature.
In summary 
Which option you choose to install your hardwood flooring will come down to personal preference and convenience.
Make sure that you research both nailing and stapling hardwood flooring, and weigh up whether you'll be able to install the flooring yourself or will need help from a professional, too.