So, you've decided it's time to add a timeless touch to your kitchen space, but you may be wondering if wood flooring is the right idea. Well…is it?
In this guide, you'll find out why installing hardwood floors in the kitchen will do the trick, as well as the best type of wood to use, followed by care and maintenance tips.
Wooden floors in the kitchen not only give a sense of style but also guarantee more than 70% return on your investment.
You will also enjoy a variety of colors and the beautiful natural wood grain patterns that can complement your kitchen cabinets.
With proper care, a wooden floor can see the next century. All that is required is a proper cleaning routine, preventing water contact, and taking care of things that can cause scratches and dents.
Sanding and refinishing a wood floor after 8 to 10 years should be part of the agenda as this restores the finish.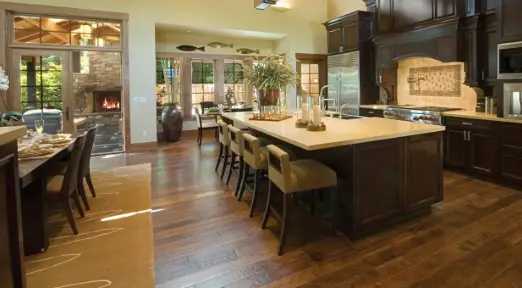 More than most areas in your home, a kitchen takes it all, from high foot traffic to water puddles and food spills.
Installation of wood floors in the bathroom and kitchen requires special craftsmanship due to the above-average humidity of these areas.
In addition, the floor has to be properly sealed to prevent water from penetrating the wood.
Prolonged water or moisture contact can badly damage wood. If exposed to moisture, the planks will swell, twist, warp, or buckle.
Moisture can also attract mold that often causes allergies. Such wood has to be replaced at an additional cost.
Best Hardwood for Kitchen floor
While properly finished, solid hardwood floors could do well in the kitchen, engineered hardwood floors are dimensionally stable and thus are the best for humid areas such as the kitchen and bathrooms.
Engineered hardwood floors are resistant to change in temperature and humidity and are commonly used in homes located in geographical areas that experience extremes in temperature or humidity.
Hardwood species such as oak, maple, and cherry are strong and can take a beating. They are the best wood flooring for dogs and for high traffic areas such as the kitchen. Avoid softwoods such as pine, which has a higher vulnerability to denting and scratching.
In addition to strength and durability, wood color and grain pattern can help conceal dents, scratches, and stains. Oak has a pronounced grain pattern and does not easily show dirt.
If you want a dark floor that complements your dark cabinets then walnut or mahogany are good options.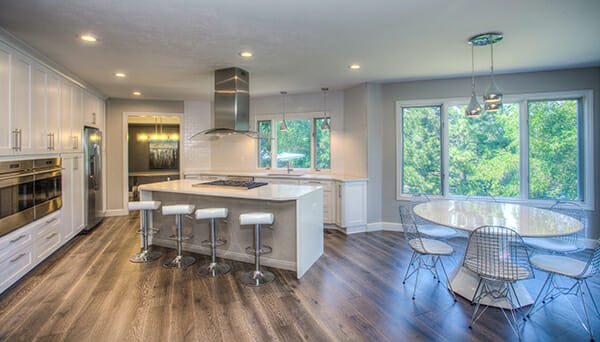 Above all, the finish you choose must be water-resistant due to the kitchen's constant exposure to water, as well as common wear and tear. It also has to be durable enough to withstand the significant traffic that a kitchen receives.
Acrylic impregnated wood can also be an option for a kitchen although it has some drawbacks. This is a type of hardwood floor manufactured with color and sealant infused throughout the depth of the wood.
It is significantly harder than natural wood and is thus ideal for high traffic areas.
Acrylic impregnated wood cannot be refinished since the wood is already infused with acrylic resin.
The wood is also very expensive due to the complex process of injecting color and resin. The wood also comes with strict instructions of cleaning for the warranty to hold.
How to Protect Hardwood Floors in Kitchen
Taking good care of your wooden floors guarantees longevity and low maintenance cost. A kitchen should be constantly cleaned to remove dirt and harmful microorganisms.
This mainly involves sweeping with a soft bristle broom that does not scratch the surface or using a similarly hardwood-friendly vacuum.
Deep clean once in a while using a recommended hardwood floor cleaner that is gentle on surfaces but tough on dirt. Mop or wipe spills immediately to prevent stains and damage to the wood.
Install an area rug around the dining table and place some mats at the entrance to prevent trucked in soil and moisture.
Ensure taps and other kitchen appliances do not leak water or fluids on the floor. Kitchen furniture should be protected by rug pads and dog's claws should be trimmed to avoid scratching the floor finish.
Conclusion
There is every reason to invest in a hardwood floor — but you need to go an extra mile to ensure that it serves well both its aesthetic and functional purposes.
Wooden floors in the kitchen — and everywhere in the house, for that matter — are one of the best choices you can make.