The main secret of protecting and maintaining a beautiful hardwood floor is to know how to clean it. That means knowing the best products to use and the right tools for the task.
Dealing with dirt and grime on your floor can seem like a chore at first. However, using the right tools will give you the ability and confidence you need to keep your floor looking its best.
There are many cleaners for hardwood floors on the market and you may be confused as to choosing the best and safest one. We also have a guide for choosing the best broom for hard wood floors here.
Some cleaners may not be safe on your floor. Especially after prolonged use, you could see a white haze, streaks, or foot and pet prints right after use.
Safety is also of paramount importance, especially when you have children or pets in your home. Be sure to use a product that will not harm them or yourself.
Bona ticks all the right boxes as a floor cleaner. It's safe and simply ideal for hardwood floors.
It can even be trusted on priceless old hardwood floors of a colonial house. All the sticky spots, dirt, and grime will be gone post haste.
If you have never used this product, you'll want to know if it is really good on your hardwood floor.
The immediate answer is yes. In details, we will explain to you what Bona is, how to use it, what it comes from, and a general guide on how to maintain, care and protect your hardwood floors.
What is Bona Hardwood Floor Cleaner?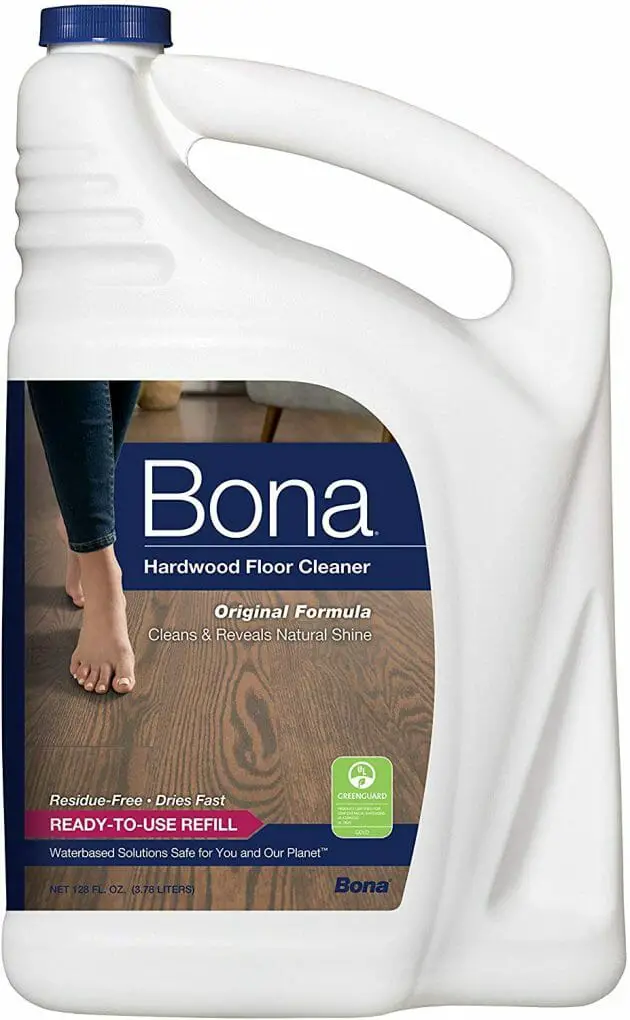 Bona is an impeccable cleaning product made by a highly reputable company with vast experience in cleaning wood.
It is a water-based cleaner that easily removes dirt and grime from finished wood flooring without leaving behind any blemishes or causing any damage.
The solution is applied directly on the floor without mixing with any other ingredient and is wiped using Bona pads.
It dries ultra-quick without leaving behind any streaks or wet spots on your sealed hardwood floor.
Bona cleaner works best with reusable bona cleaning pads, which can be laundered. There are refills in various quantities of jugs so you won't need to buy another full spray bottle again.
Regarding safety, this product has been certified as safe by Green Guard Gold and can comfortably be used in schools and healthcare facilities.
Children, pets, and people with sensitive respiratory systems can be comfortable with it as well.
If we consider how effective Bona is in comparison to the cost, we can comfortably say that it is worth the investment. Also due to available refills, it will be cheaper in the long run.
Why is Bona Good? (Pros)
Here are the benefits of using this cleaner;
Bona uses a water-based formula for dealing with sticky spots as well as for cleaning the entire floor. That includes sticky food spots, muddy paw prints, and pet urine.
Bona spray dries fast without giving you a dull floor. Instead, you get a natural shine on your hardwood floor. You therefore don't have to wait for the floor to dry.
This product is non-toxic and will not harm children or pets in the house. People with allergies or respiratory problems can use it without worries too.
While using it, you don't need to rinse the floor. That means you are saved the hustle of moving around with a bucket.
It is always gentle on floors and does not contain harsh chemicals that can give you a shiny floor today and a dull one in the future.
Bona Cleaning Pads or mop heads can be rinsed in water or be laundered when they are soiled. That makes it convenient and economical, unlike disposable pads.
Using this cleaner on large floors with or without sticky spots is more convenient and a way of saving time. It instantly removes dirt and grime without rinsing or waiting long.
Possible shortcomings (Cons)
Does not disinfect, therefore leaving the possibility of household germs and bacteria.
Not your choice if you prefer a bright shine — It only gives you a natural shine on a wood floor.
May require several passes to remove old spots, especially if you are using Bona for first time
The sprayer may be difficult to detach, especially when you are refilling it for the first time.
How Often Should You Clean Hardwood Floors with Bona?
You need a regular cleaning schedule for a shiny and lasting wooden floor. Bona has made it easy to clean your floor, simply by spraying and wiping.
Nevertheless, good maintenance of your floor will keep it beautiful all the time. Here are tips you should follow:
Soak up liquid spills immediately. If you let them dry, you may use excessive water to remove them, which is not good for wooden floors. Dried spills may also cause permanent stains.
Avoid using traditional household cleaners on your floor such as soap-based cleaners or wax, as they will leave a dull floor finish as well as risk damaging it.
Vacuum your floor with the right cleaner on a regular basis to remove debris before you mop it.
Avoid moving furniture across a wooden floor. Lift furniture or use gliding furniture pads.
Put protective pads or caps on legs of your furniture.
Place mats or rugs near doorways and in areas with high traffic so that sand and grit can be trapped.
Remove your shoes or heels upon entering the house to avoid dents on your floor.
Groom your pet well to avoid hair on the floor and claws from scratching the floor.
How Do You Use Bona on Hardwood Floor?
Bona is easy and simple to use. All you need to do is begin by vacuuming using the right vacuum cleaner for hardwood floors.
This will be followed by the following simple steps:
Check to see if the floor has spots or grime and directly spray them with Bona Wood Floor Cleaner to dissolve.
Wipe the floor using a Bona Cleaning Pad/ Mop
If the pad becomes soiled, simply rinse it in water and wring it out thoroughly before you continue.
Some floors may be too dull or scratched, and after cleaning you may not notice a satisfying change.
However, you can make them shiny again by applying Bona Wood Floor Polish or Refresher using a Bona Applicator Pad after every 2-3 months.
Depending on how you use your floor, experts recommend deep cleaning, sanding, and refinishing after every three to five years.
Weekly maintenance of your floor will make cleaning easy. Wood floor vacuum cleaners and washable microfiber pads for dusting and mops are suitable for weekly cleaning.
They are also good for getting dirt out of hard-to-reach areas like corners, under the furniture, and in grout.
Steam Cleaners for Hardwood Floors can also be used when you want to disinfect your home. The high temperature of steam kills household germs and bacteria.
However, you should be careful when using these methods. Steam cleaners can scratch and damage your floor, especially if they are not designed for hardwood floors.
While using steam and mops, ensure that you don't leave behind too much water, which easily damages wood floors.
Dusting your floors daily is highly recommended to retain a pleasant shine. This can be done by using a microfiber mop.
A broom may be used but make sure you use a soft-bristle variety to avoid scratching your floor.
A microfiber mop should be used carefully, without lifting it up off the floor to keep dirt and debris trapped on the pad.
Recommendation
Bona is one of the best cleaning solutions for hardwood floors that you simply cannot go wrong with.
It protects and naturally shines your floor without using any harsh chemical elements.
It is therefore worth having for your own safety and that of your floor as well.
Conclusion
Properly cleaning your wooden floor involves using the right products and methods.
Wooden floors are beautiful and worth having a home — and they're worth protecting, too.