Installing hardwood floors in your bedroom is a great idea – until you find your bed sliding on them every time you move. This problem is particularly annoying if you are a restless sleeper and wake up to your bed at an entirely new angle. What do you do? You can't precisely remove the new wooden floor. Maybe a new bed is in order?
The good news is you don't have to stress. It's a common problem with wooden floors in the bedroom. There are several ways you can solve this problem, and this article will fill you in on all the options to stop your bed from sliding on a wood floor.
Why Do Bed Frames Slide on Hardwood Floors?
Having a bed that slides every time you get in and out of it is not ideal, and it can even cause injury to the elderly who use the bed frame for support. Then there are the scuff marks that the bed's legs can make on your hardwood floor. There's also a chance that the headboard will leave marks on the wall if it moves against it. These are extra repair costs that you don't need.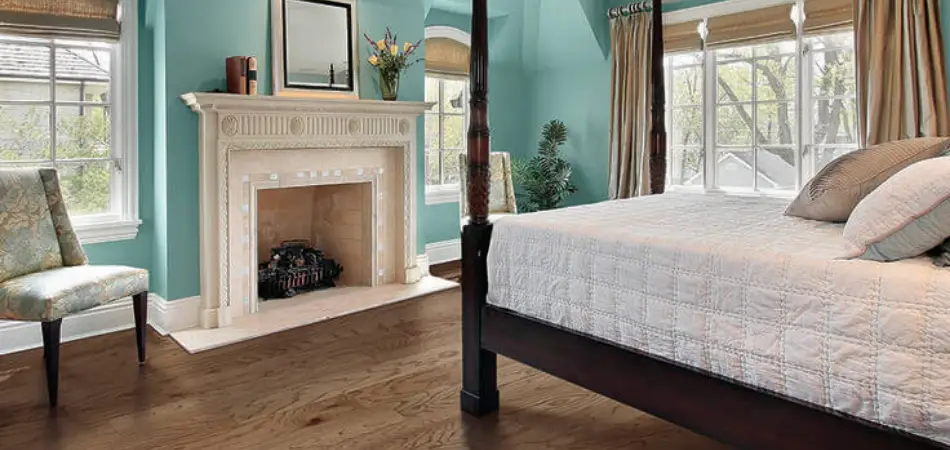 Most of the time, a lightweight bed frame is to blame. The bed feet also tend to be relatively smooth underneath. Couple this with a slippery floor finish on a hardwood floor, and you have a bed that easily slides. However, you don't have to start looking at heavier bed frames.
Firstly, heavier beds may create impressions on the wood floor where the legs sit. Also, there are cheaper alternatives that you can try before you buy a new bed!
Preventing Your Bed from Sliding on Your Wooden Floor
You can get your bed to completely stop sliding on wood floors by either stabilizing the entire bed frame or the bed legs. A description of each option will allow you to choose the best solution for your bedroom. Some of these options offer a once-off permanent solution, whereas others may have to be re-done later.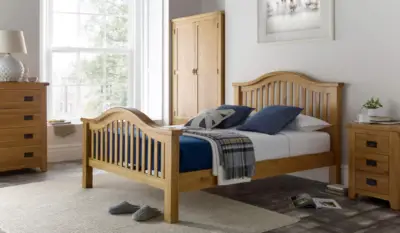 1. Find a New Position for Your Bed
Depending on the design and size of your room, you can reposition your bed to stop it from sliding. Moving the bed to one corner of the room is an excellent solution if you have the space. The support from the walls will prevent the bed from sliding.
However, if two people sleep on the bed, the corner might not be the best position for a bed. Getting in and out of bed will take more coordination as you will have to use the same side. Additionally, if the bed is light, the siding would now cause paint damage to two walls.
2. Use an Area Rug
The use of area rugs under the bed can help stop a bed from sliding. It will also protect your wooden floor. A thick piled rug is a luxurious option for a bedroom and is best suited for the job. The bed legs sink into the thick pile and are held in place. In addition, this type of area rug is heavy and will further prevent sliding.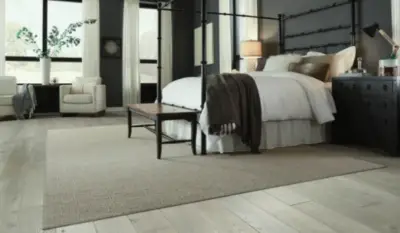 3. Bed Risers
As the name suggests, bed risers raise beds to create more storage space underneath the bed. They are also non-slip and come in all different shapes and sizes. Bed risers fit on the bottom of regular bedposts and will not damage your wood floor. Aesthetically speaking, though, not everyone will like the look of a raised bed.
4. Bed Stoppers
Thick rubber bed stoppers are readily available. They fit under the bed leg and effectively stop a bed from sliding. Stoppers come in different shapes so that they can accommodate most beds. For U-shaped bed legs, you can make rubber bed stoppers from an old bicycle tire. You can use a cutting tool to cut the tire to the correct length and then split it open. The bed leg fits into the tire, which acts as a bed stopper.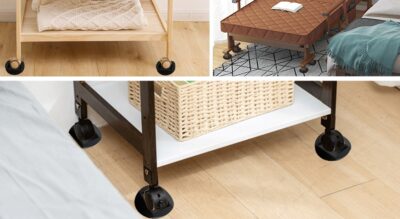 5. Velcro Pads
Velcro padding is often used for furniture. It is pretty thin and is completely invisible once in place. They come with self-adhesive backings. The only downside of velcro pads is that you have to stick one-half of the pad to your wood flooring. This means that if you ever rearrange your bed in the future, you will have to remove the adhesive from the floor, and it might leave marks.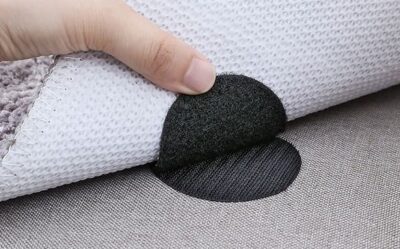 6. Rubber Caster Cups
Rubber caster cups are the best option for caster-styled beds. They are made of thicker rubber than common rubber feet. The caster fits into the rubber caster cup and locks it into place. These will definitely prevent a sliding bed frame on wood floors. It is crucial that you buy the correct size because the wheel might slip out if it is too big.
7. Attach the Bed Frame to the Wall
This is an option if you have a solid wall and do not plan on moving your bed for an extended period. You can drill directly through the headboard to fix the bed frame to the wall. You must use long screws and the appropriate wall plugs for maximum hold.
Before choosing this option, though, you have to check if your headboard will handle the long screws that have to go through it. You also have to check the wall and be sure of your bed's position in the room because once fixed, it will take some effort to move it.
Conclusion
All the options presented in this article will stop a bed from sliding around on a wooden floor. The solution you choose will depend on the style of the room, your bed, and your budget. Fortunately, there are options that will suit all of those. With these, you will never have to search how to stop a bed from sliding on your wood floor again!