Many public buildings of the 19th century used cork flooring, which originated with Frank Lloyd Wright. These buildings feature original and natural cork floors. Additionally, cork flooring refers to tiles made of the bark of oak trees as ground material. And this bark is processed and baked in a kiln to produce tiles that serve as flooring in houses, offices, or other commercial and residential locations. Furthermore, people are looking for earth-friendly and sustainable materials, and cork floors are an excellent alternative to wooden floors.
A cork floor is a durable and rigid material, but it also needs maintenance and cleaning like other floors. Thus, here is a complete guide on how to clean cork floors.
What Are Cork Floors?
The barks of oak trees (Quercus suber) are the primary material that makes cork floor tiles. After 25 years of age, these barks are harvested by hand and kept intact.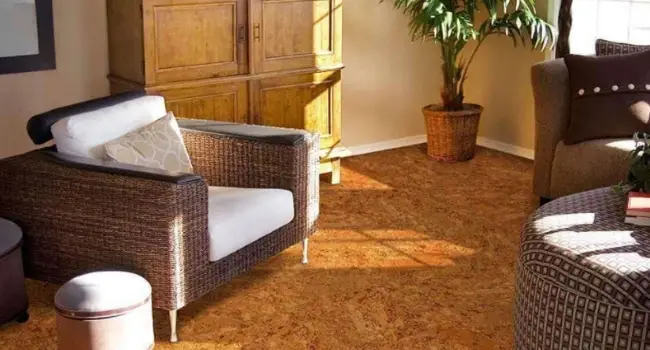 This cork helps make some floors' surfaces and furniture like office chairs, tables, etc. The cork floor has a life cycle, and it is environmentally friendly like any other wood floor. The cork has a natural substance called suberin that serves as waxy material. It is responsible for the cork's moisture-resistant and insect-resistant nature.
However, if you spill water or any other liquid, it is beneficial to remove excess moisture from the natural cork floor surface as it can have ill effects in the long term.
How to Clean Cork Floor?
At the surface, cork flooring is installed with multiple layers of sealant or a non-porous backing, and sometimes mats are placed on the floor.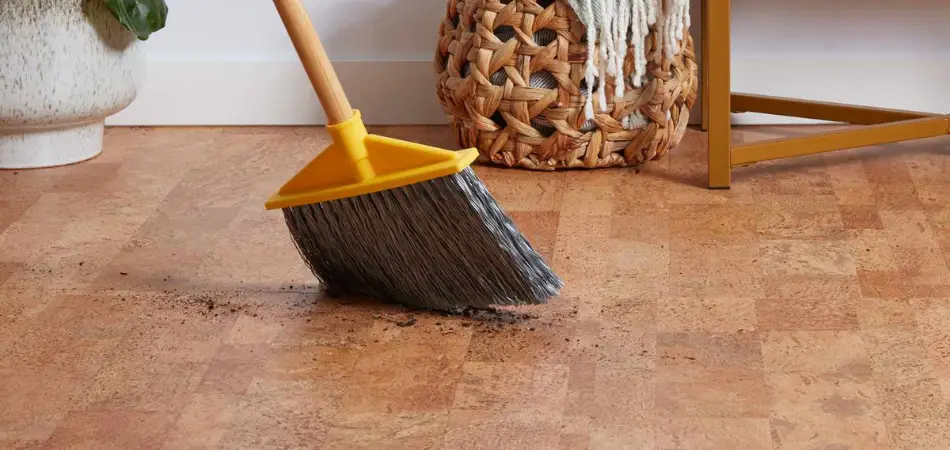 Therefore, the maintenance and cleaning of this floor are relatively easy compared to any other wood floor. A damp mop is sufficient if you regularly clean the cork floor because harsh abrasive chemical cleaners can damage the floor.
You can use mild cleaners or white vinegar with the help of a mop to clean the spills, dust, or grease from the surface.
Learn to Clean Cork Flooring!
Following are some do's and don'ts for cork floor cleaning.
Do's
Vacuum the cork floors daily, or you can also use a sweeper to sweep the debris and dirt.
Try to sweep the cork floor often, as cork flooring is a breathable material, and dirt can scratch the upper layer.
Use a soft mop and soft-bristled broom to protect the cork floors.
Cork is porous, and it can trap moisture as it is liquid absorbing. Clean the spills immediately and use rubber mats and other non-porous backings.
For weekly cleaning, use a mild cork floor cleaner. Take five drops of any floor cleaner, mix it with one gallon of warm water, and damp mop to spread the cleaner as it will deep clean.
You surely don't want to damage your floor, so using a ph-neutral cleaner will be helpful.
Use a microfiber cloth and dry mop to clean the spills from cork flooring as the soft cloth will not damage the thin layer above the floor and remove dirt and debris easily.
Always try to use minimal water and air dry the floors.
Use a polyurethane coat to avoid scratches and window treatments to save it from direct sunlight.
Don't
Avoid excess water as the cork floors allow moisture penetration.
If cork floors trap moisture, they will encourage mold to grow.
Don't use a beater bar attachment while using a vacuum to clean the dirt.
The use of harsh cleaners or wax-based products on the cork floors can cause streaking and damage the floor permanently.
Don't use a steam cleaner to damage the wax finish on cork flooring.
To clean and protect the cork flooring, avoid wax or ammonia-based products.
You can prevent scuffing by putting rubber mats under chairs, tables, and other furniture.
Conclusion
The cork floor is durable and requires less maintenance. But it is essential to clean it with a moderate wax-free cleaner and proper floor machine-like professional cork floor cleaners. One of the best ways to maintain a cork floor is to sweep up spills immediately. Also, use the wet mop to clean the floor once a week. Cork flooring is an excellent option to put in places where you don't have to use excess water.
It can trap moisture, so it is not a good idea to place it in wet areas. We hope you have found this article helpful and that it has guided you thoroughly in cleaning cork floors.