The cost of getting your wood floors sanded by a professional depends on how big the space is.
Roughly speaking, it would cost around $0.50 to $3.00 per square foot to sand hardwood floors, meaning an average 12 x 14-foot room would cost $80 to $500 depending on how many passes it needs, as well as the area you live in, as services can be priced differently depending on where you're located.
It's also worth considering that many companies charge more per square foot for smaller areas like small bathrooms and laundry rooms, as these are generally more awkward to sand and require specific equipment.
PS. Does cherry wood make for good flooring? Click for the answer.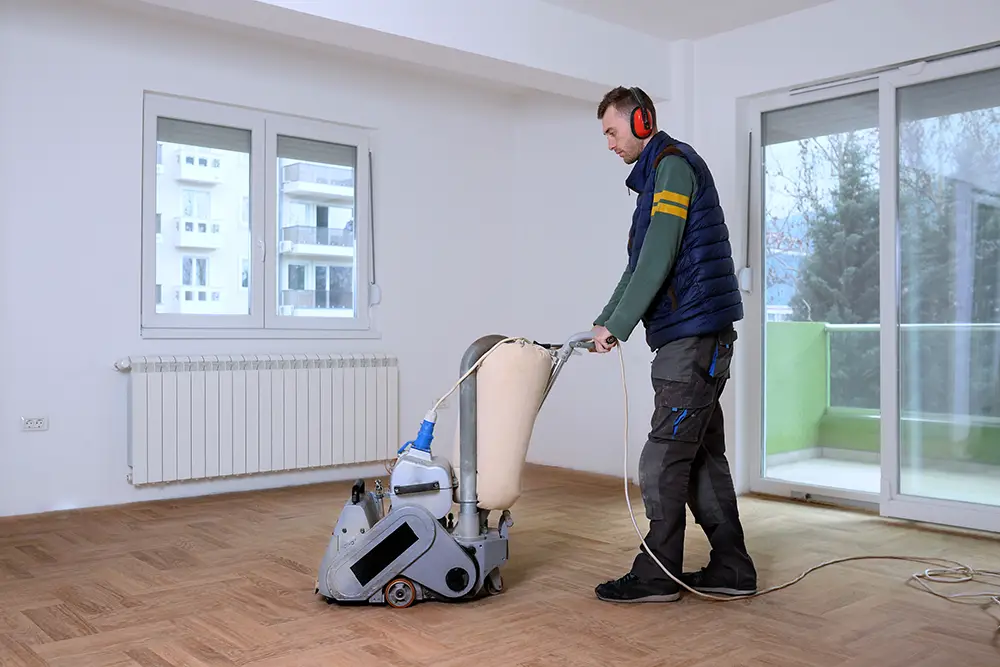 However, there are a few other factors that might affect the overall cost.
For example, if the wood floor is in particularly bad condition, it will need to be repaired before the sanding process.
You should also move any furniture out of the room before the sanding begins, as otherwise the person you hired will have to do this and it could be added to your bill.
Don't try to cut corners by taking on the sanding job yourself. It's a big task and if you mess up it could cost you twice as much to install a new floor!
What is the best way to sand a wood floor?
The best way to sand a wood floor is with a floor sander.
However, there are many different sanders that can be used to sand a wood floor, and if you hire a professional to perform the task they'll use a machine best suited to your floor space.
The best sander to use on hardwood floors is a drum sander, which most experts use.
However other handheld variations are often used on smaller floors or in hard-to-reach areas.
For example, a Delta sander is a handheld portable wander that's ideal for targeting the nooks and crannies of the floor, though it is unlikely to be powerful enough to sand the rest of the surface.
Similarly, an Orbital handheld sander can provide a neat and clean finish on small floor areas, while a palm or edge sander is good for sanding the straight line of the floor, close to the wall.
Each sander uses special grit sandpaper to smooth out the surface of your wood floor.
Grit measures how coarse the paper is, and the higher the figure, the rougher it will be on the wood.  Grit usually starts around 40 and goes up to about 100.
 It's important to use the right amount of grit on your wood floor as too much could damage the surface.
Can I sand my own hardwood floors?
Yes, you can sand your own hardwood floors, so long as you have the right equipment and you know exactly what you're doing.
If you're simply looking to save money, it might be best to just leave it up to a professional, as you could end up costing yourself more money if you damage your floor.
You should also consider the cost of hiring a sander and the necessary equipment and materials.
You'll need the following things to sand your own hardwood floors:
Goggles
Dust Mask
Ear Defence
Brush/vacuum cleaner for the floor
Sander (both a 'drum' and 'edging' sander if possible. If you are using both, double the amount of sandpaper)
12 sheets of 24 grit sandpaper
8 sheets of 40 grit sandpaper
8 sheets of 80 grit sandpaper
5 sheets of 120 grit sandpaper
Optional: Woodstain (if you wish to color your floor)
Varnish (any gloss level – but a satin finish is recommended for contemporary looks, minimized glare, and less visible imperfections)
Brush for Varnish
Before sanding your floors, you should move all furniture out of the room, and remove any decor or curtains that may get in the way.
You'll also want to ensure there are no protruding nails, staples, or screws which could damage the sandpaper, and once the floor is smooth, you should clean it by vacuuming, then wipe it with a damp cloth and wait for it to dry before beginning the sanding process.
Can I sand hardwood floors with a hand sander?
Yes, you can sand hardwood floors with a hand sander, but you should be prepared to spend a lot more time on this – and use a lot more elbow grease – than you would if you used a floor sander.
Both types of sanders follow the same process though: you'll need to start with a low grit like 40, before climbing to 60, 80, and then eventually 100.
You'll want to use a handheld orbital sander, ideally one with a gear-driven setting, to provide more power.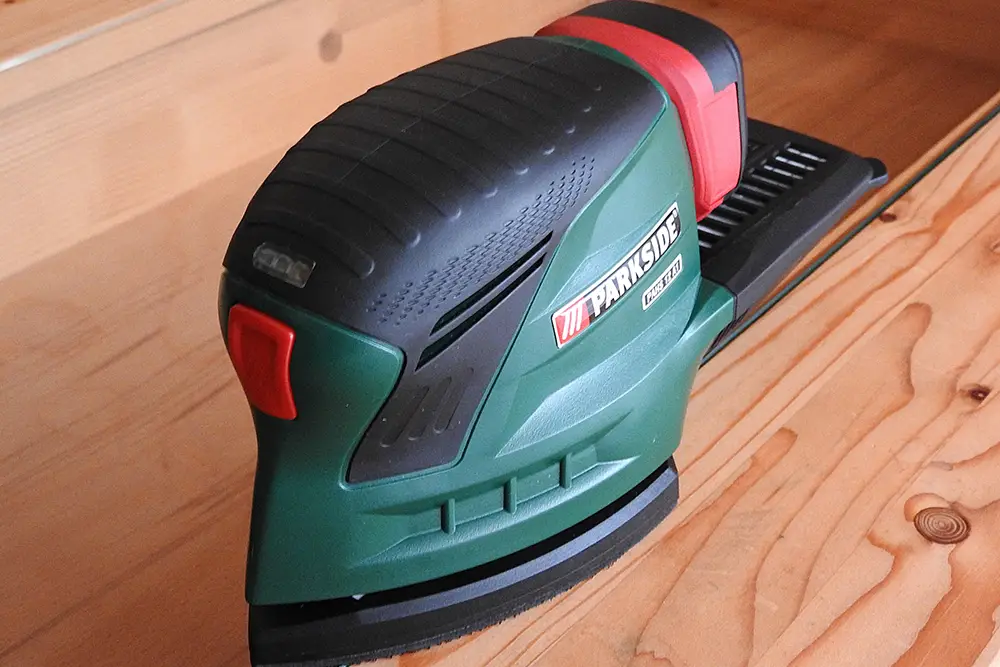 There are definitely some hand-held sanders that are more powerful and effective than others, and you want to ensure that if you are going to hand-sand your floors that you have a quality sander that will make the process as efficient as possible.
An example of a high-quality hand sander is the Festool Rotex (150mm disk) which is ideal for sanding stairs, thresholds, floor edges, and those hard-to-reach areas.
It has a random orbital setting to provide an extremely smooth finish and a geared orbital setting to oscillate and spin the pad with force so you get the job done as quickly as possible.
What type of sander is best for wood floors?
The best type of sander for wood floors is a floor sander, as these are more powerful than the hand-held variety. However, you might be wondering what type of floor sander is the best for the job.
The best type of sander to use is a drum sander, as this will be able to sand the majority of your wood floor and is best suited to big spaces.
However, they're pretty heavy and are not recommended for beginners, as these are the type of sander used by most professionals.
Drum sanders usually have variable speed settings and these are ideal for working on different types and conditions of hardwood floors.
However, drum sanders are large and won't be able to get into those tight spaces in the corners and along the edges.
This is where an edge sander comes in. These won't be able to tackle the whole project but are ideal for the corners and edges of the floor.
They're also a lot easier to use than drum sanders.
Orbital sanders can also be used to give the floor a smooth finish. Ideally, a combination of the above sanders will be used to get your floor sanded to an optimal condition.