The stunning beauty of a hardwood floor can be protected and complemented by the introduction of an area rug.
Besides that, carpeting adds warmth, comfort, and other benefits.
Reasons for an area rug
1. Floor protection
An area rug offers protection against scratches and fading of hardwood floors in high traffic areas such as hallways, children's play rooms, corridors, room entries, dining areas, the kitchen, and in the living room.
A rug pad under your carpet also creates some insulation that protects your hardwood floor from liquid spillages and scratching.
2. Warmth and beauty
It's no doubt that area rugs adds a sound theme to your room by pulling together various colors to create a finishing touch.
You can use area rug to highlight your décor by selecting colors that either match your room and its environs or form a positive contrast with your room color layout.
If you have a dark hardwood floor and dull furniture color, you can easily add a splash of brightness into the room by simply adding an area rug.
3. Comfort and noise reduction
Area rugs absorb echoes and noise. Walking on a carpet is quieter than on bare floor as it absorbs the impact of your footsteps.
Standing or walking on a carpet feels usually feels more comfortable and enjoyable than on a hard surface.
Carpeting also provide insulation from cold subfloors or extremely cold areas in basements.
4. Grounding and stability
You will feel stable standing on an area rug as compared to a bare hardwood floor. Furniture also gets anchored on the floor by a carpet.
There is more stability when the front legs or the entire piece of furniture is standing on an area rug. A nicely placed carpet prevents your furniture from looking misplaced.
Can Area Rugs Damage Hardwood Floors?
An area rug can have damaging effect on your hardwood floor only when it's not protected underneath with a quality rug pad.
The backing might be rough, causing scratches when the foot traffic causes any slight shifting.
Your area rug could also transfer its color to the underlying surface. This can lead to staining or discoloration that will not be easy to deal with.
Any hard or sharp object between your carpet and the floor can create abrasive wear or scuff marks when the area rug is walked on.
For that reason, a rug pad should be placed under the area rug to protect the underlying hardwood floor and the area rug itself.
The pad usually has many benefits. To begin with, it prevents slipping of the area rug by holding it in one place.
It also minimizes wear and tear of your carpeting by absorbing most of the shock from foot traffic, and prevents the fibers from being crushed — thus increasing its longevity.
Using a rug pad is also a way of increasing the life of a hardwood floor since it prevents dirt and grime from accumulating under the carpeting.
With a pad, vacuuming also becomes easier. A water proof rug pad will also protect the wood against spills.
Rug pads are designed for a specific type of floor underneath. There are specific area rug pads for hardwood floors while others are designed for carpet flooring. There is a big difference in levels of comfort and protection.
When adding an area rug to hardwood floors, avoid using rug tape or foam-backed pads. They are difficult to remove.
Plastic pads, on the other hand, can scratch wood floors and thus are not recommended for hardwood floors.
How Do You Choose an Area Rug for Hardwood Floors?
Choosing an area rug can be very difficult given that you have a huge collection of colors, patterns and textures to select from.
First and foremost, you need to think about the general décor of your room. Consider the tone of your hardwood floors, the color of your furniture, and any other decorations.
For a dark hardwood floor, the following colors for an area rug will create the perfect complement; beige, gray, light blue with some light stripes, light colors with bright red or blue accents, pastel yellow, and white.
Light hardwood floor will need red, moss green, pale orange, burgundy, brown, or any earthy tones.
The next step is to pick the right size of the rug for your room. Traditionally, if your room is large, you will also need a large area rug. You can then decide if the rug will cover the entire floor or just a seating area.
If that is the case, let the furniture completely stand on the rug or at least the front legs.
If you are carpeting high traffic and heavy furniture areas, you will need thick, fluffy area rugs. Low pile rugs are suitable for office or areas where chairs are moved around. Runner carpets are best placed in hallways and in busy corridors.
Before placing your area rug, use a soft bristle broom to clean your hardwood floor to remove any soil or dirt debris.
If you forget to clean them beforehand, the debris is capable of scratching or creating scuff marks into the floor's finish.
A dirty floor with grime should also be cleaned with the suitable hardwood floor cleaner before installing an area rug.
How Do You Clean an Area Rug on a Hardwood Floor?
Dust, dirt and grime can make your area rug look awful and smelly. After every 1-2 weeks, you will need to vacuum.
Deep cleaning is also necessary after 12 months or when the rug is visibly dirty. After vacuuming on both sides, you will need the following for effective cleaning:
Mild detergent or carpet shampoo
Soft bristle brush
Warm water
Squeegee
Before using any cleaner or detergent on your rug, test it on a small area in a corner.
If you are cleaning a stain, you will need to protect your hardwood floor from water or any solution by placing a barrier between the rug and floor.
For deep cleaning, you may need to roll the carpet and take it to the laundry area for cleaning.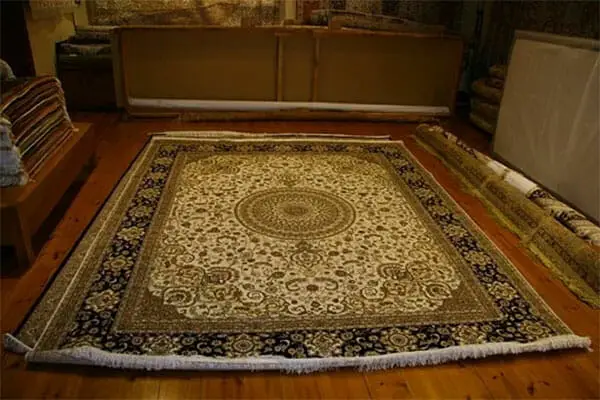 Steps
Add 1 or 2 cups of the mild detergent or shampoo into a bucket of warm water.
Use a soft brush to scrub the cleaner solution into the rug and allow the lather to sit for few minutes.
Rinse the rug of the lather and cleaning solution using clean water from a hose or bucket.
Use a squeegee to squeeze out excess water and let it dry completely before taking it back in.
Conclusion
In addition to area rugs, hardwood floors need proper cleaning and good care.
By following this guide from WFC Wood Floor Cleaner, you should clean them regularly using the right cleaner, use furniture pads to protect against scratches, and avoid direct contact with water.