When you are considering carpets for your floors, one option is Flor tiles. They come in a variety of styles and patterns, and they are eco-friendly as they are made with recycled materials. They can be installed on most surfaces, including finished hardwood floors.
However, Flor tiles can damage some hardwood floors. If your floors are unfinished or sealed with wax, the manufacturer doesn't recommend installing them. Flor tiles are installed and float on top of the floors. They are heavy and have a non-slip backing. You can use them on sealed hardwood floors as long as they are sealed.
How Do Flor Tiles Work?
Flor tiles are 19.7" x 19.7" carpet tiles that come in a variety of colors and designs. You can get one pattern or mix and match to create a unique look. They work well for people who want to have carpet that is easy to update and change.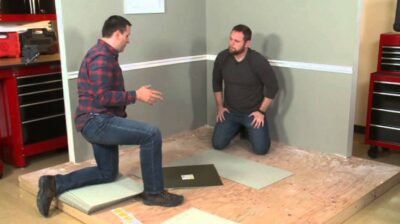 These tiles are made to hug the floor underneath them. They also come with Flor dots, which are nontoxic and stick to the Flor tile but not to the floor underneath it. They help to secure the tiles to each other to prevent any gaps, curling, or slipping. This way, the tiles will stay in place until you want to change them.
Flor tiles do not need additional padding or backing, and they are made of recycled materials. You can change them out when you want a new look in the room.
What Is the Backing on Flor Tiles?
Flor tiles have two different types of backing. One type is Graphlar, which is made from a Bitumen composite that contains 40% recycled materials. The other is GlasBac, which is a vinyl composite that is also made with 40% recycled materials. The backing gives the tiles structural integrity and cushion, and it holds the carpet in place.
The backing is designed to hold the carpet tiles in place, but it doesn't stick to the floor. It adds the weight and structure necessary to keep these tiles in place and make sure that they are comfortable and functional in homes.
How to Clean Flor Tiles
One concern if you have Flor tiles installed over your hardwood floors is moisture. Your wood floors won't do well with moisture because the wood will absorb it and it can damage them. If you spill liquid on your Flor tiles, you need to pick them up and dry them as quickly as possible.
You can clean your Flor tiles by vacuuming them. Once a year, you can use a powder cleaner to clean them. If you spill, start by blotting the spill with a cloth. You shouldn't scrub it because that may push the liquid into the tile. Then, lift it off the floor, and rinse it with cool water. Make sure that it dries before you place it back on the floor. This is important because any moisture can damage your floors, and it will leave a water stain.
Do Other Carpets Damage Hardwood Floors?
You can use different kinds of carpets on hardwood floors without damaging them. If you use an area rug, you can protect the floor with a rug pad. The best type of rug pad is natural rubber because it won't interact with the polyurethane sealant on your floors. Another option is to use felt rug pads, as long as they are non-abrasive. As long as you use a rug pad that is gentle on hardwood floors, it won't damage your floors.
Wall-to-wall carpet is another option, as long as you use tackless strips with very small nails around the edge. However, if you have a spill on the carpet, it can leave a stain underneath. With wall-to-wall carpet, it is difficult to dry the carpet, and you can't remove it. You need to blot the liquid right away and draw it out of the rug before it seeps through to the wood flooring.
Some carpet tiles can damage your wood floors. The ones that use adhesives don't work because the adhesive can interact with the floor to stain it. The adhesive will leave a residue on the floor. This isn't the case with Flor tiles because they are designed to stay in place because of their weight. They stick to each other, not to the floor.
Final Thoughts
Flor tiles are a popular item when people want to design their own carpet for their home. They come in many different colors and designs, and you can create a unique pattern by mixing and matching the tiles. They are easy to change out, and they don't damage the floor underneath. They work well in rentals if you want to cover the floor. They are also a good option if you want carpet that is versatile.