Regular cleaning removes dirt, germs, and grime from a hardwood. It is also a way of making the floor last longer.
Continuous use of cleaning products will eventually dull the finish of your floors and make them look old.
So, how do you make your hardwood floors shine and look more beautiful?
Polishing is an important part of maintaining a hardwood floor. It adds extra shine, protection to the finish, and longevity.
It is the best and cheap alternative to sanding and refinishing where the floor finish is completely removed and a new one is applied.
Wood floor polishing helps fix lighter scratches and evens out the appearance of the finish.
Unlike refinishing, which is carried out once every five to ten years, polish can be applied multiple times a year depending on how dull your wood floors look.
To properly make your wood floor surface regain shine, you need to use one of the best wood floor polish such as Bona Polish or others specifically formulated for this purpose.
Polishing will also entirely depend on the type of floor finish. It is only recommended for sealed hardwood floors with a protective finish such as urethane.
Floors with penetrating finish or unsealed wood should be waxed instead of polished. Wax helps in protecting and shining unsealed hardwood floors.
Such types of floors have no protective finish and can be damaged by water or moisture. Therefore, you'll need to be careful when cleaning or using water-based products.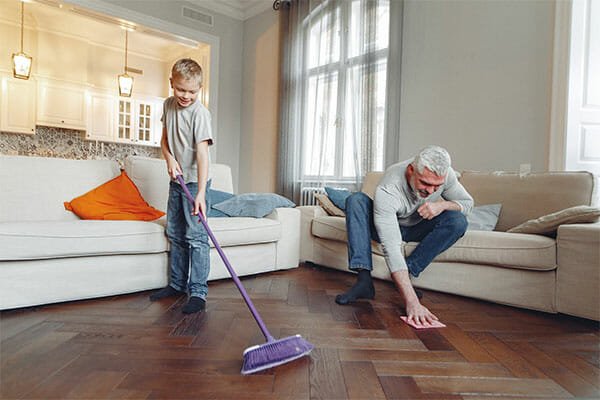 How Do You Polish Hardwood Floors?
Polishing is an easy process that you can do yourself as long as you have basic knowledge .
The amount of time taken will entirely depend on the surface area of your floor. The best time to polish is after deep cleaning your hardwood floor. This can be after every month or two.
What you need
Soft bristle broom and dustpan or vacuum
Wood floor cleaners such as Bona cleaner or homemade cleaner
Microfiber Cleaning Mop and a dry towel
Your best wood floor polish such as Bona Polish with applicator
Here are the steps:
Step 1: Testing the floor finish
Before doing anything, test the nature of your finish. Splash a few drops of water on a hidden area and watch. If water beads, then your floor has a protective finish. That implies that it cannot be damaged when exposed to moisture, so you can proceed with the polishing process.
If the water is absorbed into the wood, it means the floors do not have a protective finish and it will not be a good idea to polish. For such types of floors, you can wax to make them attain the sheen you want.
You can also use a sharp knife and scrape off a hidden small area on the surface. If a clear material comes out, that means that your floor is sealed and you can polish. If the material coming out is smudgy or sawdust, it is likely that the floor is not sealed and you should not polish.
Even after testing the nature of the finish, apply the polish on a small hidden area and let it dry. After one day, see how the area looks. If you are satisfied with the results then you can proceed on the rest of the floor.
Step 2: Room preparation and clean
Remove all the furniture and everything from the room. Remember not to cause scratches by dragging heavy items on the floor.
Dust the room either sweeping with a soft bristle broom or a vacuum cleaner. This removes dust and loose dirt particles that can cause scratches.
Deep clean using your favorite cleaner such as Bona. This sanitizes the floor, removes sticky dirt, grime, and oil. Alternatively you can use a homemade cleaner for mopping such as white vinegar and water.
Use clean water and a dampened mop and remove the cleaner from the floor surface.
Dry any excess water from the floor using a dry towel and let it dry naturally for 30 minutes. Leaving water standing on your floor can damage your wood floor.
Step 3: Applying polish on wood floors
Begin by virtually partitioning the room into small sections of about 5 square feet and keep them in your mind. The best place to begin will be at the end of the room as you move towards the exit.
Apply a small amount in the first section. Use the applicator or a flat surface mop to smooth out the polish along the wood grain. Move the solution back and forth to remove any stripes.
After finishing the whole floor, exit the room and let the polish dry for the next 24 hours before you allow in traffic and your furniture.
Note: Do not splash the polish on walls, as it will cause staining. Safety is important, so put on your protective gear during the application process.
How Do You Make Your Wood Floors Shine Longer?
Daily wear and tear, frequent cleaning, and the use of commercial products can have a dulling effect on your floor finish.
After polishing, you can maintain the sheen of your floor for several months before you apply again. Here is what to do:
Place mats both inside and outside of the entrance door to prevent soil from being tracked inside. Sand and hard dirt particles act as sand paper on a wood floor when you walk and create scuff marks.
Pushing and pulling furniture and other heavy items can also make your floor appear dull. Place protective pads under the legs of furniture and minimize dragging them on the floor.
Clean regularly by dust mopping and deep cleaning once a month. This helps prevent dirt and grime buildup on the surface.
Use the right cleaning products on your floor. If you are not sure you can go for a homemade cleaner for mopping. Most commercial products can be harsh on the floor finish.
Refinish your floor after every five to ten years, especially if it has completely lost the sheen or the finish appears damaged.
Conclusion
We hope you enjoyed learning how to polish wood floors.
Hardwood floors make a home warm and more valuable.
Good maintenance through regular cleaning and polishing can make them last for many decades without need to refinish.
Preventing scratches and water-related damages are keys for longevity of your wood floors.