Are you contemplating a home renovation project that will include refurbishing your wood floors, but you don't fancy the labor-intensive process that goes into refinishing? Well, why not just paint the floor? Painting wood floors is an efficient way to enliven your home's interior without too much hassle. Read on for more details on painting wood floors.
Is Painting Wood Floors a Good Idea?
Yes, painting wood floors is a great idea, especially since it enables homeowners to enhance their homes' aesthetic appeal. By painting your hardwood floors with a color that complements your home's interior décor, you'll be instantly elevating your home's appeal. And the stain options are mind-blowing! From cherry, honey oak, mid-tone grey, to espresso — only your imagination can limit you.
Second, painting wood floors affords home owners more practicality than refinishing. Painting wood floors is a simple, quick process that doesn't require extensive preparation, as opposed to floor refinishing which is usually a messy undertaking and requires lots of time for the completion of the wood staining and sealing processes.
What's more, if you live in an older, refurbished home where the hardwood floor has been refinished multiple times in the past, a paint job may be the best option for you, as opposed to another sanding that will further thin down your wood floor.
What kind of paint do you use on wood floors?
Most interior design experts recommend oil-based paints due to their quality. They're highly tolerant to foot traffic, soak deeply into all types of wood for a rich finish, and are wear-resistant. Alternatively, the type of paint you pick may also be determined by what kind of new paint smell you're able to endure.
Different paint brands bear different smells. As a side note, however, the most appropriate thing to do when repainting would be to temporarily modify your living arrangement for the period you'll be repainting a given room and giving the paint time to dry.
As for the paint color, this should be determined mostly by what kind of aesthetic you're looking to achieve. The following tips from WFC Wood Floor Cleaner can help you out if you're undecided:
Brightly painted floors are better at reflecting natural light.
Pale grey is a great compromise if you're going for a modern, minimalistic feel. Both black and white painted floors, for example, tend to vividly show dust on them.
Mixing different paint colors is encouraged as it can give you a surprisingly beautiful finish.
Can you paint wood floors without sanding?
Yes, it's possible and totally okay to paint wood floors without sanding, as long as you properly clean the floor before painting. To attain a proper wood floor paint job without sanding, follow the steps below:
First, you need to prep your wood floor for painting by thoroughly cleaning it. You can do this by hoovering and sweeping to get rid of dust particles.
Next, rub down the floor with a water-vinegar solution for a nice finish, then let the floor dry out.
The final step is to place masking tape along the edges of your room,  where the floor meets the walls. This will help prevent paint from staining the walls once you start your project.
How to paint hardwood floors
Before you paint your hardwood floor, ensure that it has been waxed, then follow the steps below:
Use a 150-grit sandpaper to roughen up the wood floor surface. This will help get rid of the pre-existing finish.
Use a vacuum cleaner and a damp mop to thoroughly clean the floor, then leave it to dry.
Use a paint brush or paint roller to apply the initial coat of paint. The former gives you a smoother finish but a roller will get the job done faster. After applying this first coat, give the floor two full days to dry out.
After the two days have passed use a 220-grit sandpaper to smoothen out the grain on the finish. After that, you can apply the second paint coat in the same manner you did the first one. At this point, you can also incorporate the earlier mentioned decorative touches.
Give the paint three to five days to cure, after which the room can be occupied again.
Painted Wood Floors Pros and Cons
While painting your wood floor may have several advantages, a few potential downsides also exist. We discuss the advantages and disadvantages of painted wood floors below: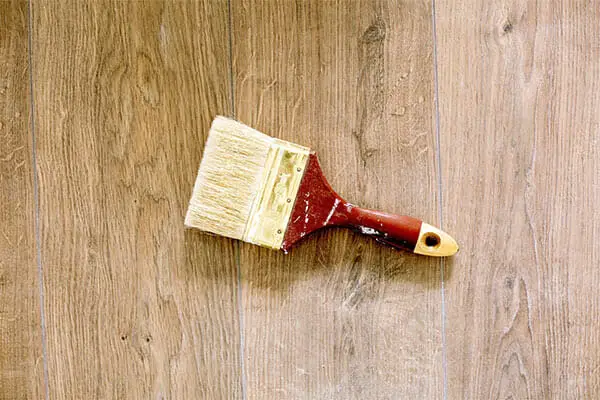 Pros:
Painting wood floors is a cheaper floor refurbishment option compared to refinishing. If you're working on a tight budget, a nice paint job using affordable supplies from your local hardware store will still get your floor looking new again.
Painting also allows homeowners more room for personal expression. For instance, you can mix different colors and come up with a beautiful color blend that will allow your creative side to shine through. Alternatively, you can paint intricate design patterns like chevrons and checks for a visually alluring finish.
For older homes, painting is a more practical alternative as the floor may already be too thinned out for another refinishing.
Cons:
Reduced durability, since paint on wood ages poorly. Let's use a comparative analysis with floor staining. Stain soaks deeper into the wood floor surface material than paint does. This results in paint taking a shorter time to wear out. However, you can still opt for oil-based paint brands as they have increased durability compared to other types of paint. On a side note, oil-based paints are banned for home use in some states due to the pungent fumes they emit. You should therefore research online to ascertain whether they're legal in your state or not.
Painting is not suitable for every type of home. For instance, painted hardwood floors in a colonial home may take away from the throwback aesthetic. A better option in such instances would be to refinish.