The 3/4-inch board is the most common when it comes to hardwood flooring. Most people either nail or glue down their hardwood floors, depending on the subfloor and what type of wood they are installing.
Wood expands and contracts because it is hygroscopic. This means that it interacts with its environment by absorbing and releasing water. If you glue down the floors, it interferes in their ability to expand and contract, and they often end up pulling away from the subfloor. Most hardwood manufacturers will recommend that you nail down the 3/4-inch hardwood flooring.
How Do Manufacturers Recommend Installing Hardwood Flooring?
Most of the time, manufacturers recommend that you nail down 3/4-inch hardwood flooring. Even when you are installing the floor over concrete, they recommend laying a moisture barrier under plywood and then nail the boards to the plywood.
The reason why they recommend using nails is that the wood is able to expand and contract to adjust to changes in the humidity in the environment. The wood will absorb extra moisture, and if it is glued down, it can end up pulling away from the subfloor.
How Do You Glue Down Hardwood Floors?
Even though it is recommended to nail down a 3/4-inch hardwood floor, you can still glue it down. The best adhesive to use is a urethane adhesive because it allows for greater flexibility of the wood to expand. Make sure that you choose one that is specifically formulated for hardwood floors. Once you choose the adhesive, you need to follow the directions to make sure that you don't void your warranty.
Can You Glue Down Engineered Hardwood Flooring?
Engineered wood flooring is a thin layer of solid wood over a core of high-quality plywood. Because of the way it is manufactured, it handles moisture better. This type of floor looks similar to solid hardwood flooring, but it is less expensive and you can glue it down.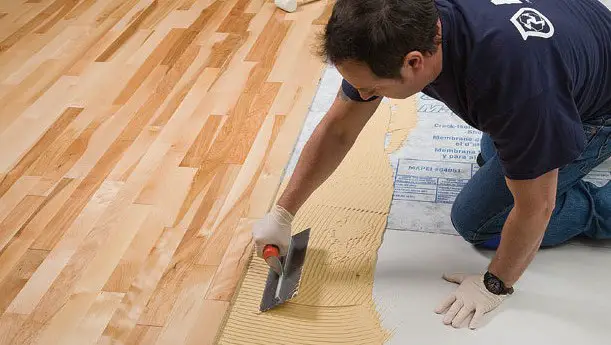 When you glue down engineered wood flooring, the wood planks are bonded to the subfloor using an adhesive. It is a lasting method, and it can reduce chances of boards creaking. The floor is more firm under your feet, and you can apply it to any type of subfloor.
Another option is to float your engineered flooring. You can buy the wood boards with a tongue-and-groove system where the planks connect to each other as you install them. The floor is held in position by its own weight, and it is an easier installation. In fact, many homeowners do it themselves.
With floating wood floors, you can make repairs more easily if there is a leak or any other problem down the road. There will be some movement of the wood as you walk on it, but it is barely noticeable.
If you are using 3/4-inch solid hardwood flooring, floating is not a good idea. Solid wood is not stable enough because it will absorb moisture and expand and contract throughout the seasons. The floating method is ideal for engineered wood flooring.
How Do You Install 3/4-Inch Solid Hardwood Flooring on Concrete Subfloor?
If your subfloor is concrete, you may want to glue down our solid wood flooring because you can't nail it. However, you can install it; you simply need to install a 3/4-inch underlayment first. Keep in mind that between the underlayment and the flooring, it will raise the height 1-1/2 inches, so you need to make sure that this works. The extra height can interfere with doorways and cabinets in the room.
The next step is to make sure that you protect the underlayment and the wood flooring from moisture that comes up through the concrete. You will lay a protective sheet that is water-resistant between the underlayment and the concrete, and then screw the underlayment into the concrete. Once this process is complete, you can nail the solid wood floor planks to the underlayment.
Choose the Best Flooring for Your Home
There are a lot of different options when you want wood flooring for your home. Solid hardwood flooring is wood that is cut directly from trees. It has been around for a long time, and it is often what people think of when they decide to install wood floors. However, it isn't the best type of floor material for every home.
The solid hardwood flooring is more durable and lasts many years. You can also refinish it multiple times in its life. This is an advantage over engineered wood flooring, which can only be refinished a few times in its life before you sand the top layer away.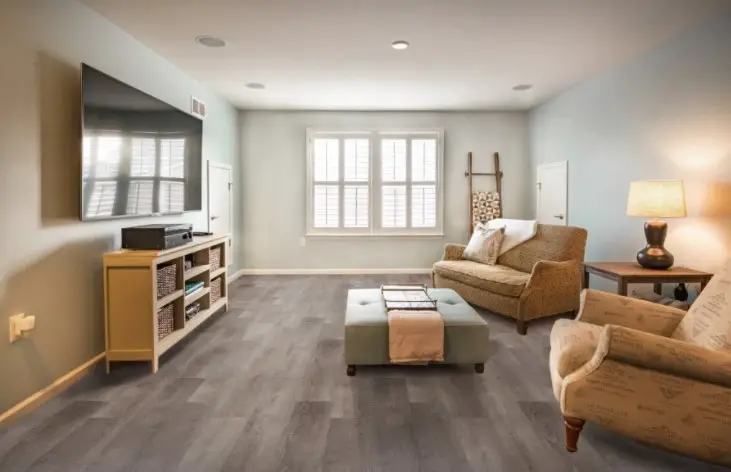 The key is to look at your climate and your home, and decide on the best flooring for you. You need to know your installation options because a 3/4-inch solid hardwood floor should be nailed down.
Types of Glue for Hardwood Flooring
If you plan to glue down your wood flooring, there are two different types of glue on the market. One is a urethane-based adhesive, and the other is water-based. The urethane adhesive is the most popular option, and it is the only option if you are gluing a solid hardwood floor. The important thing to remember is that the wood floor manufacturer will often recommend the glue to use, and they often offer their own glue.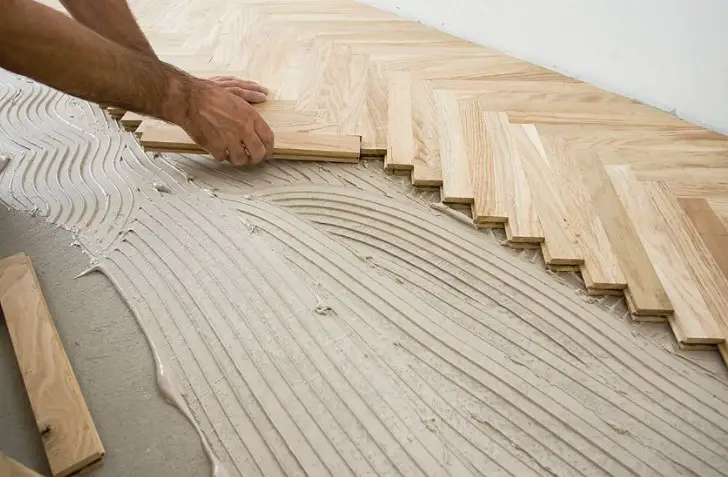 When you use the urethane adhesive, you will take a trowel and spread the adhesive on the subfloor. Then, install the wood boards. When you are choosing the adhesive, there are a number of different factors to consider, which is why it is so important to find out the wood manufacturer's recommendation.
For instance, adhesives are rated for elasticity, which is how much they allow the wood to expand and contract. The adhesive also is rated for moisture limitations. Some have higher levels of sound control, which helps reduce noise on lower floors.
Final Words
Although you can glue down 3/4-inch solid wood floors, it is not recommended. However, if you plan to glue them, you should contact the manufacturer to find out what adhesive products they recommend.