Laminate floors have replaced hardwood floors due to their durability and affordable prices. Installing laminate is a great way to achieve the same look as wood flooring without using real wood. Alternatively, you can also opt for other laminate flooring with the same look as ceramic tile rather than wood floor.
Installing laminate flooring is considerably easier than regular hardwood floors. However, the one thing that is imperative to consider is the best direction to lay laminate flooring. Here we have compiled a comprehensive guide that gives you six ways to determine the best direction to lay your floor.
The method that works best for your project will depend on what you are trying to achieve in your space. Whether you are replacing existing flooring or starting out from scratch, you'll want to ensure you create a room with a cohesive feel.
1. Parallel to the Longest Wall of Your House
To make your rooms look longer and create a natural flow in your room, you can lay your laminate flooring parallel to the longest wall of your house. If you are laying flooring in every room we suggest doing so in the same direction for a unifying effect.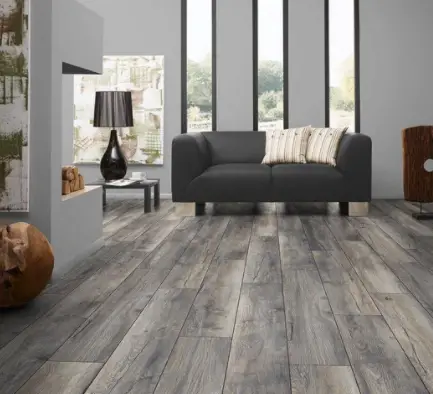 Measure the length and width of your house and determine which side is longer. Then lay your laminate flooring in the same direction as the longer wall. This method also works well for wider rooms. This is because the laminate floors accentuate the room's length, so the width and the length look even.
To go one step further, you can enhance the lengthening effect by using contrasting colors. If you opt for light laminate flooring and paint your walls a darker color. This way you can create the illusion of a long hallway or a long room.
2. Parallel to the Shortest Wall of the Room
Sometimes your room is narrow and long, and you want to install laminate flooring to make your room look wider. In such a case, laying laminate flooring parallel to the shortest wall would give you an illusion of a wider space.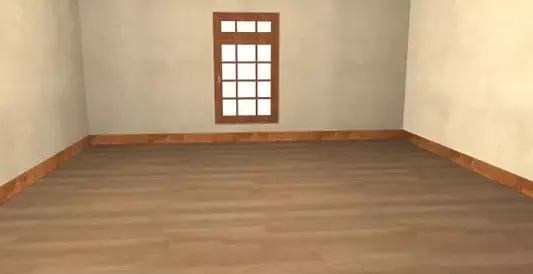 Narrow places can include corridors, your kitchen, or your living room. See which wall is the shortest, and then lay your new floor parallel to that wall. Avoid using dark colors for your walls and opt for a floor that mimics dark-colored wood. Again, if you are laying floor in more than one room, make sure you try to lay it all in one direction.
3. Perpendicular to the Natural Light
We tend to look at the natural light as it falls in a certain direction from the windows or any other light source. If you also have a window in your room, you can lay your laminate floor perpendicular to it. The natural light falling from the windows into your room would then run parallel to the vertical stripes of your laminate floor.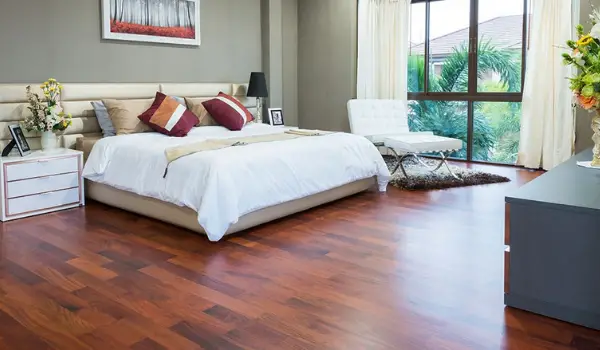 Using this method to determine the best direction to lay your floor is another way of creating a space that looks longer than it is. If the natural light falls in the same direction as the flooring pieces, it can make a small room seem larger.
4. Perpendicular to the Front Door or Point of Entry
You can also lay laminate boards perpendicular to the front door of your house or any other point of entry. If your home or room has a single entrance, this will work well for you as it would be visually compelling. However, if multiple rooms open up to a single room, this may not be the best option for you.
We recommend this method for bathrooms and other small spaces with a single entry point. Laying laminate flooring perpendicular to the point of entry can give the impression of a longer room.
5. Lay Laminate Floors Diagonally
Laying your laminate floor diagonally is a bit quirky but also a great option to help your room look bigger. A typical angle to go for would be about 45-degrees. However, you can really choose whatever angle you find most aesthetically pleasing. Laying your new flooring diagonally will help open up the space and create a transitioning effect between rooms.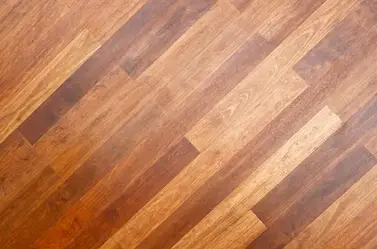 Obviously, this works really well in rooms where there is already a diagonal wall. If that is the case, then you can simply follow the wall. On the other hand, laying your laminate flooring in a way that contrasts with the typical monotony of a rectangular room can be a great way to bring some extra life into a room.
However, if your room is not small enough and you think diagonal flooring would only lead your eyes in an unfavorable direction, then we recommend you consider an alternative method. Also, diagonal flooring can waste a lot of your laminate flooring material compared to parallel or perpendicular flooring. This is because you have to cut the laminate planks at particular angles.
6. Perpendicular to Floor Joists
Before diving into our final alternative, let's take a moment to explain what floor joists are in the first place. Floor joists are part of the floor frame. They are the horizontal structural members. These members help transfer loads to the vertical structural members. Joists are installed because they carry the weight of loads inside the room, such as walls, people, furniture, etc.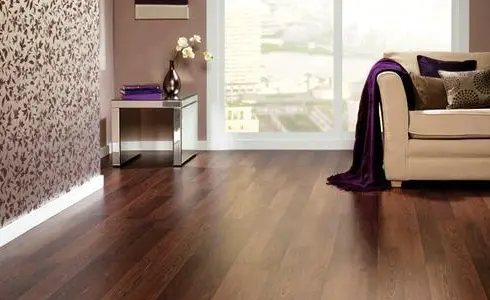 They are usually 16 inches apart and help distribute the room's load evenly. Your laminate flooring lies on top of the subfloor on the joists. The subfloor is the bottom portion of your floor and provides an even and stable surface for your actual laminate flooring.
If you find that you have an uneven subfloor, something that is actually quite common, we recommend installing your floor perpendicular to the joists. Laying your floor this way will cause it to follow the same irregularities of the subfloor. However, when you lay laminate flooring perpendicular to the joists, it would surpass the dips and peaks and look more level.
8. Other Things to Consider
If you decide to use laminate flooring instead of real wood, then there are a few things you'll want to consider. These include the design you want to maintain in your house, the focal point in any room or part of the house you want your eyes to find, or using laminate flooring to enhance the size of your room.
You might find that one direction works well in one space and another in a different room. We recommend laying your floor in one direction when the floor connects. However, if you find that a certain direction works better in a different space, feel free to go for it. You can lay your floor in different directions if there is some kind of transition strip to account for the change.
Conclusion
We love the look of solid wood floors, but at the same time, real wood can mean more maintenance. Overall, laminate offers more durability at a cheaper cost. In addition, the actual installation process is often thought to be easier than wood flooring. Overall, laminate flooring installation is fairly quick and easy. Yet, there is one part of the process that can be difficult. Choosing a direction to lay laminate floors in would alter the look of your room a great deal. This is one reason why you have to be cautious before starting the process.
Go with horizontal laminate flooring for a narrow room to make it look bigger. On the other hand, laminate wood flooring parallel to the longest wall can make your room look longer. Laying a laminate floor parallel to a window helps the eyes to travel in one direction. In the same way installing a floor perpendicular to a focal point will also draw the eye. However, if one room has several doors, you should avoid this method.
Laminate flooring is a cost-effective, cheap flooring that imitates hardwood flooring yet retains an aesthetically pleasing look. To get the most from your new flooring, think long and hard before deciding on the direction to lay your floor.