Have you considered laminating your floors? Laminate flooring has been pretty in demand these days. Primarily, laminate flooring works best with padding, but some people use separate underlayment. Although both work best and have their pros and cons, you should go with the one that suits you.
Thus, this article presents a clear and concise overview of laminate flooring with and without pads. Feel free to skim through the guide and choose the most suitable option.
Our Pick
We choose laminate flooring with pads as they serve as an excellent moisture barrier and work better than wood flooring. They come with pre-attached underlayment, and you can purchase them from any flooring store. Generally speaking, laminate flooring with pads gets a higher sound transmission class (STC) rating than those without underlayments or pre-installed pads.
Where people prefer separate underlayment, there are a few downsides as well. A laminate floor has better durability and is easier to clean. Thus, laminate flooring underlayment is preferred, and installing laminate flooring is a bit easier than any other flooring.
Laminate Floors with Pad
Laminate flooring comes in two different varieties, one with pads and one without pads. The laminate floor with pads has pre-attached underlayment installed on the subfloor. But keep note that you need to be careful when using it since it requires the installment of planks underneath. So, when choosing the one with installed pads, you do not have to go for an extra layer.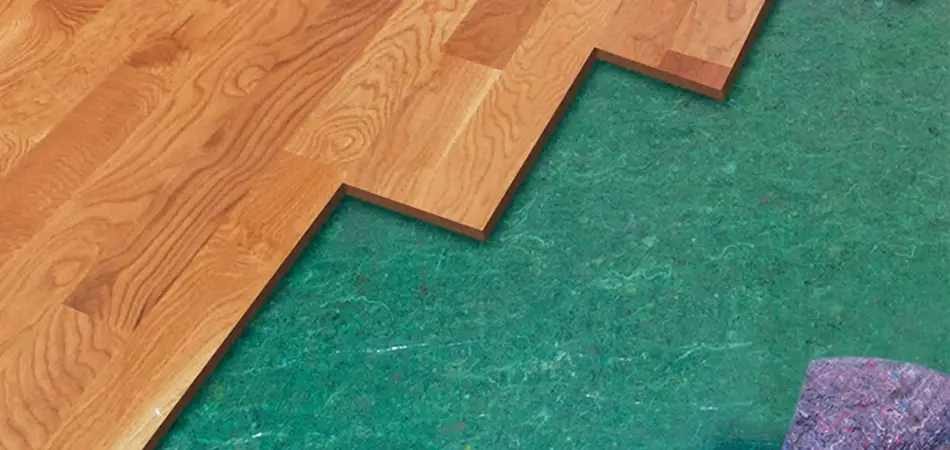 Benefits of Using Laminate Floors with Pad
Laminate flooring with pads saves you from using additional underlayment or extra padding. All you need to do is install laminate flooring on the concrete slab, and there you have it. It not only saves money but also time for the installation method. Moreover, it gives a vapor barrier and noise reduction wall.
Laminate flooring gives you an edge over other types since they are easy to clean and handle. Further, they are pretty affordable and save you the burden of not fixing the right way as they come pre-attached.
Disadvantages of Using Laminate Floors with Pad
Although laminate flooring with padding grants ease, you must consider a few factors before buying. Apart from that, the paddings do not absorb foot sounds due to minimal sound reduction. Since the pads serve as moisture barriers, the lock system is vulnerable. Thus, it is better to consider quality underlayment when purchasing one. Nevertheless, you can fix the problem by purchasing high-quality foam for your floors.
Laminate Floors without Pad
People prefer laminate flooring without padding to ensure quality. Since they choose their laminate underlayment, they know what they are paying for. This way, it saves a lot of trouble in the future.
Benefits of Using Laminate Floors without Pad
The most significant advantage of laminate flooring without padding is choosing the quality material yourself. And you can do so for each square foot of your floor.
Disadvantages of Using Laminate Floors without Pad
The only drawback of laminate flooring without padding holds is that they cost you extra bucks. Laminate flooring with attached pads can be helpful in such cases as they come with a pre-attached pad. Also, sometimes laminate planks are not readily available, and even if they are, you might not find the right one. Hence, the floorings with underlayment attached work well here.
Conclusion
Laminate floorings work best nowadays and are pretty economical. Undoubtedly, padding works like area rugs and works well on ceramic tiles. Moreover, laminate flooring helps save time in the installation process.
So, to avoid sound transmission and additional padding, laminate floors with a pad are the best option. Furthermore, it works similar to hardwood floors serving the same purpose as carpet pads. We hope this article gives you new insights about laminate flooring and how to choose the right one.