In this post, we will be comparing laminate flooring vs. carpet for you to make an informed decision about which one to choose. Should you choose bedroom carpet, or maybe laminate flooring in the kitchen? Both flooring types have their benefits; however, when choosing one, you must compare certain factors like durability, installation convenience, cost, etc.
To help you take a pick between laminate and carpet flooring, we have crafted this comparison article along with the pros and cons to help you decide.
Our Pick
Laminate flooring is our top choice for refurbishing flooring because of its unique attributes like easy cleaning, convenient installation, lesser cost, longevity, undemanding maintenance, and restoration.
Moreover, it allows you to play with colors and interior designs that are long-lasting and timeless. The resemblance between a laminate floor and natural materials is another factor that motivated our best pick.
About Laminate Flooring
Laminate often has a hard-wearing, padded top layer with a rigid base underneath. The floating effect of laminate flooring on top of a solid substrate makes it ideal for areas that need easy cleaning.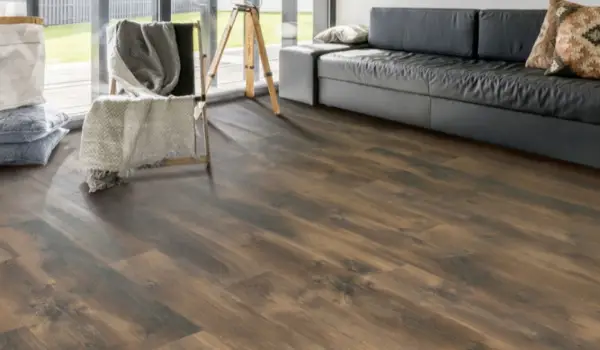 It is also perfect for poorly protected places with underfloor heating or prone to stainings, like children's rooms, conservatories, and bathrooms where spillages might happen.
Wood particles or high-density fiberboard is what makes durable laminate flooring. Usually, laminate floorings are composed of four different layers. These flooring plank layers include; a stabilizing layer, a treated high-density fiberboard layer, a photographic pattern layer, and a melamine resin layer. The clear melamine upper layer plank boosts durability and is stain resistant.
Features:
Mimicking look and feel of wood
Extremely scratch-resistant
Highly stain resistant
No fading with sunlight exposure
Higher usability in a multitude of areas
Available in a variety of designs
About Carpet Flooring
Depending on how thick the fiber strands are, carpet can be either 'pile' or 'shaggy.' The broader or higher the pile carpet, the more expensive the carpet will be compared to high-quality laminate flooring.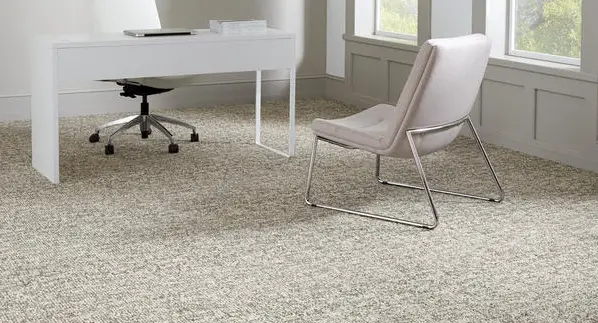 As for the layers of carpet flooring, there is a backing layer comprising soft, frilly yarns that form the upper layer. The delicate upper layer is the reason for comfort underfoot.
Thanks to modern technology, carpets nowadays offer stain resistance while retaining their ultra-fiber soft feel. The more tightly the synthetic molecules are weaved together, the shorter the diameter of fibers.
Carpet manufacturers mainly make carpets from petroleum-based synthetic materials; however, natural wool carpets remain the most durable. Although wool carpet offers a higher degree of softness underfoot, the price factor is on the higher end. On that note, synthetic carpet flooring often contains nylon for durability.
Features:
Packed with insulating properties
Exceptional noise dampening
Comfort underfoot
Mesmerizing patterns and designs
Color and lightfastness
Moisture resistance
Similarities Between Laminate and Carpet Flooring
Wide Range of Style Options to Choose from
When you are in the market for laminate flooring, the designs are unlimited and breathtaking. You can get your hands on the imitating designs of natural floorings usually available in wood and stone-like designs.
Equally, you can pick carpets in different styles, such as needle felt, woven, tufted, and knotted. Carpet flooring is obtainable with various patterns, piles, and colors. However, interior decoration can be hard to do yourself with carpet flooring.
Differences Between Laminate and Carpet Flooring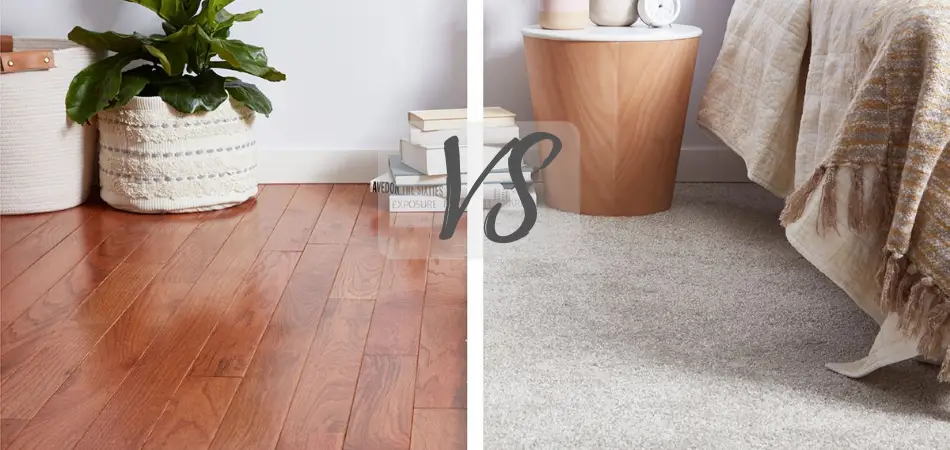 Surface and Sound Absorbency
It is easy to see why flooring types like laminate floors, engineered hardwood floors, tiles, and hardwood flooring make it hard for consumers to decide. The main difference between carpet and laminate flooring types is the feel of the surface underfoot.
Due to the smoothness of flooring materials used in the laminate flooring, the sound absorbance is pretty low. However, you can use acoustic underlays to reduce sound reflection.
Carpets being the warmer option, is perfect for the rooms where people are likely to walk barefoot like bedrooms. Carpets reduce walking noise due to their acoustic insulation properties, so there is no need for additional acoustic underlays.
Cost
The cost factor is mainly dependent on the style and quality of laminate and carpet floorings. You can purchase installed laminate flooring for $3 to $11 per square foot; however, carpet floor covering comes at a higher price of $2 to $15 per square foot with installation. Carpets with a high plusher pile are generally more expensive, with wool carpet flooring among the most expensive options.
While it may be tempting to opt for cheaper laminate brands, durability is an issue. When you research or compare the overall cost of carpet vs. laminate flooring, you must consider the warranty period.
A 10-year warranty is what you will get with laminate flooring that is of lesser quality at a significantly lower price. Higher-end laminate flooring is a more viable option with a long-lasting warranty of about 25-30 years.
Ease of Installation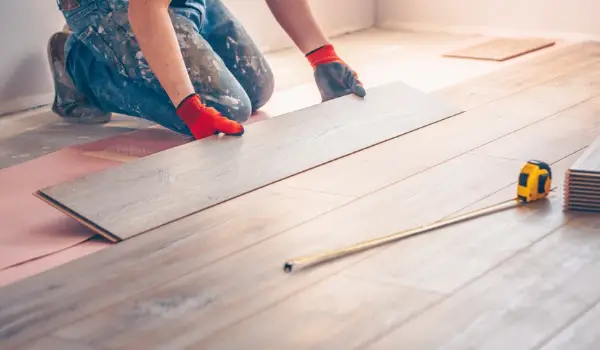 1. Installing Laminate Flooring
You can install laminate flooring on almost every type of existing flooring, except carpets, and you can easily do the job yourself if it is not necessary to do any special preparation.
The products designed for the tongue-and-groove floating floor can make the installation less troublesome. Also, it costs less money and increases the installation speed. Be sure to follow the manufacturer's guidelines for longevity and avoid buckles or an unlevelled floor.
2. Installing Carpet Flooring
If hiding slight irregularities in the floor is your concern, then installing carpet flooring can be your ideal choice. You can cover any surface with carpets, for instance, concrete or manufactured wooden floors.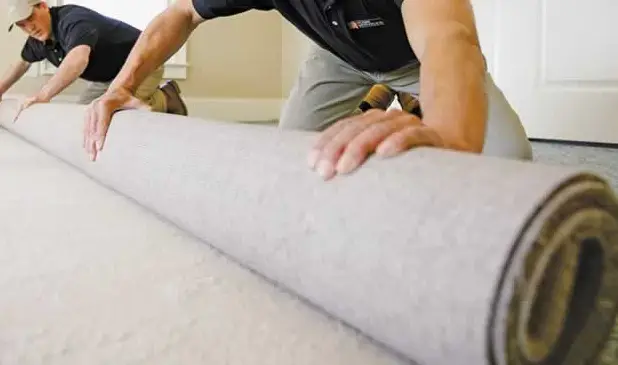 For carpet installation, padding and carpets are cut down according to the area's dimensions, and then both layers are affixed using staples or nails, followed by gluing seams.
If you want to install carpeting in a large room, you might need special tools. Professional installation is always the best choice despite the trending DIY project for carpet installation.
3. Maintenance and Restoration
Carpet and laminate flooring requires enough care to maintain their aesthetics and durability. To prevent molds and spills on the carpet, you must clean them immediately. If you do not want piles of dirt under your carpet flooring, you should place the mats on the entrances and exits.
To clean the dirty carpets, you can vacuum them two times a week in low-traffic areas. However, if you laid the carpet flooring in the high-traffic areas, you must vacuum them more often.
You can use the hot water extraction technique for deep cleaning every 12 to 18 months. The hard layer of laminate floors is not well suited for sanding and refinishing.Laminate floors are not a good option in high-moisture areas as it will result in the warping of wear layers which happens despite its moisture-resistant nature. Always use protective pads under the legs of the tables and chairs to prevent scratches on your laminate flooring.
According to the manufacturer's recommendations, it is best to do waterless cleaning of laminate and hard flooring using designated products. If you damage carpeting, you will have to opt for the entire carpet replacement, whereas with laminate flooring, you have the option of whole or small section replacement.
4. Durability
Compared to carpet flooring, laminate floors last longer since they are highly durable, easy to clean, and scratch-resistant. You might need to replace quality carpet within five to ten years, however, higher-end laminates would last for 25 to 30 years.
If you install carpet flooring using cheaper options, you will have to replace it more often. While modern carpets can be aesthetically beautiful, they are not as highly durable as the case is with laminate floorings in moderate foot traffic areas.
Final Thoughts: Laminate Floors Vs. Carpet
We hope this article was insightful and has given you the information you need to choose between laminate flooring vs. carpet. Each flooring type has its own pros and cons and it is up to you to decide whether laminate flooring or carpet is the best option for you based on the above mentioned information.