One of the first things you notice when entering a living space is the flooring. Great flooring can have tremendous aesthetic appeal, not to mention raising the resale value of your home. These are some reasons many people choose hardwood floors as an upgrade. However, all kinds of other flooring types have entered the market. You can buy engineered hardwood, composite floors, and luxury vinyl plank flooring. This article will explain the similarities and differences between classic hardwood floors vs. luxury vinyl planks.
Our Pick – Luxury Vinyl Plank Flooring
It is evident that luxury vinyl plank flooring has very little in common with vinyl floors from the past. The design of luxury vinyl recreates the look of all kinds of exotic woods. However, it will not suffer from the usual weaknesses of wood as a natural material. When looking at luxury vinyl floors, you might not notice it is not natural wood, or at least not right away. Yet, the aesthetic aspect is where similarities between vinyl and hardwood flooring end.
Both have their strengths and weaknesses, making for a difficult choice. However, a beneficial characteristic of vinyl is that it is very energy-efficient. Vinyl flooring is suitable for a radiant heat system like heated flooring.
About Luxury Vinyl Plank Flooring
Vinyl flooring is the name used for flooring options made of polyvinyl chloride. Vinyl is a manufactured material. Thus, luxury vinyl flooring does not suffer from the weaknesses of common hardwoods.
About Hardwood Flooring
As the name denotes, hardwood flooring comes from timber. Most of these floors are made from oak, cherry, or maple. Hardwood flooring is the more expensive of the two. The shortage of big timber trees is one of the reasons why hardwood floors are expensive. Lesser trees mean fewer hardwood products are made thus contributing to its high price.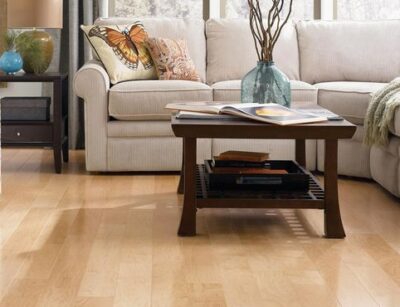 Similarities in Luxury Vinyl Plank Vs. Hardwood Flooring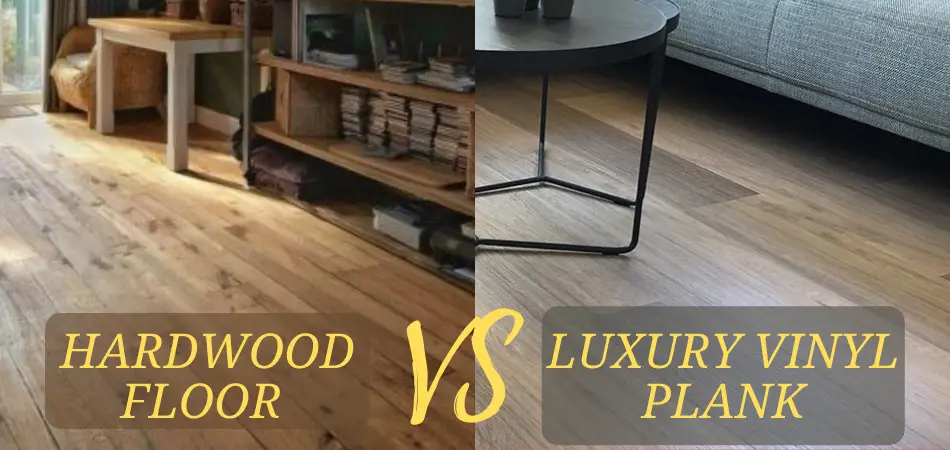 These two flooring materials are very different. That is the goal of this guide – to help you choose which material fits best into your flooring project.
Looks
Nowadays, you can buy vinyl flooring that is almost indistinguishable from real hardwood. Sheet vinyl products such as LVT flooring can come very close to the look of actual wood. Printing technology has come very far in flooring production. Moreover, these machines can recreate the grain of many different wood species.
Durability
A vinyl floor is resistant to abrasion, making it suitable for high-traffic areas. Additionally, high heels will not poke holes into vinyl plank flooring; you cannot say the same for hardwood flooring. You could say that hardwood is not highly durable, but in reality, it depends on your point of view. Hardwood can scratch and dent, especially if you always wear high heels. However, once the wood gets very scratched – you can sand it down, apply a new finish, and it will look good as new. Sanding ability is one of the advantages of wood floors. You can often restore existing flooring to its former glory by sanding it once in a while.
Differences In Luxury Vinyl Plank Vs. Hardwood Flooring
The most obvious advantage of natural wood versus vinyl planks is their aesthetic appeal. Indeed, nothing can match the beautiful grain patterns of real wood. Vinyl comes close nowadays, but a real connoisseur will always tell the difference.
However, natural hardwood floors are still the winner in the aesthetics department. Hardwood has the highest return in home value, but vinyl planks also have their perks.
Material
As for differences, let us start with the obvious – vinyl is a synthetic material, whereas wood is natural. Vinyl lacks the luxury hardwood flooring offers, and you cannot refinish them. Like any flooring, they can be hard to remove once glued.
Moisture Resistance
Vinyl flooring has very high moisture resistance, much higher than solid woods. As a natural material, hardwood does not have high moisture resistance. It can contract and expand, so to preserve it, try to avoid spilling liquids on your hardwood floor. For this reason, vapor barriers are a must when installing hardwood flooring onto a cement foundation. Considering the cost of hardwood flooring, you will want it to limit moisture exposure as much as possible. Engineered hardwood flooring can be a good alternative since it is more resistant to moisture.
Installation
It can be tough to install hardwood, so you need to hire skilled professionals. Since hardwood planks are not flexible, you can only install them on a flat, perfectly level floor. Hardwood floors look best when you apply the finish after installing hardwood flooring. It is also worth mentioning that most hardwood floors need glue-down installation. Thus, we will not recommend installing wood flooring by yourself. Laying vinyl flooring material is more straightforward than installing hardwood flooring. With vinyl flooring, you only need a flat and clean surface. Also, you will have to make sure that the subfloor is flat and level. However, once you install padding underneath, you can lay vinyl over a cement foundation without the need for vapor barriers. You can apply this flooring type over existing flooring. Thus, that is where the non-glue-down versions shine.
Cost
Hardwood flooring is expensive. Plus, the complicated installation process adds to the high average cost of hardwood flooring per square foot. Vinyl flooring is already cheaper than natural wood. Moreover, the more straightforward installation process also translates into lower labor costs. Thus, the total average price of vinyl flooring per square foot is lower than that of a hardwood floor.
Conclusion
When presented with hardwood floor vs. luxury vinyl plank, have you decided which one to choose? If you want the best-looking floors money can buy, then choose hardwood. If you do not mind high maintenance costs, go for that exotic hardwood flooring. The trade-off is high, but there is no replacement for the look of authentic hardwood flooring.
Vinyl is the flooring of choice if you want durable flooring at a low average cost per square foot. This flooring type is also easy to install and easy to tear down. Also, make sure that the flooring you get is made from low emitting material. It ensures that the vinyl does not give off toxic fumes in your home.