Have you been thinking of renovating your hardwood floors? If yes, then you landed at the perfect post. One of the most common dilemmas for homeowners is choosing between refinishing hardwood floors or resurfacing their wood floors, which is not easy as it may seem.
This blog post will look at the differences between resurfacing and refinishing hardwood floors. Moreover, we will discuss some pros and cons of each option.
Our Pick
Deep cleaning hardwood floors once a year will give you an aesthetic floor. Total refinishing is cheap because it only costs $1 per square foot. In addition, deep cleaning or applying multiple coats of lacquer will not work all the time, so we suggest regular refinishing.
Hardwood Floor Refinishing
Refinishing hardwood floors involves sanding down the first layer of wood before applying a new top layer. You can use water-based polyurethane finishes with low VOC for top layer application.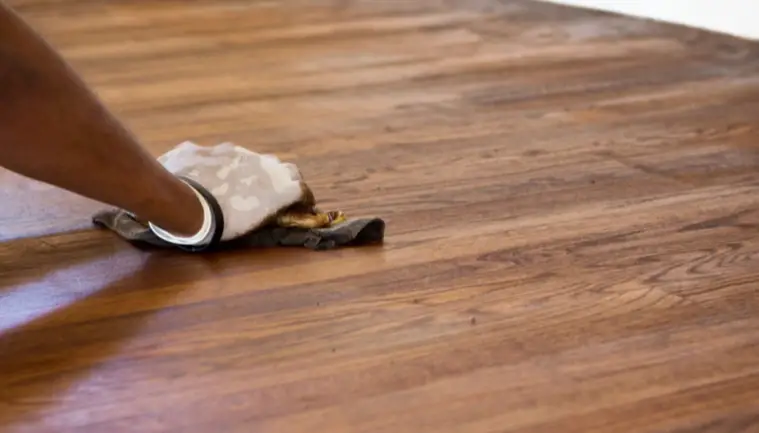 To refinish hardwood floors means reinforcing wood planks with new nails. You can do so with the help of other special tools such as a nail gun and power saw.
Hardwood Floor Resurfacing
Resurfacing removes the existing finish or unattractive or uneven hardwood floor color and applies a new finish. There are two common types of resurfacing: sanding and polishing the flooring. Also, light sanding removes stains and deep scratches. Moreover, it fixes uneven boards and defects such as small splits or roughness in your wood floors.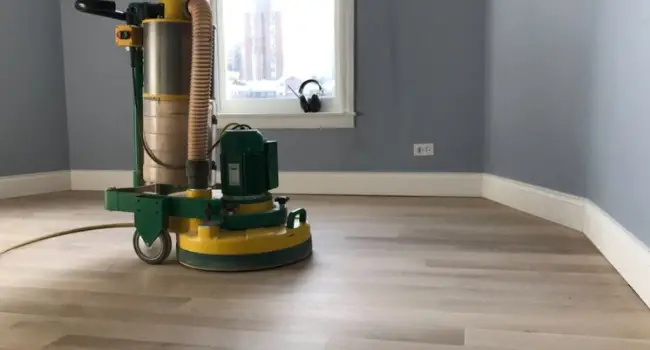 A few new coats of polish smooth out these imperfections, making them more uniform throughout the floorboards. Additionally, owning wood grinding equipment is the only way to do resurfacing.
Similarities Between Refinishing and Resurfacing Wood Floors
There are a few aspects in which refinishing and resurfacing are quite the same. We have made a list below:
Time-Consuming Process: Refinishing and resurfacing are time-consuming. Furthermore, to complete your hardwood floor, you need to have the right tools to do the job.
Reduced Durability:  Hardwood floor refinishing involves sanding, and resurfacing shortens the lifespan of the planks. It is not a good idea to leave heavy items on refinished floors for an extended time since the added weight may cause the floor to break down.
Requires Removing Damaged Wood: Refinished hardwood floor involves replacing it after a certain amount of time. Moreover, when sanding the existing wood floor, you will need to remove damaged wood and replace it with fresh strips. Furthermore, hardwood floors do not retain their original look and form after refinishing.
Differences Between Refinishing and Resurfacing Hardwood Floors
You may wonder, what is the difference between refinishing and resurfacing. Here are some of the significant differences between the two:
Cost: The cost of resurfacing depends on the type of hardwood flooring you intend to remove. You can re-seal your wood flooring for a few hundred dollars, but you may spend thousands of dollars if you want to replace your floorboards entirely.
Different Applications: Sanding a wood floor is often inexpensive compared to hardwood floor replacement. Moreover, it is also a better choice for minor repairs or touching-up small rooms or kitchen areas.
Resurfacing Is Appropriate for Smaller Areas: Resurfacing is excellent for modest works because it entails sanding the current finish. Yet, it may need more labor and money if you intend to resurface the complete floor.
Refinishing Keeps the Shape and Size of the Floorboards: Most antique floorings may have deformed or lost color because of the passage of time. However, you can correct them by refurnishing the surface.
Conclusion
The choices you make now will have lasting effects on your floors. Do not let your inexperience or misconceptions limit your options. You should know which one to pick. It will all come down to the best solution at the moment.
You might need to sand your floors for maintenance or need to install new floorboards when it is not enough. Refinishing is better if the discoloration is unbearable and you need a quick fix.