Engineered wood floors and laminate are two of the best choices for homeowners looking for a floor like traditional hardwood flooring. While both look similar, there are vital differences between them.
Engineered hardwood has a real wood veneer top which gives it a close resemblance to real hardwood. On the other hand, laminate has a photographic image layer on top, but a closer look will reveal a visual simulation of natural wood.
The top layer is not the only difference between engineered hardwood floors and laminate. In this post, we will break down the differences, the pros and cons of both floorings to help you decide.
Our Pick: Engineered Wood Flooring Vs. Laminate Flooring
We have picked engineered hardwood flooring as the better choice if you want a new floor. Though more expensive, engineered wood flooring has more benefits than laminate. Moreover, the life of the engineered wood floor is longer than laminate.
However, engineered hardwood flooring is still susceptible to scratches and dents like solid hardwood floors unless it is covered with a durable top coating. Hence, if you do not mind some scuffs, you can count on its durability and moisture-resistant properties to stand the test of time.
About Engineered Hardwood Flooring
Engineered hardwood consists of a thin veneer top layer of solid wood and a core of solid, premium plywood that is dimensionally stable. The top layer is also known as the wear layer, and it can be sanded down and refinished if necessary.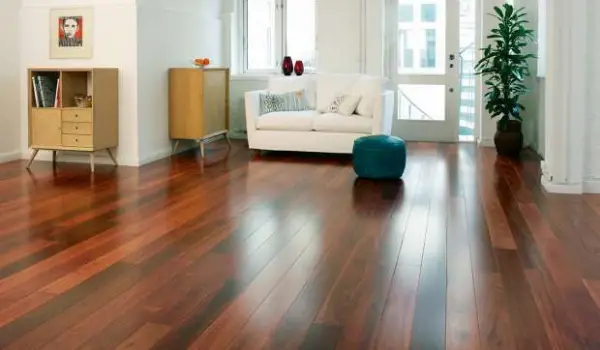 Since the top layer of engineered flooring is real wood, you can choose from different wood types such as North American oak, white oak, hickory, maple, ash, and cherry.
Features:
Engineered hardwood looks better than laminate since the top layer is natural wood. It also feels solid underfoot, unlike laminate which can sound hollow.
Engineered wood is suitable if you want a floor that can resist a higher moisture level than solid hardwood. This type of floor is ideal in homes with heavy foot traffic because it has similar daily wear resistance to natural wood. Lastly, engineered wood is low maintenance, and it may require refinishing only once or twice over its life.
About Laminate Wood Flooring
Laminate is a blend of wood fibers mixed with glue and binding agents. The backing layer serves as the foundation and protects both the subflooring and the laminate. The core layer provides the board's stability and durability, and it comprises ultra-durable high-density fiberboard (HDF).
Moreover, the wear layer provides a realistic floor look and protects it from dents, surface scratches, and staining. Furthermore, the image layer allows laminate boards to mimic wood, stone, or metal.
Features:
Laminate flooring is the most suitable choice if you want a resilient and easy to clean floor. It also makes the perfect flooring in a home with pets and young kids.
Laminate is well suited in slightly damp or bright areas. Furthermore, it also delivers a great aesthetic without going over the budget.
Similarities Between Laminate Flooring Vs. Engineered Wood Flooring

Appearance
Engineered hardwood flooring has a top that looks like genuine wood; it can stand up to scrutiny better than laminate floors. Moreover, engineered wood is solid wood through and through, and as a result, it provides a harder underfoot feel than laminate.
Moreover, an engineered hardwood floor can have different textures, including distressed surfaces, hand scrape, wire brush, and smooth.
Laminates can present the look of wood, stone, or metal. Still, you can get different types of prints. Popular options include vinyl flooring, vinyl peel and stick, cork laminate, modular laminate tiles, and laminate planks.
Installation
You can install engineered floors as floating floors. However, most of them need adhesives or fasteners to secure them to the floor. The best way to install engineered wood for new flooring is by using glue, nails, or staples. Gluing is only possible with very stable subflooring such as concrete. Still, it can echo considerably. Hence, nailing and stapling an engineered wood is the best installation method to meet acoustic concerns.
Laminate and engineered wood are DIY-friendly, but laminate is typically easier to install. It is because it installs like floating floors, and it means that you do not need to nail it down or secure it using a thin layer of glue. The laminate planks snap together using a specially designed end joint. Laminate produces sound when you walk on it; it needs a foam underlayment to absorb the echoing sound.
Differences Between Laminate Flooring Vs. Engineered Wood Flooring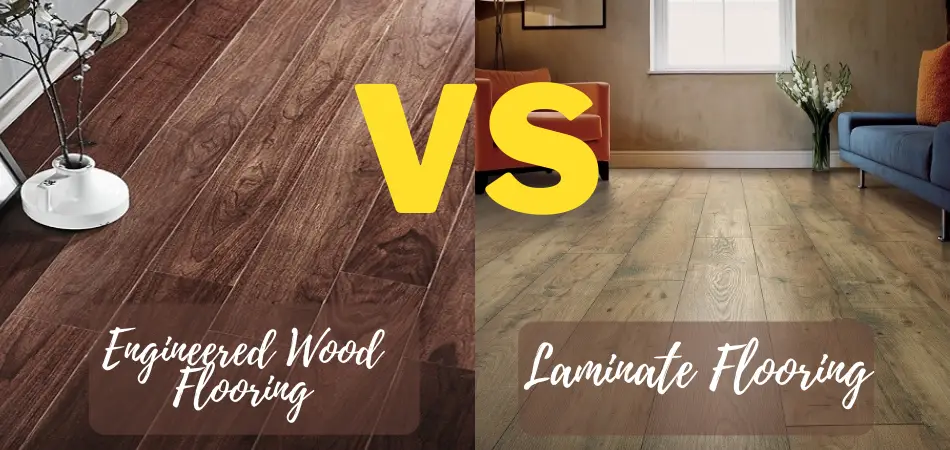 Durability
Engineered wood flooring will withstand heavy foot traffic. Moreover, the solid core feels more like natural wood since it absorbs the noise from footfall. Another good thing is that you can sand and refinish engineered hardwood. Lots of stores stock flooring products that allow you to apply light scuff-sanding on engineered flooring with wear that is less than 2 mm thick. When choosing engineered hardwood, pick one with a top layer of at least 5 mm thick to give you usable wood out of the natural top layer.
Unlike laminate, engineered hardwood floors can discolor such that the shade will vary with the rest of the house when installed in areas that receive lots of sunlight. It is like solid hardwood that changes tones and shade after sunlight exposure, so it needs sanding and refinishing after a few years.
Laminate floors have a sturdy scratch-resistant wear layer. Most of them can withstand heavy foot traffic. Furthermore, when you choose a high-quality laminate product, you can expect it to withstand high temperatures and corrosion from liquids. Some high-end laminate floors have an aluminum oxide finish that is very hard to scratch. Moreover, it can resist the dreaded pet nails scratches. Not to mention, kids can mark such laminate floors with a sharpie, and you can wipe it right off with acetone.
Another good thing with laminate flooring is that it will not discolor even if placed in the brightest rooms. Unfortunately, you cannot refinish laminate floors, and if it gets water damaged, you have to replace them.
Water and Heat Resistance
Unlike solid hardwood, engineered wood is dimensionally stable. Engineered planks are designed with layers that prevent the floor from shifting if the wood expands and shrinks. Furthermore, manufacturers use a waterproof polyurethane finish, which acts as a surface sealant.
The high-pressure bonding of the wear layer in engineered wood is safe to install in basements. While you can install it in the bathroom, luxury vinyl is your best and safest bet for the bathroom.
Laminate flooring, like solid hardwood flooring, is susceptible to changing temperature, moisture, and humidity in the air. As a result, it expands when temperatures increase and contracts when temperatures drop. Similarly, laminate flooring will swell when exposed to moisture and high humidity, and that is why the board warps and curls when water seeps to the inner core. Hence, installing a laminate floor in below-grade rooms, bathrooms, kitchens, and high-moisture areas is not advisable.
Cost
An engineered wood floor costs $2 to $3 per square foot on the low end and $5 to $9 per square foot on the high end. You will also require a professional to install the floor for approximately $15 to $20 per square foot. The typical cost for a complete project is between $2,500 and $6,500.
Laminate is one of the most affordable wood-looking options on the market. Entry-level laminate products cost $0.5 to $2 per square foot. Similarly, midrange laminates will set you back $2 to $3 per square foot. Moreover, laminate flooring costs $3 to $5 per square foot on the high-end range. Installing laminate planks will cost you $4 to $8 per square foot. An entire project usually ranges between $1,500 to $5,000.
Lifespan
An engineered wood floor can last 20 to 40 years, thanks to its enhanced stability from high-quality plywood. Moreover, you can pick flooring with a scratch-resistant top layer to improve durability.
Laminate flooring typically lasts 15 to 25 years, depending on the quality, and it will need proper care and maintenance to extend its lifespan.
Resale Value
Typically, engineered wood offers better resale value than laminate. While it is not as prestigious as actual wood, it still provides that natural wood floor look that many homeowners desire.
A laminate floor is not as luxurious, so it will not do much in the way of increasing the resale value of your home. That is unless you are choosing top-tier laminate flooring.
Conclusion
We hope we have put to rest the engineered wood vs laminate debate. As you have seen, both flooring types are excellent wood alternatives. However, they have different features that set them apart from each other. Depending on your need or budget, you can opt for engineered hardwood for better resale value in the future or laminate flooring if you want durable floors for half the price. You can also choose laminate flooring if you want to do it yourself and not spend a ton on labor.
Engineered hardwood has a top decorative layer of real wood, while laminate has a photographic image layer. Also, engineered hardwood is more expensive than laminate. Moreover, it provides a solid hardwood look and feel; and it adds stability so it will not warp or shrink. Furthermore, engineered wood offers a better value point since it is wood from the top to the base, whereas laminate has composite fibers instead of real hardwood.
Laminate flooring does not need fastening to the floor, while engineered hardwood can be glued or nailed to the floor. Laminate is generally cheaper to buy and install, whereas engineered wood has high labor and material costs.