Having to redo your flooring is both an exciting and daunting task. Sure, some experts can handle the flooring, and to be fair, that's the most straightforward bit, and the more difficult task falls on you. How do you choose between the different flooring options that are now available?
Before, you just had to choose between tiles, carpet, or hardwood floors. That list has expanded further to include laminate flooring, vinyl, bamboo, and hardwood flooring. How do you choose the best flooring materials? This article aims to help you narrow down the choice a little by looking at bamboo vs. vinyl flooring.
Bamboo vs. Vinyl Flooring
When it comes to home improvement projects, floors are a crucial aspect. The type of flooring you choose can make or break your entire house aesthetic. Whether you have an old house or a new one, it is often a costly affair.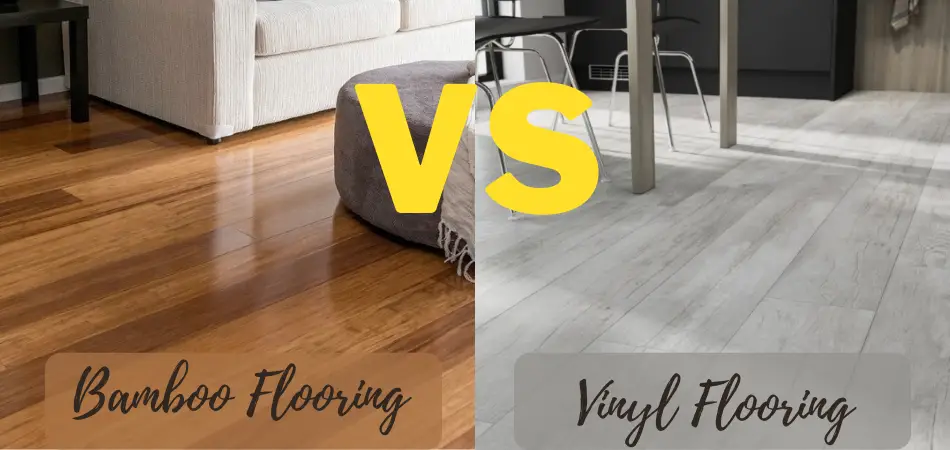 Both installation costs and the flooring materials prices vary per square foot. You, therefore, want to ensure that you make the right decision when you decide on a new floor. There are a lot of factors to consider when choosing a flooring material; Durability, affordability, the area it needs to cover, can it withstand heavy furniture – the list goes on.
This article will let you know all the factors you should consider and which is better between bamboo flooring and vinyl flooring.
Our Pick
After carefully studying the two options, we concluded that bamboo flooring is the best option. Although both vinyl floors and bamboo floors are excellent choices, bamboo has several additional benefits.
Here are some key strengths of bamboo flooring that we considered when making our selection:
Lasts longer than vinyl plank flooring
Bamboo is an environmentally-friendly choice
Good quality bamboo flooring can have the same durability as hardwood flooring
Bamboo flooring is not prone to dents or tears
Bamboo flooring feels better underfoot
Cheap and easy to repair
About Vinyl Flooring
Appearance
Vinyl flooring has come a long way over the years. Advancement in technology has made it possible for vinyl to look just like hardwood floors or tiles. Vinyl also comes in several forms like vinyl sheets, tiles, and even vinyl plank flooring. This gives you more options when you purchase it, as you can choose the design that best suits your home improvement.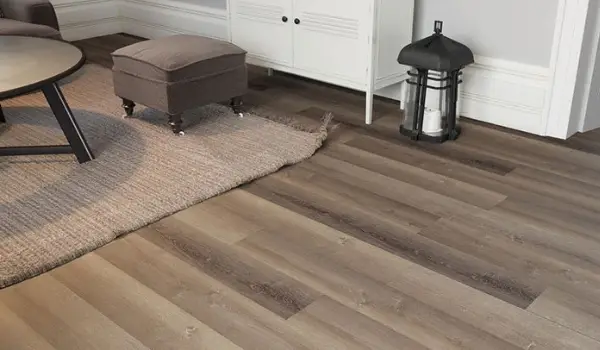 The resemblance of the vinyl plank to hardwood flooring is a huge benefit to those who want a hardwood floor. Most hardwoods are expensive, and with vinyl floors, you can obtain the same look for a fraction of the cost. Consequently, vinyl floors are comparable to laminate flooring. However, luxury vinyl planks still come out as superior.
Installation
The installation process is also quite simple. Vinyl planks are the choice of most home improvement projects as the tongue, and groove installation is simple. It also only requires only a few tools. There is no need for any adhesive, and you can install the vinyl planks over an existing floor. This is why it is referred to as a floating floor installation. The floating floor allows natural expansion and contraction, preventing the vinyl from warping due to temperature changes.
Vinyl can also be glued directly to the subfloor. If you choose this type of installation, it is best to involve a professional. Adhesives are tricky to work with, and if you want your vinyl floors installed correctly, they will know precisely how to get it done. The advantage of using adhesive on vinyl planks is that you can easily replace them should there be any problems later on. If damage occurs to a vinyl plank, you have to remove it and replace a new one with fresh adhesive. Once again, though, you would want a professional to get it properly installed.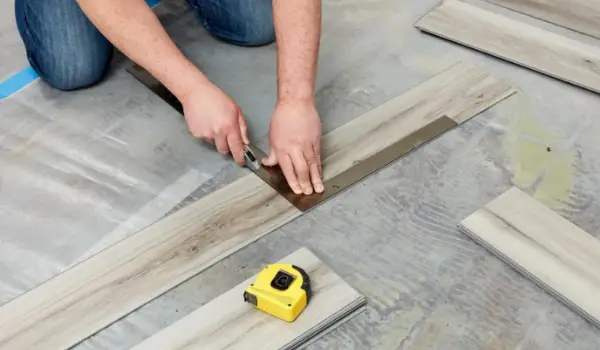 Maintenance
Vinyl planks are mostly chosen for floors as they are versatile and have excellent water resistance. Therefore, you can use them in moist areas like a bathroom or laundry room. This water resistance also means that cleaning vinyl floors is easy to clean. It can be mopped, swept, or vacuumed. It can also be steam mopped. You don't have to worry about staining or warping.
Durability
Despite looking like most tile or wood floors, they do not feel like any of them. They are also not as durable. Vinyl plank flooring is prone to dents and tears. If you move your furniture around a lot, you could end up ruining your floors. Even high heels can gouge the top wear layer.
It is also worth noting that you can expect your pets to scratch the vinyl floor a bit if their nails get too long. In addition, vinyl plank flooring will also fade if installed in areas that receive direct sunlight. You can easily overcome this by using an area rug, though.
Pricing
Even though vinyl floors are competitively priced, they can get expensive depending on the finish you are going for. Pricing can go up to $4 per square foot, and installation costs are also charged per square foot and depend on the professional. As such, installing vinyl flooring may not have a significant effect on the value of your house. Luxury vinyl planks may be more expensive. However, they are more resistant to wear and tear than cheaper brands.
About Bamboo Flooring
Appearance
Bamboo products have increased drastically in the last decade. As a result, bamboo flooring is a popular choice amongst those looking to change their floor. Bamboo closely resembles hardwood in both feel and durability. It is also considered environmentally friendly in terms of wood choice. This is because the bamboo plant is actually grass. Bamboo grows quickly in comparison to other wood options. Like any solid hardwood floor, bamboo flooring adds value to a home.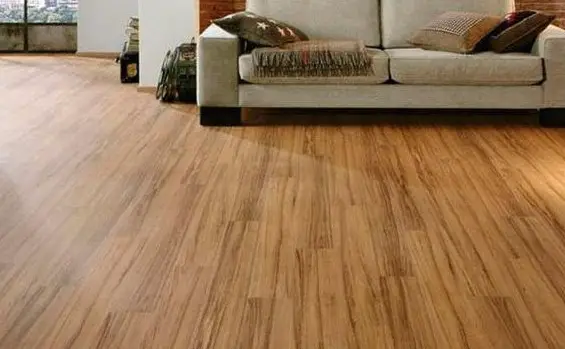 In addition, it is available as solid bamboo flooring or engineered bamboo flooring. Once again, this draws similarity to solid hardwood and engineered hardwood. Bamboo flooring is available as horizontal, vertical, or strand woven bamboo. They get these terms from the manufacturing process.
Horizontal and vertical bamboo refers to the direction the bamboo strips are layered and pressed together. Strand woven bamboo refers to shredded bamboo that is pressed together with resin. The two former processes give a more natural bamboo look, whereas strand woven bamboo looks similar to solid hardwood.
Installation
Bamboo flooring is available as bamboo tiles or planks with tongue and groove fittings. To install bamboo flooring, you have three options. You can use the floating floor method, adhesive, or nail the bamboo to the subfloor. The floating floor method is the easiest as it requires the least flooring materials.
However, you have to lay a foam underlayment between the subfloor and bamboo flooring. This is to protect it from any moisture as bamboo is not water-resistant. For the best results, bamboo planks must also be installed properly. Unless you have experience with bamboo flooring, you should get a professional to install your new bamboo flooring.
Maintenance
Bamboo flooring is not suitable for wet areas as they do not have water resistance capabilities. Both natural and solid bamboo flooring can be easily cleaned by sweeping or vacuuming. If you want to mop your floors, please remember that a bamboo floor cannot be wet mopped. You should therefore avoid using excessive amounts of water or harsh cleaning liquids.
The best part about maintaining bamboo floors is that they are just like hardwood – you can refinish them. This means that if there is any damage, you can sand and refinish the wear layer making it look brand new again.
Durability
Natural bamboo and engineered bamboo floors are just as durable as solid hardwood. Depending on the quality of bamboo used, it is also possible to get bamboo that resists scratches. Bamboo flooring can last for decades, especially because you can refinish them every four years or so. The refinish also allows you to explore other designs.
Pricing
Bamboo can cost up to $9 per square foot, and installation by a professional is also charged per square foot. It is pretty expensive, but due to its durability, it is worth it. The fact that it also increases the value of your home, much like hardwood, is also a bonus.
Similarities Between Bamboo and Vinyl Flooring
They can both look similar to hardwood and laminate flooring
Easy to install due to floating floor method and tongue and groove products
Both can be cleaned easily by sweeping or vacuuming
Differences Between Bamboo and Vinyl Flooring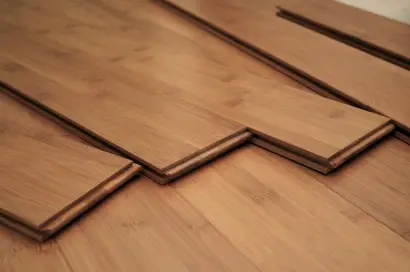 Unlike vinyl flooring, bamboo flooring requires a foam underlayment to protect against moisture
Bamboo floors do not have water resistance and cannot be cleaned with too much water or installed in wet areas.
Vinyl flooring is much cheaper than bamboo to purchase and install
Bamboo can be scratch-resistant and do not get damaged like vinyl
Unlike bamboo flooring, vinyl cannot be refinished
Bamboo flooring does not come in as many designs and colors as vinyl
There is a higher return on investment with bamboo flooring that you do not get with vinyl
Conclusion
Both bamboo and vinyl flooring are excellent choices for your new floors. It all depends on what you are looking to get out of it. If hardwood flooring is out of your price range, bamboo flooring is a great choice. It has a great feel, lasts for decades, and can be easily refinished.
This article has provided you with several shopping tips that will aid you in your flooring experience. You now know what to look out for when purchasing vinyl or bamboo flooring. The factors you need to consider for your decision are your budget, how often you plan on doing your floor, the type of flood, and the overall look of your home. This article gave you everything you need to know about bamboo vs. vinyl flooring – including our pick.
However, at the end of the day, it's your home and your choice. What's it going to be?