Installing new wood flooring is one of the best ways to add some extra beauty to your home. Before grabbing your flooring board, note that you'll need some of the finest adhesives to get the job done efficiently.
Of course, there are a lot of adhesives to choose from, and getting the best product for your work can be a bit challenging.
To an extent, your choice of glue depends on the hardwood floor you have, but regardless of whether you have solid or engineered wood flooring, these glues will get the job done.
In this article, we'll break a list of the best wood floor adhesive, what exactly makes these hardwood glues special, and some things to think about before installing new wood flooring.
5 Best Solid Wood Flooring Adhesive (Quick Summary)
We've compiled a list of some of the finest wood floor adhesives on the market, along with their pros and cons.
Best Solid Wood Flooring Adhesive Comparison Chart
This is by far one of the finest urethane glue on the market, and it makes the gluing process a breeze. If you're wondering what makes this glue special, this product protects your wooden floor from moisture, so you don't have to worry about any moisture issues in the future.
This wood floor glue is flexible and nearly impossible to break once it bonds to your wooden floor. Furthermore, this wood glue dries quickly (but not too quickly that it ruins your work) and contains no VOCs, making it one of the safest and finest room-friendly glues available.
Pros
Moisture control adhesive
Dries very fast
Extremely flexible
Contains no VOC's
Cons
Might get too sticky
Might create a floor mess if used wrongly
The versatility of this flooring adhesive makes it one of the best glue available on the market. This multipurpose adhesive glues it all from engineered wood flooring to hardwood flooring or whatever project you need floor glue.
This flooring adhesive is easy to use, and you can also use it to fix vinyl tiles. What's more, it sticks firmly like a rock, has moisture control features, and has a low odor. Note that you have only 20 minutes to use this glue once you pop the tin open. And, you have just 30 minutes to get your job done once you apply this product on your wood board.
Pros
Strong bonding properties
Suitable for indoor use
Moisture control adhesive
Provides permanent tack
Cons
Takes too long to curl
Can cause a lot of mess
Although this wood floor glue works well on other hardwood floors, it is primarily designed for floating engineered wood flooring. If you've been making a mess of your engineered hardwood floors, this glue will save the day.
This flooring adhesive sticks firmly to your floor surface and is perfect for jobs requiring pressure and weight resistance. It also has excellent moisture control properties, making it the ideal fit for your kitchen, bathroom, and other wet areas.
Pros
Strong bonding properties
Perfect for wet areas
Flexible when dry
Designed for Click or Tongue & groove flooring
Offers a moisture barrier
Cons
Produces offensive odor
works only on wood
4. WF Taylor MS PLUS-4 4 Gal – Metatec Advance Glue Down Hardwood Flooring Adhesive
In terms of keeping moisture away and protecting your wood from rot and fungus, this is one of the best urethane wood floor glue you'll ever find. It is odor-free, sticks firmly, and doesn't react with your wood boards.
Furthermore, the mixture has no toxic substances, making it entirely safe for you, your children, and your pets. This glue will bond your engineered hardwood perfectly and keep it in good condition over time.
Pros
Cleans easily
Solvent-free formula
Excellent moisture control feature
Kid and pet friendly
Cons
Does not work well with other wood species
Might dry too quickly
5. DAP 142 00142 Weldwood – Multi Purpose Hardwood Flooring Adhesive
This is one of the best beginner-friendly glues you'll ever find. If you've ever had problems with glues that dry out quickly, then know that this wood glue is here to save your day.
Furthermore, this engineered hardwood glue gives you plenty of time to perfect your work and make changes if necessary. This is one glue that will relieve you of the burden of thinking about your wood project and whether or not your glue will dry out quickly.
Pros
Easy water clean-up
Low odor and VOC content
Excellent moisture control properties
Allows for easy repositioning during installation
Cons
Might take too long to dry
Can cause a lot of mess
Choosing the Right Flooring Adhesive
Wood projects need experienced hands, especially when installing engineered hardwood floors. Using the best wood adhesives will make your job a lot smoother and more manageable.
Want to keep your adhesives firmly glued to your wooden floors for a long time? Here are some factors to consider when buying a flooring glue: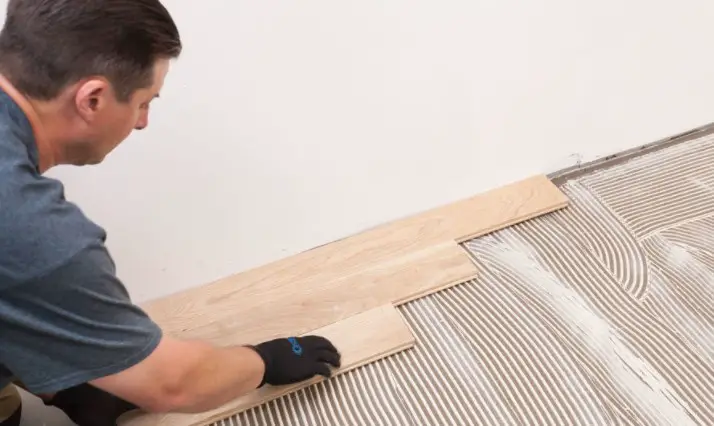 Substrate
The substrate type is an important factor to consider when applying wood flooring glue. Just like your hardwood floors, a substrate can be nailed or glued. A concrete slab or ceramic tile substrate is significantly superior for bonding hardwood flooring. Furthermore, the nail-down installation method requires the use of a different substrate.
Wood Type
Engineered wood flooring, solid wood flooring, and laminate flooring are different flooring options. Your preferred wood flooring option will influence the best glue choice for you. Note that some wood flooring options do not require floorboard glue, while some do. Engineered wood flooring, for example, requires the use of floorboard glue.
Location
The first question you should ask yourself before applying any adhesive is, "are my wood boards exposed to a lot of moisture?" If you're planning to install your hardwood boards outside, then know that a lot of rain, sun, and snow will be heating your boards, and you'll be needing an adhesive that can withstand all of those weather pressures.
If you live in a cold climatic region, go for adhesives that can withstand freezing temperatures.
Recommend For
Always lookout for the word "Recommended for" on the packet of your adhesive. This term will easily point you to what materials and environment your glue will work best in. Also, there are some cases where the label will tell you what other secondary material you can apply this glue to.
Toxicity
If you care about your health, stay away from highly volatile organic compounds (VOCs) adhesives. Comparing similar products is the best way to figure out if your glue has a lot of VOCs. Low VCO adhesives are always the best choice.
Drying or Curing Time
Adhesives have different currying and drying time. These time differences will determine how you mix your adhesives and how much time you have to install your unfinished wood floorboards. It also determines how long you will have to wait for your floor and wood to bond completely.
Coverage
You'll find the estimated area your adhesive can cover on the product's container. Take a look at your container and calculate how much room you'll need for your task.
Tip: To estimate your work area correctly, take a measurement and add 10 percent to the calculated size.
Flooring Adhesive Precautions
It is good practice to check for manufacturer's instructions and follow them. When dealing with adhesives, always put on a mask, gloves, and goggles to protect you from any toxic chemicals. Also, put on your fans and make sure your work area is well ventilated.
Conclusion
Wood flooring such as engineered flooring requires you to use only the best wood floor adhesive. Before starting your wood flooring project, always look at your substrate and wood type. Also, make sure the installation area is well-ventilated.
We have reviewed the best adhesives for your wooden floor with many good reviews and that most people have found easy to use. Hopefully, you could take away some insights about what you should look for when purchasing glue for hardwood floors.