Hardwood floors can be an excellent addition to the interior of your house. It makes the space look elegant and beautiful. However, those who have experience cleaning hardwood floors know the pain. It requires a little extra care and effort to keep them tidy. A small spot or stain can ruin the look of your entire interior.
Hardwood floor wet dry vacuum cleaner is specially designed to make your task easier and hassle-free. It is a versatile cleaning appliance that removes dry debris and wet spills. The damp mopping action helps you get rid of sticky mess and keep the shine of the wood floors intact. Here, we list the five best wet dry vacuum cleaners for hardwood floors. We have also identified the pros and cons of each product to make an informed decision.
In a hurry? This is our Winner!
Comparison Chart:
5 Best Hardwood Floor Wet Dry Vacuum Review In 2022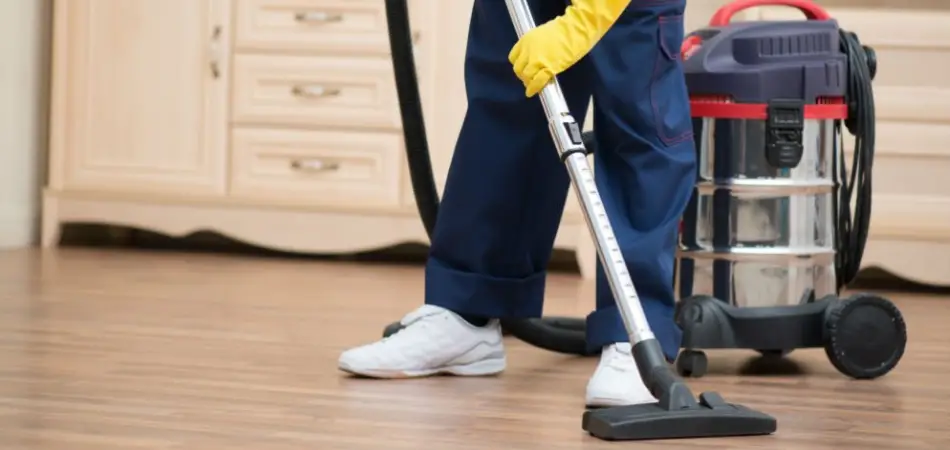 Tineco Floor One S3 is a lightweight cordless vacuum with iLoop smart sensor technology. The sensor allows it to detect the dry mess and liquid spills on sealed hard floors. This wet dry vac automatically adjusts the water flow and suction power based on the nature and amount of the dirt. Besides hardwood floors, this vacuum can effectively clean marble, sealed tile, and laminated floors. If your house has two or more varieties, this vacuum can be a perfect solution.
Cordless vacuums are always more portable than the other variety as you do not need to worry about the power source. This vacuum cleaner optimizes the battery life and supports up to 35 minute run-time per charge. With this lightweight vacuum cleaner, you can easily reach out to the tight corners without hassle. It moves fast without making any noise. Thus, you can easily use it any time of the day without being concerned about disturbing others. You can also use it while people are sleeping in the other room.
The cleaning process is smooth and quick, and you can easily monitor its performance with the Tineco app. You get cleaning reports, tech support, reminders, and more on this app. The app also supports voice assistance to make your life even more accessible. Besides, this vacuum cleaner uses dual tank technology and has a five-in-one self-cleaning cycle. The two-tank system makes sure the cleaning solution and the clean water remain separated from dry debris and the dirty water that it sucks. The self-cleaning function flushes out the dirty water tank and scrubs the brush roller. It is a simple one-touch operation, and you do not need to touch any of the unclean parts of the device.
While using this hardwood floor vacuum, always add the liquid cleaning solution made by Tineco. Other cleaning solutions may cause corrosion, and that will shorten its lifespan. A pack of multi-use cleaning solutions comes in the box with brush rollers and HEPA filters, two pieces each, and a charging base.
Pros:
LED control panel provides real-time stats, including power levels
Automatically detects dry and wet mess and adjust the power accordingly
Can be monitored through a dedicated app
Simple to clean and maintain
Dries out quickly
Cons:
Can only clean around 550 sq feet area per charging
Takes up to 1.5 hours to get fully charged
[su_button url="https://www.amazon.com/dp/B082VRFWB8/?tag=woodfloorscleaner-20″ background="#F69821″ size="10″ center="yes" radius="0″ rel="nofollow" target="_blank"]Check Latest Price[/su_button]
Only the pet owners know how frustrating it can be to clean up pet messes. Bissell is a market leader when it comes to manufacturing vacuum cleaners, and they made this model particularly for the people like you who have to frequently clean pet messes. It is the best hardwood floor vacuum that a pet owner can choose.
It makes the cleaning process easy by simultaneously vacuuming and washing your hardwood floor. You may already know that too much water can damage wood floors. This vacuum ensures water doesn't stay on the floor for long. Besides, this vacuum comes with a tangle-free brush roll and pet hair filter to make your work even easier. Multi-surface pet formulas come with the package that helps to remove the odor.
The vacuum cleaner has a nylon brush for mopping and collecting fine dust and debris from your flood. This vacuum mop combo ensures you get a 100% clean floor with minimum effort. Besides hardwood flooring, you can also clean area rugs and tile floors.
It has a dual tank system that keeps the clean water and cleaning solution separate from dirt. The dirt tank can hold up to 14.5 oz. of dirt, and the capacity of the water tank is 28 oz. Then rinse and clean out the storage tray makes it easier to clean the machine between small uses.
While all these features are already impressive, we must mention another thing that makes this brand special. Bissell supports the Bissell Pet Foundation, which helps save homeless pets. Every purchase you make, a part of this goes to this foundation.
Pros:
Effectively cleans pet mess and removes pet hair
Has tangle-free brush roll and pet strainer
Multi-surface pet formula helps to remove pet odor
The cord length is 25 feet; thus, it is easy to maneuver
Doesn't scratch hardwood floors
Switching from hardwood to area rugs is easy
Cons:
If cleaning a large area, you will need to fill the water tank frequently
[su_button url="https://www.amazon.com/dp/B082VRFWB8/?tag=woodfloorscleaner-20″ background="#F69821″ size="10″ center="yes" radius="0″ rel="nofollow" target="_blank"]Check Latest Price[/su_button]
Vacuum mops are ideal for cleaning hardwood floors. This brand is well known for making a range of home appliances, and chances are you have already used them. Shark VACMOP Pro is a budget-friendly lightweight mop that weighs under 5lb. The sleek design of the vacuum makes it simple to carry and maneuver. Thus, you can easily clean hard-to-reach areas without any hassles with this vacuum cleaner. Additionally, it has powerful LED headlights attached so that you can see the dirt piled up in the darkest corners. This cordless vacuum cleaner runs on a rechargeable lithium-ion battery.
Shark Vacmop pro spray the cleaning solution and collects the dirt simultaneously. It is the most efficient way to vacuum hardwood floors. After the dirt is cleaned, a disposable pad traps the debris you vacuum up. You can then remove the pad with the help of a no-touch disposal system and throw them directly into the trash without touching anything. The vacuum cleaner has a powerful suction system that can remove stubborn dirt, pet hair, and spill. It doesn't require any filter. You also do not need to spend time maintaining the machine; you just change the pad, and you are good to go.
The package comes with four disposable pads and a 12oz cleaning solution bottle. You can pay a little extra to get more pads.
Pros:
Employs the most efficient mechanism to clean hardwood floors
Lightweight and cordless
Has powerful LED light
Uses disposable pads to lock away the dirt and debris
No-touch disposal of the pads
Cons:
You need to buy the pads often
The battery backup is not so great
[su_button url="https://www.amazon.com/dp/B082VRFWB8/?tag=woodfloorscleaner-20″ background="#F69821″ size="10″ center="yes" radius="0″ rel="nofollow" target="_blank"]Check Latest Price[/su_button]
This floor cleaning machine has a powerful motor ideal for heavy-duty tasks. If you are looking for strong suction power, pick this one. It can remove all the sticky and greasy dirt that you may have piled up for months. You can use this vacuum cleaner both as cordless and as corded. You can put on the power cord and continue your work. While on battery, it runs for about 50 minutes without disruption. Thus, if the battery runs out while in use, you will have to wait for it to get recharged.
This wet dry vacuum doesn't scratch your hardwood floor while effectively removing all the dirt. The cleaner comes with a crush-resistant hose and thus does not get damaged by coins or other small hard items. Therefore, you can vacuum hardwood floors with this machine without worrying about damaging your floor.
The vacuum cleaner also comes with a HEPA-rated wet dry filter that locks out dust, pollen, molds, and allergens from the air. As a result, you get to breathe fresh and healthy air. The machine can vacuum up to two gallons of wet or dry debris. The maintenance of the filter is low-cost as it is easily removable and reusable.
Pros:
A heavy-duty machine with 5ft long hose
Small and lightweight
Removes most stubborn dirt
Can be used both as cordless or corded
Comes with HEPA rated filter
Cons:
There is no shoulder strap
Replacement filters can be expensive
[su_button url="https://www.amazon.com/dp/B082VRFWB8/?tag=woodfloorscleaner-20″ background="#F69821″ size="10″ center="yes" radius="0″ rel="nofollow" target="_blank"]Check Latest Price[/su_button]
Robot vacuums do not always work great for pet owners; however, this one is an exception. This robotic vacuum can efficiently collect dirt, dust, and pet hair from your hardwood floor and low-pile carpet. Its suction power is strong enough to pick up the pet hairs and send them to the dustbin.
You can use it in different cleaning modes based on your need. The auto mode maximizes the cleaning coverage, while spot mode can be used for cleaning a specific small area. For intensive cleaning, use the max mode and if you want to clean the edges and corners, set it at edge-mode.
After collecting the dirt and debris, install the water tank and mop cloth. Then you can program it as per your need, and the rest is taken care of by the vacuum cleaner itself. The battery lasts up to 110 minutes, and after the battery drains out, it automatically docks and charges.
It has a slim disc design and can easily get under furniture even if the gap is really small. As it doesn't get stuck now and then, you can go about your chores without worrying about cleaning.
In addition to the robot vacuum, the package of iLife V5s Pro includes a water tank, a mop cloth, and a dustbin. It also has a remote control, two filters, an adapter, and a charging base. Additionally, you will get one cleaning brush and two side brushes. iLife offers a 12 months warranty on this vacuum cleaner.
Pros:
Robot vacuum thus requires minimum supervision
Remote is easy to navigate
Has a sleek design, can reach the furthest of corners
One year manufacturer warranty
Cons:
[su_button url="https://www.amazon.com/dp/B082VRFWB8/?tag=woodfloorscleaner-20″ background="#F69821″ size="10″ center="yes" radius="0″ rel="nofollow" target="_blank"]Check Latest Price[/su_button]
How to Choose Hardwood Floor Vacuum – Buying Guide
Choosing wet dry vacuums for hardwood floors is not a daunting task. You have tons of options, and many of them work fantastic. Just consider a few simple things, and you will be able to pick up the best vacuum that suits your needs. Here are a few points to keep in mind while purchasing hardwood floor wet dry vacuum.
Types of the Vacuum Cleaners
Mainly five types of vacuum cleaners are available on the market. Standard vacuum only picks up dirt and debris from the floor, but you cannot use water or a cleaning solution. These are the essential vacuums and are not as effective on hardwood floors. With a wet-dry vacuum, you need to dissolve the cleaning solution in water and pour it into the tank. The cleaning machine sprays the mixture on the floor and sucks dirt and water.
The steam mop combo uses steam to clear debris. Steam mop vacuum cleaners come with a heating machine that heats the water to create steam. Robot vacuum mops use robotic power to clean the surface. You can control them with remote controls or dedicated apps. These are the most convenient tools as you do not need to do anything but set the commands. Spin mops spray the cleaning solution on the surface and then scrub it with spinning mop heads.
Power Backup
You can choose either cordless cleaning power or corded power. Cordless vacuum cleaners are usually more portable and easy to maneuver as no cord is attached. However, the main disadvantage of using cordless vacuums is their limited power backup. Once the battery gets exhausted, you need to wait for the battery to get recharged. If you clean a large area, it can be a hassle. Before choosing a vacuum, make sure it provides adequate power back up.
Else, you can choose a corded vacuum that has a long cord. A longer cord makes it easy to move around without changing the power outlet now and then.
Brush Rolls
To clean carpets and area rugs, you need harsher brush rolls. However, while using them on hardwood floors, they tend to scatter the debris, and they can also damage the surface of your hardwood floor. So while picking up a wet-dry vacuum for a hard floor, make sure it comes with softer bristles.
If you have multiple surfaces, choose a vacuum where the brush roll can be turned on and off depending on the surface. Some smart vacuums come with a sensor that detects the surface type and switches accordingly.
Frequently Asked Questions (FAQs)
Are wet/dry vacuums good for hardwood floors?
Yes, wet/dry vacuums are ideal for hardwood floors. Regularly cleaning your hardwood floor with a wet-dry vacuum protects it from damages. It is the easiest and least time-consuming way to keep your floors clean with minimum effort.
What is the best way to clean hardwood floors?
To keep your hardwood floors neat and tidy, you need to sweep and dust them daily and vacuum them at least once a week. It is best to use a wet-dry vacuum to remove sticky dirt and debris, putting the same amount of effort. However, if you do not have a wet-dry vacuum cleaner, make sure you clean the greasy dirt once a month with a damp mop.
What is a canister vacuum?
Canister vacuums come with the main body attached to a vacuum wand and powerhead. The main body contains a motor, filter, and dust bags. Although, some canister vacuums may not have dust bags. Canister vacuums are usually lighter and easier to carry. They also tend to be more expensive than the other variation known as upright.
Conclusion
Wet dry vacuums can efficiently clean hardwood floors without causing any damage. It saves time and energy, and it is much better than manual cleaning. If your budget is on the higher side, you may consider buying a robot vacuum. With these vacuums, you will be able to clean your hardwood floor with minimum effort. However, cheap robotic vacuums may not work properly, and in that case, choosing a non-robotic one is better.
If you have pets in your house and need to clean pet messes regularly, pick up a vacuum specifically made for pet owners. This machine comes with pet hair strainers and helps remove pet odors.
Hardwood floors can be sensitive and require special care. Choose a vacuum carefully that doesn't break your bank but offers all the essential features. Ease of use, power backup, cordless or corded, design, and suction power are some of the basic features to consider. Besides, it is always better to choose a vacuum that allows you to clean multiple surfaces effectively.