Spills on new laminate flooring are common in every household. Cleaning laminate floors becomes difficult using only rags or sponges. Some people often resort to napkins or tissue papers when reacting during emergencies. However, different mops can help to ease things up for owners of laminate floors. Damp mopping may well be the solution you have been searching for.
Although brooms and vacuum cleaners may get the basic job done, you won't get proper shine without using a damp mop. Several different laminate floor mops can take care of your delicate floors and make cleaning laminate surfaces a breeze. Moreover, a laminate floor requires a mix of dry and wet mop for deep cleaning and maintaining shine. It is essential to have a proper laminate floor mop and a floor cleaner to keep your floors shiny and clean.
A laminate mop should be gentle to avoid scratching and preferably have washable microfiber pads. It should also be able to deep clean laminate floors without leaving dust stains or residue. There is a wide variety of laminate mops available for purchase, most of which are microfiber mops. The soft microfiber cloth ensures that you don't scratch your delicate floors while successfully removing tough stains. Moreover, you can reuse these after washing them in a washing machine.
Suppose you have suffered through the challenges of laminate floor cleaning. In that case, you will appreciate our effort in collecting and selecting the best laminate floor mops in this review. Not only did we compile a list of the best mops you can buy, but we also designed a buying guide. The guide will help you make the right decision in buying the best mop that fits your needs and preferences.
In a hurry? This is our Winner!
Best Floor Mops For Laminate Surfaces [Quick Summary]
Comparison Chart:
The 6 Best Floor Mops For Laminate Surfaces Review In 2022
We spent a lot of time researching to find the best floor cleaning solutions. Mopping laminate floors is a tricky business, so we set strict criteria while selecting high-quality mops that are practical, durable, easy to store, hygienic, and long-lasting. Read on and find the best mop pads for laminate floors below.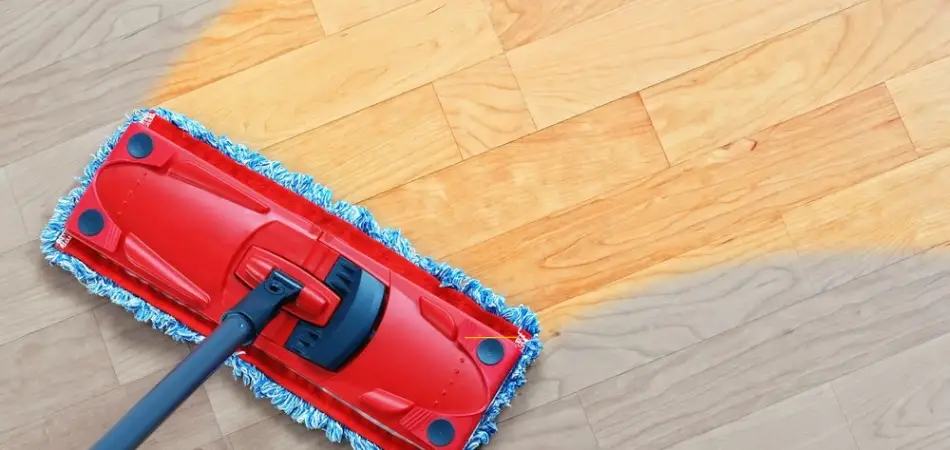 The Bona Stone Laminate Floor Mop is probably the best mop you can buy in the market. This lightweight mop has microfiber mop pads that you can easily clean in the washing machine after use. Despite its compact size, it has a large mop head that can help you cover a broader area in less time. Moreover, the mop includes Bona Stone's own hard-surface floor cleaner that helps keep your floor squeaky clean. The mop works like a spray mop with a trigger at the handle to spray just the right amount of mist.
Moreover, the mop comes with washable pads to clean in the washing machine over five hundred times. Spray mops have become the first choice for laminate floors since they are easy to use. The Bona Stone floor mop is super-easy to store with rubber corners and a retractable hook. Furthermore, the flexible rubber corners on the mop pads let you clean easily without worrying about damaging your floor.
The Bona Stone Laminate floor mop is your one-stop cleaning solution for all surfaces.
Pros
Washable microfiber mopping pad
Easy storage
Easy-to-use spray mops
No need for a spray bottle
Large mop head
Contains cleaning solution
Easy refills
Excellent customer support
Cons
The spray mop is prone to leakage with prolonged use
[su_button url="https://www.amazon.com/dp/B073HRXV8X/?tag=woodfloorscleaner-20″ background="#F69821″ size="10″ center="yes" radius="0″ rel="nofollow" target="_blank"]Check Latest Price[/su_button]
The Oshang flat mop is an excellent product that helps you keep all flat surfaces clean. It has a microfiber pad that will clean and protect your laminate floor from scratches. Moreover, this premium quality mop comes with a larger than average mop bucket that is convenient and makes cleaning floors trouble-free. The floor mop is suitable for both dry and wet mopping. The damp mopping helps remove stains and pet hair from your laminate floor. The dry mop acts as a dust mop and a convenient cleaner for both your windows and floor without inflicting any scratches or damages.
The Oshang flat mops is a professional microfiber mop that turns into your personal cleaning solution you can count on. The reusable pads prolong the shine of your laminate floors while making the cleaning job simple and easy. Moreover, the swivel head lets you clean hard-to-reach spots without too much hustle. The microfiber mop head is also very absorbent, meaning it instantly sucks up spills. Furthermore, you don't need to use any cleaning product alongside the mop. Nevertheless, it is compatible with all cleaning products available.
The large mop head allows even surface cleaning faster than most of the competitors in the market. The bucket provides easy drying of the mop head to provide an adequately damp mop for cleaning. Moreover, the bucket also makes washing and maintaining the mop extremely easy. Just pull the mop a few times in the washing groove to clean it.
Pros
No splashing through the built-in splash guard
No need for additional floor cleaner products
Reusable mop pads
Perfect for all types of surfaces
Rotating mop head
Cons
Not convenient for machine washing
May blend clean water and dirty water
[su_button url="https://www.amazon.com/dp/B07WNM389W/?tag=woodfloorscleaner-20″ background="#F69821″ size="10″ center="yes" radius="0″ rel="nofollow" target="_blank"]Check Latest Price[/su_button]
The O-Cedar Easywring mop is a simple cleaning solution for laminate flooring on this list. It comes with machine-washable microfiber mop pads, which perfectly treat laminate floors. You can easily wring the wet mop while cleaning by using the built-in wringer and the splash guard. What's best about this mop is that it can be used as a dust mop.
The soft microfiber guarantees easy cleaning with just one swipe of the mop. Moreover, the microfiber pads help trap dust particles when using the product as a dust mop. The mop also comes with replacement mop heads that need replacement every three months.
Thanks to the easy wringing mechanism, the damp mopping experience significantly improves. While wet mops can leave streaks on the surface you're using them on, this mop won't give you any trouble. Unlike flat mops, the spin mop gets into tight spots to help you clean the hard-to-reach places of your laminate floors more easily.
If you're browsing through the online market for a circular mop with mop heads you can easily clean, look no further than this product. The extra mop pads it includes are handy and keep your mop functioning correctly for six months. The disposable mop pads are also eco-friendly as they are naturally degradable.
Pros
Washable mop pad
Ships with extra mop heads
Can be used wet or dry to clean laminate floors
Disposable cleaning pads
Requires no additional cleaning products
Mop head rotates 360 degrees
Easy wringing
Cons
May blend dirty water with clean water
Uncomfortable for taller people
[su_button url="https://www.amazon.com/dp/B07VWL357N/?tag=woodfloorscleaner-20″ background="#F69821″ size="10″ center="yes" radius="0″ rel="nofollow" target="_blank"]Check Latest Price[/su_button]
Steam mops are an efficient, powerful means of removing tough stains from laminate floors. These electric mops use the power of steam to clean your floor without leaving any pungent smell behind, which is typical with most cleaning products. The Bissell Power Fresh steam mop promises to eliminate bacteria and clean twice as fast as regular mops. Moreover, you have the option to choose between three different steam settings depending on the intensity you need or prefer.
Moreover, this steam mop contains fragrance disks that provide a fresh fragrance whenever you clean your laminate floors. The mop head is also the perfect size for fitting in small corners and spots that are difficult to reach. The built-in scrubber also helps to clean areas that were neglected over time and seem impossible to remove through manual scrubbing.
Laminate flooring is generally fragile and can damage easily by hard mop heads. This steam mop uses a mop head that you don't need to rub vigorously on the surface. The scrubber itself can reach down and even clean the grout of the laminate floor, ensuring a squeaky clean result. Moreover, the 23-foot power cord allows you to move this electric mop to any part of your house.
Pros
Steam mops require no scrubbing
Easy cleaning solution
Will not damage or scratch laminate flooring
Does not require additional cleaning products
Easy-to-fill water tank
Cons
Electric mop needs continuous electricity to work
Cord restricts motion
[su_button url="https://www.amazon.com/dp/B0091YYUAM/?tag=woodfloorscleaner-20″ background="#F69821″ size="10″ center="yes" radius="0″ rel="nofollow" target="_blank"]Check Latest Price[/su_button]
HOMETOYOU floor mop offers all the excellent microfiber mop features at half the price. It comes with a microfiber mop pad installed alongside three additional microfiber pads to keep your laminate flooring in pristine condition. Moreover, the mop head is only 3 cm thick, so it can go under the furniture to clean your laminate floor without scratching it. You can use the mop dry and turn it into a dust mop which will dust off surfaces without any effort.
Moreover, the microfiber pad is excellent for picking up lint and pet hair. The wet mop provides deep cleaning with its flat reusable pads. The swivel head lets you clean even the tough spots of your laminate floor without the risk of scratches. The flat mop has an adjustable height, so anyone can use t easily. Furthermore, the laminate mop also comes with four microfiber mop pads, so you don't have to worry about a strict washing schedule.
The HOMTOYOU floor mop is an excellent purchase if you're looking to buy a laminate mop with microfiber pads that will not break the bank. You can use the dry mop for pet hair and dust while using the wet mop for harder-to-clean stains. Moreover, you can easily replace the microfiber pad with the spares included in the product.
Pros
Economical mop with a microfiber mop pad
Does not scratch laminate floors
Swivel head rotates 360 degrees
Extra mop pads included
Adjustable height
Suitable for deep cleaning
Cons
Does not include a bucket
Does not provide a complete cleaning solution
[su_button url="https://www.amazon.com/dp/B0091YYUAM/?tag=woodfloorscleaner-20″ background="#F69821″ size="10″ center="yes" radius="0″ rel="nofollow" target="_blank"]Check Latest Price[/su_button]
Nellie's Wow Mop is a one-of-a-kind product that ships with thirty days of money-back guarantee alongside a two-year warranty. The company is reliable and credible, thus confident in the offer of their products, and they accept returns of products without asking any questions. Although it is an electric mop, Nellie's Wow Mop boasts cordless use with a battery that can last fifty minutes on a single charge. Moreover, the mop head uses two microfiber mop pads for extra power during cleaning. Both mop pads are reusable and can be easily washable. Furthermore, the mop head gives each mop pad an oscillation of over 1000 times a minute to ensure you can get rid of even the toughest stains.
When you buy the mop, it comes with a power cord, a user manual, and a measuring cup for Nelly's floor care solution, which you need to purchase separately. Moreover, children too can use this mop by shortening the length of the handle. Nellie's aims to make mopping easy and fun for all ages. This turbo microfiber mop keeps the mop pads dry since it doesn't even need water to operate.
The dual-sided mop head oscillates both microfiber pads in opposite directions for optimum cleaning. The microfiber mop is easy on your laminate floors despite the strong oscillations and doesn't cause any damage.
Pros
Excellent warranty and money-back guarantee
Wireless mop with great battery time
Easy to use for all ages
Effective cleaning
A mop head with two mop pads
Adjustable height
Cons
Takes considerable time to recharge
Does not include the cleaning product
[su_button url="https://www.amazon.com/dp/B0091YYUAM/?tag=woodfloorscleaner-20″ background="#F69821″ size="10″ center="yes" radius="0″ rel="nofollow" target="_blank"]Check Latest Price[/su_button]
Factors to Consider When Buying a Mop for Laminate Floors
Choosing the best mop for laminate floors can often be a bit tricky. Sometimes, choosing a single product with so many choices is confusing. Despite what anyone may suggest, the final decision is yours to take. However, before spending your hard-earned money on any product, you should always consider several factors. We have made a list of essential things you should keep in mind before buying a mop for your delicate laminate floors.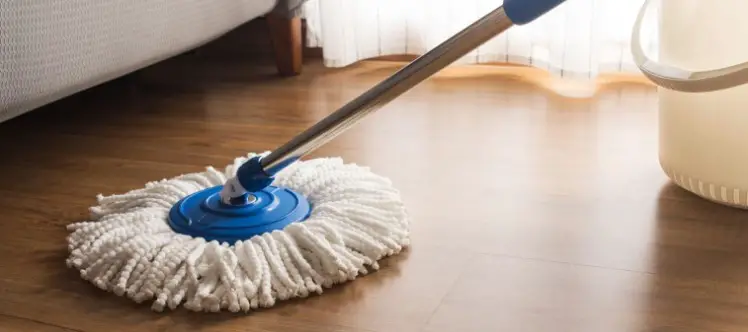 The Mop Pad
Mop pads come in different materials that you can choose from when buying a new model. Typically, they include a specific type of cloth. However, the mop pad is a crucial element that will determine the result of cleaning your floor. Materials like flannel, although cheap, will degrade quickly and leave streaks on your floor. Other types of cloth such as wool and cotton may also leave scratches behind.
You cannot risk using substandard mop pads for beautiful hard finishes like laminate floors. Therefore, always consider buying a mop pad made from microfiber. Not only that microfiber mop pads last longer, but they're also easy to clean and keep your floor safe from scratches and other inconveniences.
The Mop Head
The other factor you should consider is the size and type of the mop head you wish to use. A flat mop head is suitable for laminate floors since it cleans evenly. However, a circular mop head can also come in handy. Make sure that you're buying a mop that has a mop head that can account for the nooks and crannies of your laminate floors. Sometimes, a mop head may be too big or too wide to go under furniture or clean the corners within a room. A round mop head has the benefit of cleaning along curves. It is worth mentioning that the flat mop head cannot manage that.
Moreover, a larger mop head with multiple mop pads is suitable for wider surfaces. Using wider mop heads will allow you the flexibility to clean faster despite that you won't be able to clean narrow spots and angles.
The Mop Type
Laminate floors are not that hard to clean if you have the right tools. Consider your priorities before you settle on a mop. A spray mop is helpful if you don't want to go through the hassle of wringing and dragging a bucket around with you. Similarly, electric mops are good if you cannot scrub the floor yourself and want to let the mop do all the work. Just make sure that you spend according to your budget and get a mop that fits your actual needs.
Buying an electric mop for a big hall with a laminate floor may not be very productive. Similarly, purchasing a spray mop for a place with a lot of dust also doesn't make much sense. Figure out your needs, then choose accordingly.
Budget
Finally, the most important thing to keep in mind while buying a mop for laminate floors is your budget. It is always best not to go overboard and buy a mop you cannot afford. Also, you need to consider the additional cost after purchasing the mop itself. A spray mop would need a cleaning liquid for laminate floors that you will have to buy. Similarly, an electric or robot mop may be expensive to purchase initially. Bucket mops are generally the cheapest but will not fit everyone's requirements.
Frequently Asked Questions (FAQs)
Why does cleaning laminate floors require special attention?
Laminate floors are synthetic floors made up of different layers of material. Each synthetic material reacts differently to various cleaning products. These products can easily damage any floor layer, destroying its shine and beauty. Therefore, it is essential to give special attention to the product you use to keep floors clean.
Do I need to clean laminate floors regularly?
Yes, dirt and grime can stick to the layers of laminate flooring. Not cleaning floors regularly will quickly destroy their appearance.
Can I use string mops or scrubs to clean laminate floors?
No, string mops and scrubs do not dry out and have a lot of water. You should always use a mop to wring and dry when cleaning laminate floors. A spray mop or a mop with a built-in wringer can do the trick.
Can I use laminate mops to clean other surfaces?
Yes, you can use laminate mops to clean other surfaces too. Since these use a microfiber mop pad, they won't leave streaks or scratches on even the most delicate surfaces.
Final Words
Taking care of your laminate floors is essential to keep them looking great for long. You can easily scratch and destroy laminate floors with the wrong cleaning products.
Always buy a mop after reviewing and reading what other users are saying about it. Although the mop itself may not be a massive investment, improper cleaning tools may cost you in terms of ruining the beautiful floor you invested in.